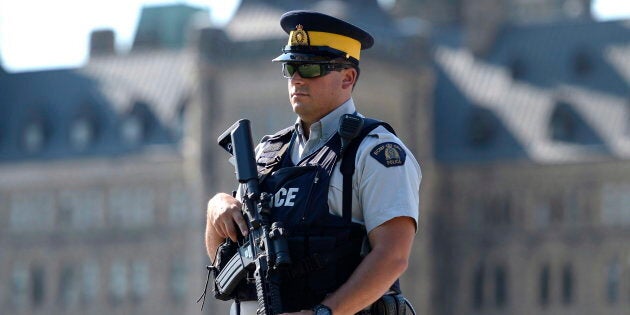 Since the beginning of the evil rampage of barbarism and death launched by Daesh in Syria and Iraq (and elsewhere) a few years ago, thousands of individuals from various other countries have been lured into the terrorist cause and have travelled into that region and beyond to participate in some way.
Working closely with their international partners, Canada's excellent security, intelligence and police agencies have identified approximately 250 of these so-called "extremist travellers" with a connection to this country who have journeyed to various locations overseas. About 60 are back in Canada, while some 190 remain abroad, including many who are likely dead.
Over the past two years, the totals in each of these two categories have fluctuated a small amount, but have remained largely stable overall. Some of these people would have engaged in actual terror combat in Syria and Iraq. Others would have been financiers, facilitators and lesser lights of various kinds in the region. Some would have been in other theatres like Afghanistan and Somalia. For security reasons, the Canadian Security Intelligence Service (CSIS) does not publish a detailed breakdown.
While the overall numbers linked to Canada are small compared to other countries, we take an alert and clear-eyed view of the threat these terrorists pose. So far, there has been no significant recent surge, going in or coming out, but our concern relates to what may lie ahead.
Through the last several months, with Canada's multi-faceted participation, the Global Coalition Against Daesh has scored major victories on the battlefield, including the re-taking of the city of Raqqa. Combat activity now seems to be winding down. But this doesn't mean the terror threat is over — it's simply morphing into different forms.
These are people who have travelled into a terrorist hotbed with the intention of participating in the depravity. They have been 'inspired,' trained and hardened.
For one thing, Daesh is becoming increasingly aggressive on the virtual battlefield of the Internet —pushing its vile ideology, trying to recruit new adherents, and counselling terrorist attacks around the world, often aimed at so-called "soft" targets and using simple weapons like knives and vehicles.
Secondly, without a real battlefield to occupy, Daesh and the terrorist travellers who have joined them could be increasingly on the move, sometimes with new spouses and young families recently acquired. Where will they go — Africa, Asia or Europe? Of those who originated in North America, how many will come back here? Expert analysis suggests it may not be a big number — for those who aren't already dead, it may be hard to leave.
But we need to be as ready as humanly possible. These are people who have travelled into a terrorist hotbed with the intention of participating in the depravity. They have been "inspired," trained and hardened. They have some actual experience in a war zone. And a perverse "celebrity" status in the eyes of their adherents.
CSIS, the RCMP, the Canada Border Services Agency and our other security, intelligence and law enforcement agencies — whose skill and expertise are second to none — work constantly to know as much as we possibly can about every threat to the national security of Canada and the safety of Canadians. That work is carried out 24/365 in close collaboration with our allies in NATO, the Five Eyes, the G7, the EU, Interpol and others. All available data is steadily and expertly assessed and re-assessed to ensure that we are current and effective.
Canada's full range of counter-terrorism tools are in use, including ongoing investigations, surveillance and monitoring, intelligence gathering and lawful sharing, the collection of criminal evidence, criminal charges and prosecutions whenever possible, other Criminal Code tools like peace bonds and public listings, expert threat assessments, no-fly lists, the revocation of passports, and legally authorized threat disruption measures.
The suite of measures to be used in respect of any particular individual or situation is determined by the RCMP, CSIS and Canada's other expert authorities. Their decisions are professional, not political. And we are putting in place a whole new National Security Policy Framework (Bill C-59) for the proper scrutiny, transparency and accountability of all the departments and agencies of the government of Canada that have a security or intelligence role — to ensure they are effective at keeping Canadians safe and safeguarding rights and freedoms.
Enforcement is the priority, but public safety and security also demand a prevention strategy. As Lorne Dawson of the Canadian Network for Research on Terrorism, Security and Society told CBC's Power and Politics, basically all of the G20 nations are "now convinced of the need to move in this direction of intervention programs, prevention programs, because in the long term, it's our best bet in terms of tackling this problem... you can't, as they always say, it's a cliché now, you can't arrest your way out of this problem. It's too big, it's too pervasive around the world."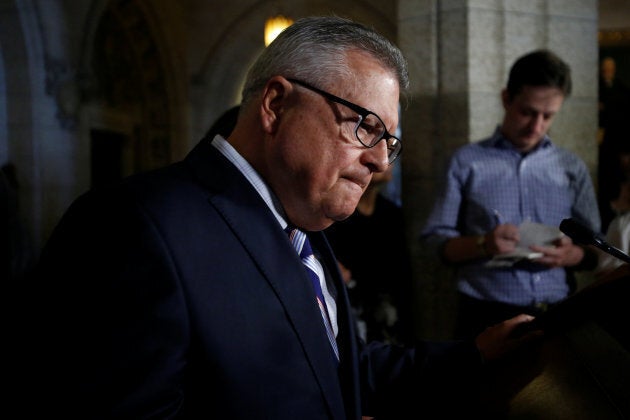 That's why our government has just launched a new centre to coordinate, bolster, help fund and share the disparate counter-radicalization programming that currently exists across the country. It's called the Canada Centre for Community Engagement and Prevention of Violence. If we can find the best ways to intervene in dangerous situations early enough, before tragedies happen, we should.
But Canada is getting started late on this work. Again, to quote Dawson's interview with CBC, "...the previous Conservative government knew about all of this, but had little or no interest in following up on it." Security expert and former CSIS officer Phil Gurski agreed. As he said, "...the previous government had an abysmal record when it came to countering violent extremism and early detection. They just didn't care."
That government also reduced funding to Canadian security, intelligence and police agencies by more than a billion dollars. So we're working hard to catch up.
The government of Canada takes very seriously the threats posed by travelling extremists. We face those threats with the skill, clear realism and solid professionalism of our expert agencies and international allies — using the full array of our tools and powers to keep Canadians safe to the very best of human ability.