If Justin Trudeau doesn't support bombing the Islamic State, is there any group he would confront with military action as prime minister?
It's a question the Liberal leader has faced since voting in the fall against Canada's combat mission against ISIS.
It's a question he's dismissed as nonsense.
But now it is featured in a new Conservative attack ad that uses images from recently released ISIS propaganda videos to try to paint the Liberal leader as unfit to lead.
The ad, released online Thursday, includes a clip from an interview Trudeau gave to CBC's Terry Milewski on "Power and Politics" this week, in which the Liberal leader was asked if he would halt the bombing against ISIS in Iraq and Syria if he becomes prime minister.
Trudeau said his party favours an enhanced humanitarian role in the region and military training.
"So, is that a yes? Pull out the CF-18s?" Milewski asked.
The Liberal leader replied that he'd move away from the bombing mission and have Canada's military focus on training local troops.
"Move away from the CF-18s. That is a yes, right? You will pull them out?" Milewski asked.
"Yes. It is a yes," Trudeau said.
Things got slightly tense minutes later when Milewski said that some "old-school Liberals" have been disappointed by Trudeau's decision.
"If you don't want to bomb a group as ghastly as ISIS, when would you ever support real military action as opposed to just training?" the host asked.
"Terry, that's a nonsensical question. You know that very well," Trudeau shot back. "The Liberal Party has always and I have always been supportive of Canada standing up for its values and taking action when necessary."
The Liberal leader said the Harper government has failed to demonstrate why bombing is necessary and hasn't been honest about the objectives and cost of the mission.
On Tuesday, the same day as that interview, ISIS released videos showing prisoners being drowned in cages, decapitated through the use of explosive devices, and burned alive.
The 45-second Tory ad features headlines reflecting the depravity of the ISIS clips, followed by one from from CBC News on Trudeau's commitment to stop the bombing. About 20 seconds of edited footage of Trudeau's exchange with Milewski is also shown. The clip ends with the tagline: "Just not ready."
The ad makes no mention of NDP Leader Thomas Mulcair, whose party also voted against the combat mission.
Tories have also released a graphic to Twitter and Facebook that features an image of seven prisoners killed on camera by ISIS.
At an event in Quebec City Thursday, Prime Minister Stephen Harper said he found it "very strange" that Trudeau made such remarks on Tuesday, the National Day of Remembrance for Victims of Terrorism.
He accused both Trudeau and Mulcair of opposing the mission because of "irresponsible electoral politics."
Tories Also Sparked Controversy With Facebook Post On C-51
This is not the first time Tories have used terrorist propaganda to make a political point.
In March, a Facebook post on the official Conservative Party account featured a screengrab from a 77-minute video released by Somalia-based terror group al-Shabaab. The group, linked to al-Qaeda, attacked Kenya's Westgate Mall in September 2013 and murdered close to 70 people.
Near the end of the clip, a masked al-Shabaab spokesperson urges similar attacks on western shopping centres, including Alberta's West Edmonton Mall.
The Facebook post — which sparked accusations of fear-mongering and appears to have been deleted — stated that "Jihadi terrorists are threatening Canada" and asked followers to sign a petition on the Conservative website in support of Bill C-51, the anti-terrorism bill.
C-51, which received royal assent last week and is now the law of the land, makes encouraging or promoting terrorist attacks a criminal offence.
Trudeau's ISIS Position Also Challenged By Radio Host
Back in January, Trudeau faced a similar grilling in London, Ont. from AM980's Andrew Lawton, who repeatedly asked the Liberal leader under which circumstances he would view military action as warranted.
"Well, I think it is warranted if there is a reasonable chance of success," the Liberal leader said. "If there's a way that Canada can offer expertise the rest of the world is unable to provide."
"Just to clarify, are you saying there's no chance of success with the fight against ISIS?" Lawton asked.
"I'm saying this is going to be a long, long challenge against ISIS and Canada's role in engaging with that needs to be best suited to what we can do better than other countries," Trudeau said.
Unsatisfied, Lawton asked if there is "any scenario" Trudeau could give where Canadian combat action would be warranted.
Trudeau said that "yes, there would be scenarios" but added any action would need the approval and support of Canadians.
"The fact is that Mr. Harper was misleading to Canadians when he assured us that there would be no ground combat against ISIS," he said.
Listen to the full interview below: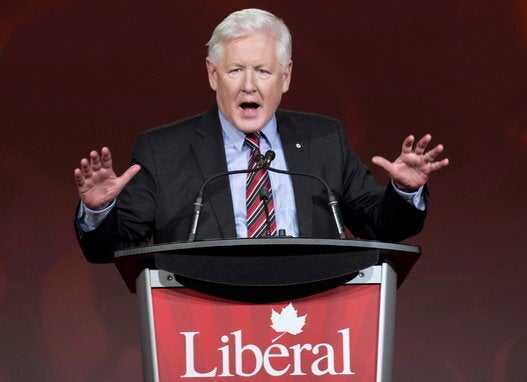 Liberal Stalwarts On ISIL, Iraq

Popular in the Community