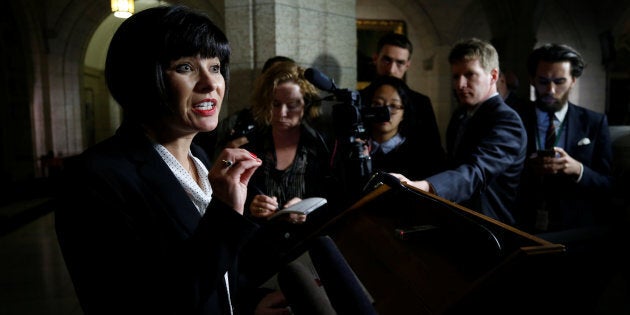 The Liberal government is resisting calls from its base to decriminalize possession of illicit drugs to tackle Canada's deadly opioid crisis, but it seems Conservatives haven't gotten the memo.
Tory MPs have wasted little time targeting Prime Minister Justin Trudeau after delegates at the Liberal party convention in Halifax voted overwhelmingly last weekend to back a resolution calling for the reclassification of "low-level drug possession and consumption as administrative violations."
While such a move may be what many Liberal delegates hope to see in the party's 2019 platform, Trudeau and Health Minister Ginette Petitpas Taylor have said they have no plans to pursue it. Such resolutions are not binding on the government.
Justice Minister Jody Wilson-Raybould told CBC News that Liberals are focused solely on legalizing marijuana. However, the justice minister did add that she is open to a conversation on the issue, as well as a grassroots push to decriminalize sex work. Those words evidently led Tory MPs to go on the attack.
Conservative health critic Marilyn Gladu demanded to know in question period Tuesday if Trudeau was serious about the "absurd idea" of decriminalizing drugs.
"If it's not bad enough that thousands of Canadians are dying from the opioid crisis, which the Liberal government is not adequately addressing, now it wants to add crack and heroin to the mix," Gladu said. "There are not enough treatment centres as it is."
Petitpas Taylor responded that the Liberal government is treating the opioid crisis as a public health issue, not a criminal one, to break down the "stigma and barriers to treatment."
The last federal budget pledged more than $230 million over the next five years to address the crisis.
She also touted how Liberals have made it easier for health care workers to access opioid substitution therapies and backed a B.C. MP's private member's bill — the "Good Samaritan Act" — which provides immunity from simple possession charges for anyone calling 911 to report an overdose.
But decriminalization will not "ensure quality control for drugs," she said.
Undeterred by Petitpas Taylor's words, Tory MP Steven Blaney — a former public safety minister —charged that Liberals "want to open the door to all drugs," including cocaine, crack and heroin.
"What kind of bad trip are the Liberals looking for?" he asked.
Again, Petitpas Taylor spoke about the seriousness of the public health crisis.
Tory MP John Brassard jumped in the mix to slam the justice minister for being open to the step.
"When did she get the mandate from Canadians to make illegal drugs legal?" he asked.
While voters gave Liberals a mandate in the 2015 election to legalize pot, Petitpas Taylor said they are "not looking to decriminalize or legalize any drugs aside from cannabis, and we will await further result about the impact of its legalization."
The health minister said a public education campaign will be launched to reduce the stigma of seeking treatment.
Other Tories have taken the battle to social media. Backbencher Ted Falk shared a misleading graphic on Facebook and linked to a CBC News story confirming the Trudeau government won't pursue decriminalization.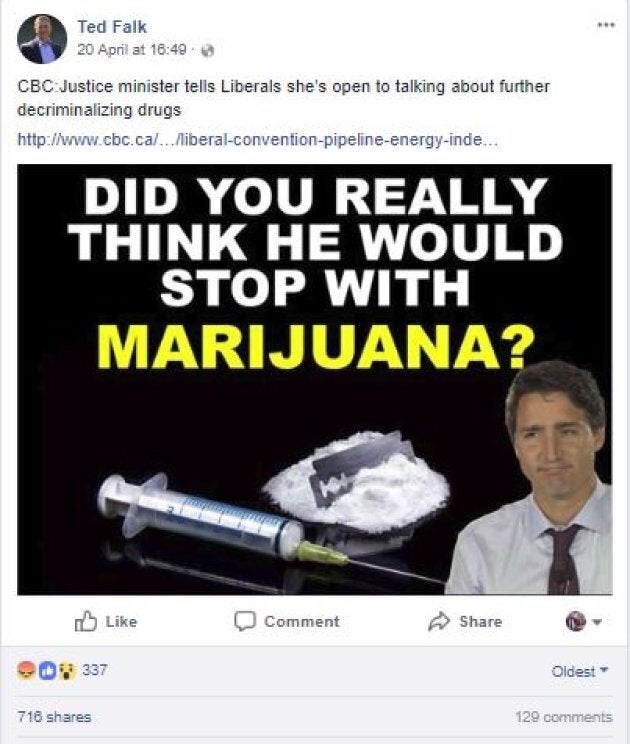 Liberal MP Nathaniel Erskine-Smith, who had a hand drafting the decriminalization resolution, has suggested he will keep pushing the government to take the bold action. He told HuffPost Canada ahead of a debate on the proposal that leaders have an obligation to listen to experts and "follow the evidence to save lives."
The Canadian Mental Health Association recently published a report calling on Ottawa to decriminalize personal possession of illicit drugs.
Erskine-Smith wants Canada to follow the model of Portugal, which decriminalized the personal possession of illegal drugs in 2001 and prioritizes treatment instead of punishment.
In the House of Commons last month, Erskine-Smith said Portugal's approach has reduced drug-related deaths and HIV transmission rates. There's also been an increase in the number of people seeking treatment, he said.
The health minister has suggested, however, that the Portugal model would not work in a country as large as Canada. She noted that the government has already promised more than $230 million over the next five years to address the opioid epidemic.
According to the Public Health Agency of Canada, there were 2,946 deaths in 2016 linked to opioids. The agency estimates the number of deaths in 2017 will be more than 4,000.
With files from The Canadian Press, Zi-Ann Lum