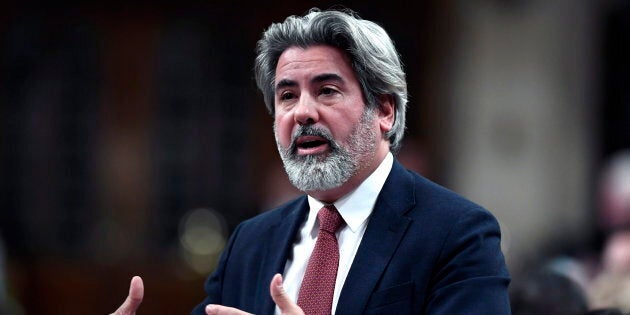 Canada's heritage minister says Conservatives are trafficking in conspiracy theories by hinting the federal government wants to "buy" the struggling news industry to curry favourable coverage in the next election.
Pablo Rodriguez rose in question period Tuesday to field questions ahead of this week's fall economic statement. His colleague, Finance Minister Bill Morneau, is expected to unveil measures Wednesday that could include help for journalists who are seeing job cuts and newsrooms closed due to declining advertising revenues.
Quebec MP Steven Blaney rose in the House of Commons to note that Unifor Canada, a union representing 13,000 Canadian media workers, plans to target Andrew Scheer's Tories in the 2019 election.
Blaney said many prominent journalists have already expressed discomfort with what he called an "incestuous" situation.
"Is the government perhaps trying to buy out the media as an election approaches?" Blaney asked in the House.
"A conspiracy theory," Rodriguez shot back before calling professional journalism a "foundation of democracy."
Watch: Steven Blaney asks if Liberals are trying to 'buy out' media ahead of 2019 election
The heritage minister noted Liberal efforts to support the Canadian Broadcasting Corporation and local journalism, while "protecting the independence of media."
But the answer did little to dissuade Ontario MP Peter Kent, a former TV anchor, from rising to say any kind of government bailout would jeopardize the independence of Canada's news industry.
"How independent can thousands of journalists [and] struggling news organizations be if their employer's [survival is] dependent on government subsidies, slush fund tax relief or direct tax bailout?" Kent asked.
"Why can't the Liberals understand that a media bailout in an election year is simply unacceptable?"
Tories press issue ahead of fall economic statement
Again, Rodriguez touted the "fundamental" roles journalists play in a democracy and said the government is looking at ideas to cooperate with media organizations.
Kent also raised the issue in question period Monday, saying he hoped earlier reports of some kind of package to help media organizations was a "trial balloon."
In last year's budget, Liberals committed $50 million over five years to support local journalism in "underserved communities."
In an "open letter" published by the Toronto Sun last month, looking ahead to the next election, Scheer raised some eyebrows by writing that Canadians need someone to "stand up to this government, the media, and the privileged elite."
But when pressed about the issue in a media scrum last month, Scheer said he agreed media outlets play an "essential" role holding politicians to account. He also suggested, however, that Conservatives will push to have their voices in stories and call out what they see as mistakes.
With files from The Canadian Press