Federal Conservatives are pouncing on Justin Trudeau after the Liberal leader said Tuesday that "benefiting every single family isn't what is fair."
The remark, delivered in question period, prompted Prime Minister Stephen Harper to warn Trudeau about the hazards of going "off script."
The Liberal leader challenged Harper on his economic priorities since 2006, accusing him of providing tax breaks for the wealthiest Canadians rather than those who need it most. It was the first question period Harper has attended since Trudeau unveiled his so-called "fairness plan," which seeks to cut middle-class taxes and make richer Canadians pay more.
Harper responded by saying his government's "record of tax reductions" has helped "every single Canadian family in this country."
And that's when Trudeau shot back with a remark that sparked loud heckling from Conservatives.
"Benefiting every single family isn't what is fair," Trudeau said. "What is fair is giving help to those who need it the most."
The Grit leader went on to slam income splitting as a $2-billion tax break for the rich and deride the expanded tax-free savings account limit as something that benefits only the well-to-do.
"Why didn't he instead use every nickel to help the middle class and those seeking to join it?" he asked.
"Mr. Speaker, you see what happens when someone goes off script," Harper responded to the delight of his front bench, who gave him a standing ovation.
The prime minister reiterated that his plan was to "make life better for every single Canadian family."
Labour Minister Kellie Leitch quickly took to Twitter to call Trudeau's remark "shocking." She left off the second-half of the quote, though, about "giving help to those who need it the most."
Michelle Rempel, minister of state for Western economic diversification and a voracious tweeter, also had a field day on social media.
And Employment Minister Pierre Poilievre, who made hay for more than a year after Trudeau said "the budget will balance itself," also tweeted the first half of the quote.
When asked about the moment after question period, Finance Minister Joe Oliver — who recently ran into some trouble of his own with a comment about "Harper's granddaughter" — had a bit of a chuckle.
"(Trudeau) said he thinks it's unfair to give money to everyone," Oliver said.
"Look, it's obvious that it's an advantage for everyone to have a low-tax regime. It's fair for individuals, it creates employment. It creates economic activity."
Tories have made a habit of featuring out-of-context Trudeau remarks in attack ads. Short clips of the Liberal leader commenting on the Boston marathon bombing, marijuana legalization, and the federal budget have been highlighted in commercials attempting to paint the Liberal leader as "in over his head."
With files from Althia Raj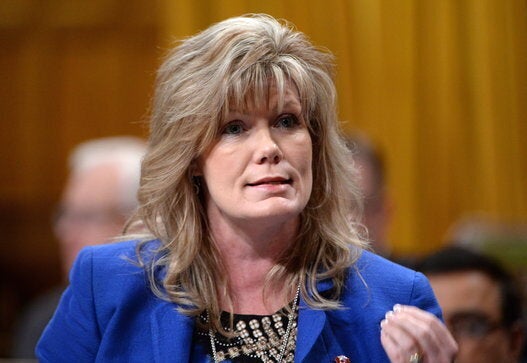 Notable MPs Who Aren't Running Again

Popular in the Community