"I'm not saying no forever, but not now."
That's perhaps the most revealing line in a new Conservative ad — titled "The Interview" — presenting the argument that Liberal Leader Justin Trudeau is not ready to become prime minister.
The ad, released online Monday, appears to borrow a concept used by the Manitoba NDP in the 2011 provincial election, in which a group of people in an office setting are shown evaluating job candidates.
"I see he's included his picture," a woman says while looking over Trudeau's resumé. She goes on to bemoan the Liberal leader's lack of experience balancing a budget or making a payroll.
"Didn't he say budgets balance themselves?" an older woman asks.
There's also a dig at Trudeau's opposition to Canada's combat mission against ISIL. The Liberal leader's argument that Canada's efforts should be focused on humanitarian aid is dismissed as little more than him wanting to "send winter jackets to Syria."
"So, what are his policies?" an older man asks.
"Legalizing marijuana," another man replies. "Is that the biggest problem we have to solve?"
The pot dig appears to mark a change from other Tory attacks that have alleged Trudeau wants to make it easier for children to smoke marijuana. The Grit leader believes legalization and regulation will make it harder for kids to access the drug.
When it's mentioned Trudeau wants to scrap income splitting for families, the older man suggests pension-splitting would be next. However, Liberals have vowed not to touch pension income splitting, which allows pensioners to allocate up to half their pension income to their spouses, resulting in significant tax savings.
The group describes Trudeau as a celebrity who speaks before thinking and a man who has never had to make a tough decision. There's also a reminder that being prime minister is "not an entry-level job" — something NDP Leader Thomas Mulcair is fond of saying while dismissing Trudeau.
"Nice hair, though," a man adds.
Ultimately, the group decides to pass.
Despite recent polls suggesting the federal NDP is now in a dead-heat with the Tories and Liberals, Mulcair is not mentioned in the ad once.
The commercial is similar to a 30-second spot Greg Selinger's Manitoba NDP used against former Progressive Conservative leader Hugh McFadyen en route to winning a majority government. In that ad, those shown evaluating McFayden's resumé similarly concluded the leader was too much of a risk.
"Nice suit, though," a young man says in the kicker.
Conservatives, who have argued for months now that Canadians are "better off with Harper," also released a second ad Monday focused on their leader. The 33-second commercial, titled "Proven Leadership," shows Harper working at his desk and reflecting on the hard decisions that come with his job.
"You have to confront issues you never expected," he says, while a headline from the 2008 recession flashes on screen.
"You don't have the luxury of ignoring problems or only making popular choices," Harper continues, as footage is shown of ISIL militants parading Christian prisoners.
"You just work hard and try to make the best decisions possible for Canada," he concludes just before shutting off the lights in his office. "And on a good day, you get to go home feeling like you lived up to the job."
Liberals responded Monday afternoon by releasing an ad of their own, promoting the party's so-called "fairness plan."
With an election now less than five months away, parties are beginning to test the messages they will soon take to voters. On Sunday, the federal NDP released a short ad in which Mulcair touts how he was "raised on middle class values" and will fight to bring change to Ottawa.
With a file from The Canadian Press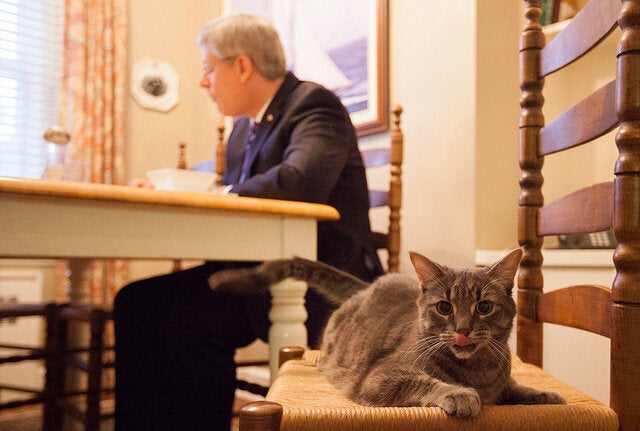 Day In The Life Of Stephen Harper

Popular in the Community