Conservatives showcased a blurry picture of a bare-chested Justin Trudeau this week to criticize the prime minister's family vacation amid worrying job numbers, but were reportedly ordered to pull it down.
The Conservative Party launched a page on its website highlighting that 31,200 net jobs were shed in July. The page featured a large shot of a shirtless Trudeau holding a surfboard, but that image was changed to a shot of a welder Wednesday afternoon.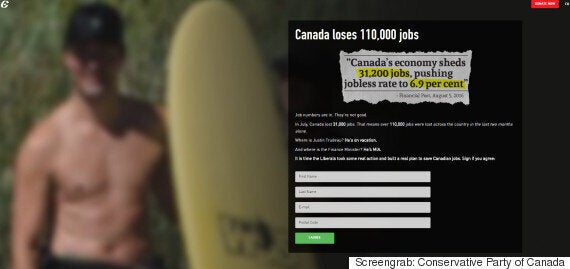 "In July, Canada lost 31,000 jobs. That means over 110,000 jobs were lost across the country in the last two months alone," it reads. "Where is Justin Trudeau? He's on vacation. And where is the Finance Minister? He's MIA."
The conclusion that 110,000 jobs have been lost in two months comes from Statistics Canada numbers showing a decline of 40,100 full-time jobs in June and 71,400 in July. But those losses were offset by gains of 39,400 part-time positions in June and 40,200 in July.
The so-called photobomb came on the heels of another image of a shirtless Trudeau, posing with a boy in Quebec's Gatineau Park, which made headlines around the world.
Tories also took their campaign to Facebook and Twitter Tuesday to criticize that the PM was "still on vacation," but have since deleted those posts as well.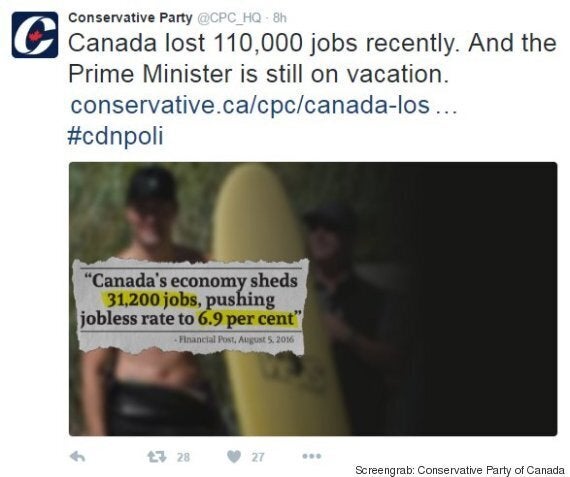 Cory Hann, director of communications for the Conservative Party, would not tell The Huffington Post Canada why the images were removed.
"It's unfortunate there's much more interest in, and concern about, a shirtless photo of the Prime Minister than there seems to be over the 110,000 jobs lost in Canada in the last two months," Hann said via email. "Canadians need a plan for jobs, instead they're getting vacation photos of Mr. Trudeau. And that's what our post highlighted."
On Wednesday, the party released a graphic showing Trudeau as a "missing" person on a milk carton.
"Last seen wandering shirtless in BC wilderness looking for photo opportunities," it reads.
Every major political party creates similar pages to encourage Canadians to provide their email addresses and postal codes. That information is valuable to political parties to help build their database of supporters who can later be contacted for donations.
And while Tories are evidently unimpressed that Trudeau is taking time off with his family, the practice is not unusual. Former prime minister Stephen Harper typically took his breaks in late July and early August, usually at the PM's official summer residence at Harrington Lake, Quebec.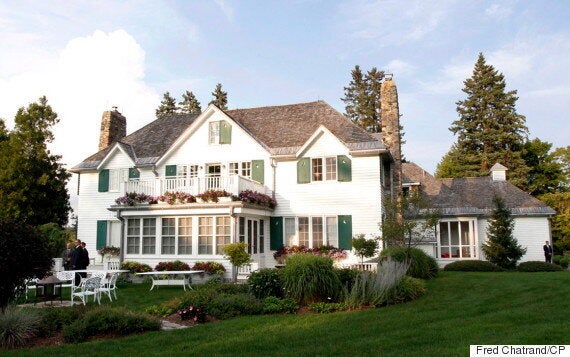 Prime Minister of Canada's official country residence at Harrington Lake, Quebec is is shown on August 15, 2012. (Photo: Fred Chartrand/CP)
Trudeau has also made it clear that he intends to make work-life balance a priority, in part because of the dissolution of his parents' marriage when he was a child.
During the G7 summit in Japan last May, Trudeau raised some eyebrows by taking a day off to celebrate his anniversary with his wife Sophie Gregoire Trudeau.
"This is the kind of work-life balance that I've often talked about as being essential in order to be able to be in service of the country with all one's very best and that's certainly something I'm going to continue to make sure we do," he said at the time.
With files from The Canadian Press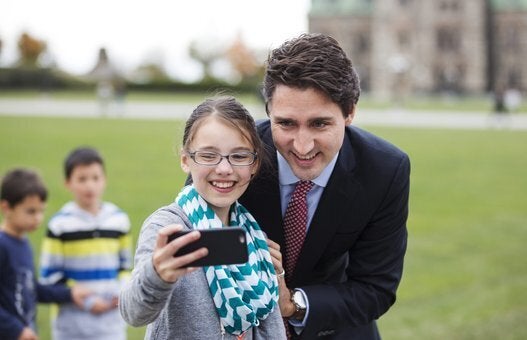 PM Trudeau Posing For Selfies
Popular in the Community