Federal Conservatives have cracked open an eight-point lead over Liberals on the heels of a pre-election budget that balanced the books for the first time in seven years, a new poll suggests.
And, according to numbers from Abacus Data, more Canadians are starting to believe Stephen Harper will be re-elected in the next federal election, despite many feeling it's time for a change.
The survey results, published Thursday, have Tories at 36 per cent support among decided voters across Canada, compared to 28 per cent for Justin Trudeau's Liberals and 24 per cent for Thomas Mulcair's New Democrats.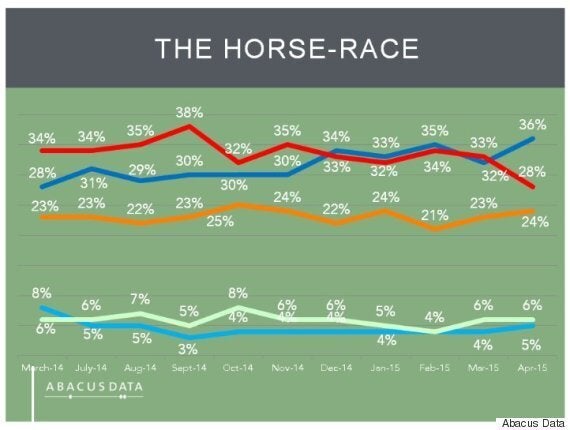 The Green Party, led by Elizabeth May, is at six per cent support nationwide (but nearly 12 per cent in British Columbia), while the Bloc Quebecois sits at 20 per cent support in Quebec. Twenty-four per cent of respondents told the firm they remain undecided.
In seat-rich Ontario, Tories lead Liberals 41 per cent to 30 per cent, with New Democrats at 23 per cent. The NDP is still on top in Quebec at 30 per cent support, followed by the Liberals at 26 percent and Tories at 19 per cent.
In battleground B.C., Conservatives are well ahead at 45 per cent support, followed by Liberals at 23 per cent support and the NDP at 20 per cent.
Tories continue to dominate in Alberta (54 per cent support), while Liberals are holding strong in Atlantic Canada (51 per cent), where there are far fewer seats.
The poll also presents interesting findings on the question of whether it's time for a change in government. While 50 per cent of respondents told Abacus it was "definitely time," almost equal proportions of respondents would vote Liberal (41 per cent) as NDP (38 per cent). Essentially, the "change" vote is being split.
Nineteen per cent said it would be good to have a change in government, but it's "not all that important to me." Twenty-two per cent said it was definitely best to keep Conservatives in power, while 10 per cent said it would be good to stick with Tories but it's "not all that important to me."
"The results are an unmistakable sign to opposition parties that while many people are open to the idea of a change in government, not everyone feels strongly about it, or agree on what party should replace the Conservatives," the poll summary states.
"To win, they must grow the inclination for change, and/or command the lion's share of voters who prefer change."
A growing sense Harper will win again
When asked to pick the party most likely to win the next election, scheduled for October, 36 per cent said the Tories and 27 per cent said the Liberals. Abacus states the numbers indicate a six-point jump for Harper's team and a seven-point dip for the Grits. Just nine per cent think New Democrats will be victorious.
The poll summary also states the "milestone" federal budget Finance Minister Joe Oliver tabled last week and the advertising surrounding it has already boosted Tory fortunes. Conservatives lead among voters focused on taxes, jobs, retirement security, debt, and middle class incomes.
"The budget measures, supported by extensive advertising about tax relief and spending on jobs and training programs has created a situation where the Conservative economic approach is very prominent, and for many people, appealing as well," states Abacus.
The online poll was conducted among 1,500 Canadian adults between April 22 and April 24. The margin of error for similar surveys is 2.6 per cent, 19 times out of 20.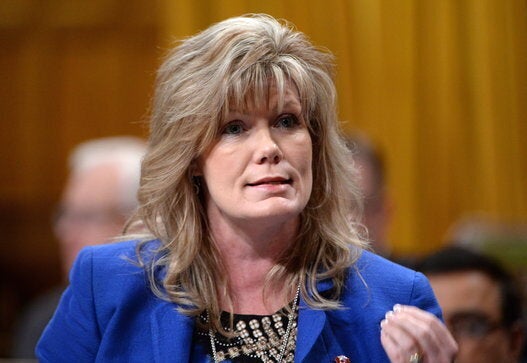 Notable MPs Who Aren't Running Again

Popular in the Community