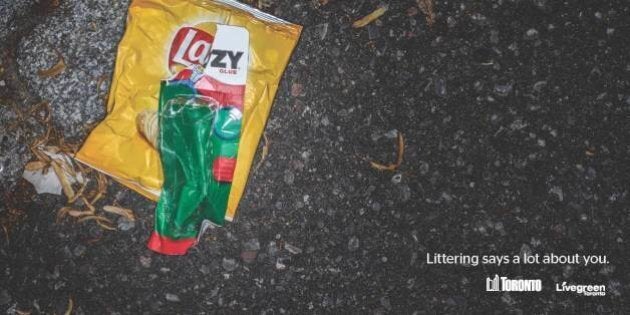 UPDATE: The ads have been pulled, due to complaints from the brands depicted. Read our story here.
For a long time, Toronto has enjoyed a reputation as a safe, clean city — you know, that whole "New York run by the Swiss" idea. And frankly, we prided ourselves on being better than those who simply drop their garbage on the street.
But lately, the streets are looking more and more like, well, New York in the '70s, and Livegreen Toronto has a great idea as to how to correct that.
This campaign, currently plastered on the sides of buses, in newspaper ads and elsewhere takes a decidedly Canadian approach to the matter. By which we mean, quietly shaming those who litter by telling them exactly what we think of them with the tagline, "Littering says a lot about you."
Yes, that's right — if you litter, you are, in fact, trash.
Check out the ads and tell us what you think of the campaign in the comments below.