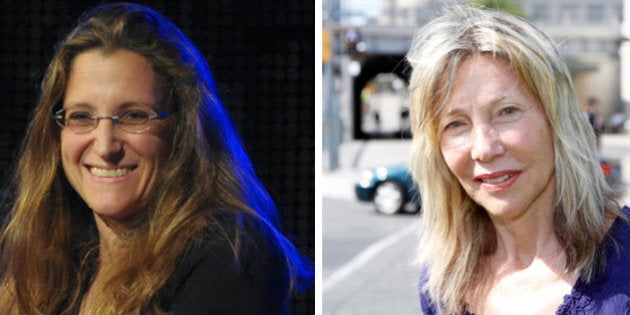 OTTAWA — For decades, Ed Broadbent has been trying to get Canadians to care about the growing gap between the rich and the poor and the effect it is having on our democracy. Now, the former NDP leader is watching from the sidelines as the issue takes centre stage in a federal byelection race in Toronto Centre.
"I'm very happy," Broadbent told The Huffington Post Canada in a phone interview from his home in Ottawa. "It is front and centre in the debate, and, as I understand, it is going on in the doorstep too."
Two candidates vying for the downtown Toronto seat on Monday – the NDP's Linda McQuaig and the Liberals' Chrystia Freeland – are journalists who have focused their writing on issues of income inequality.
McQuaig's book, The Trouble with Billionaires: How the Super-Rich Hijacked the World and How We Can Take It Back, calls for a 70 per cent tax on the very wealthy. Freeland's book, Plutocrats: The Rise of the New Global Super-Rich and the Fall of Everyone Else, documents the rise of the über-rich, the 0.1 per cent. The riding they are competing for has one of the largest income gaps in the country. Toronto Centre includes both Rosedale, one of Canada's wealthiest communities, and Regent Park, a large public housing development where many residents live below the poverty line.
Both candidates have sparred in debates over the solution for the growing income gap – a problem that increasingly prevents the poor from climbing the economic ladder, something their parents were better placed to do.
McQuaig used to be a vocal champion of raising personal income taxes to address income inequality. But she since her nomination as the NDP candidate, she's publicly fallen in line with party leader Thomas Mulcair's proposal of raising corporate taxes instead.
McQuaig was unavailable to be interviewed for this story. The NDP initially agreed she would do a phone interview Friday but later cancelled and asked if emailed questions could be sent. After receiving them, McQuaig's representative said she was too busy to respond.
In a September interview with HuffPost, however, McQuaig called for "higher taxes on the rich."
"First of all, we need the revenue to do what we want to do and second of all, we need a better distribution of income in the country," she said.
In a TVO debate last week, McQuaig said: "I'm thrilled at the idea of raising the corporate tax. I think it will make the tax system a lot fairer." She didn't specifically rule out personal income tax hikes but said she was happy that corporate taxes could "collect billions extra every year."
Freeland told HuffPost she believes there is no simple answer to address the income gap and it would be a mistake to increase personal taxes.
"For Canada's and Toronto Centre's squeezed middle class, part of the squeeze is taxes, and we are not going to solve this problem that way," she said. "That is not our answer."
Corporate tax increases are not the solution either, she said, warning that they could hurt Canada's competitiveness in the global economy.
"Growth is such an important part of the answer of improving the fortunes of the Canadian middle class, and we cannot do anything that hurts that."
In the same breath, however, Freeland said she is in favour of overhauling the Canadian tax code.
"Right now, it's sort of a patchwork of very narrowly focused, politically calculated goodies," she said, of the tax credits the Tories have introduced, which have been criticized for giving breaks to wealthier Canadians.
Any changes to the tax code would have to ensure that the federal government secures enough revenue to pay for programs, Freeland added.
She talks of increasing the economic pie for everyone rather than slicing the pie differently.
She isn't sure yet. She plans to think more seriously about it. Earlier this fall, Liberal leader Justin Trudeau appointed her co-chair of his Economic Council of Advisors.
While Broadbent has read Freeland's book and thinks she did a good job of describing and analyzing the problem, he said Freeland offers few answers and he personally believes in McQuaig's original position that personal tax increases are the answer.
The Broadbent Institute, a think tank he founded devoted to social democratic ideas with the political distance to embrace unpopular positions, has called for higher taxes on the very well off. The extra revenue would support more generous social programs that serve as an equalizer in society, such health care, public education and the Canada Pension Plan.
Mark Stabile, an economist and the director of the School of Public Policy and Governance at the University of Toronto, told HuffPost that he also believes tax increases on the rich are part of the solution. Programs that have demonstrated their effectiveness by helping to lift children out of poverty, improved their health and increased their school test scores, such as the national child benefit and the working income tax benefit, are expensive, he said.
"The most effective ways of addressing income inequality … require more money," Stabile said. "The natural place to get that money is from the top part of the income distributions."
Taxes have never been so low, he added, and there are a lot of tax expenditures and benefits that are targeted mainly at higher-income Canadians that could be eliminated.
"They certainly contribute to inequality, and it's not clear that they are successful in doing much more than that."
Stabile suggested politicians could get rid of those tax breaks "without actually saying you're raising taxes."
Raising taxes is a particularly unpopular position for politicians in North America, Broadbent told HuffPost.
"The general discussion of a tax increase without people being able to see what it will be used for, it is a big challenge," he said.
He believes, however, that Canadians can be persuaded to offer up more of their paycheque if they can see the return benefit.
"(Income inequality) hasn't been a political issue at all until now," Broadbent said. He hopes the Toronto Centre byelection debate is a sign that that is changing. New York's mayor, Bill de Basio, was recently elected campaigning on income inequality, he noted. Maybe that bodes well for 2015, he suggested.
"Something can be an issue that's talked about, but when voters go to the polls, who knows if they really vote on that basis or not," Broadbent said.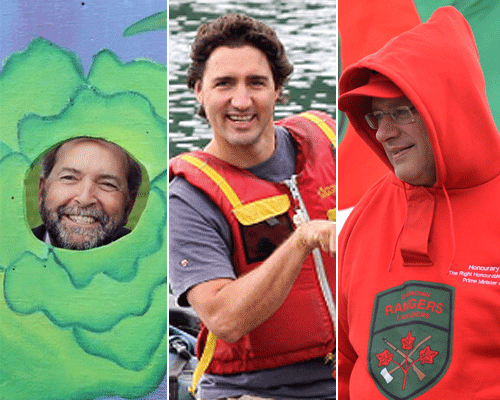 What 3 Leaders Did This Summer