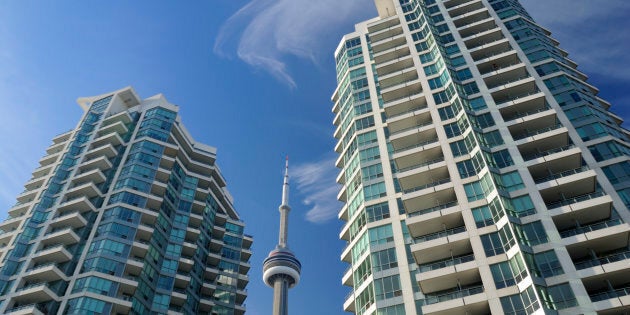 If you're a homebuyer looking to crack into the Greater Toronto Area market, this story will make you wish you were born six years earlier.
That's because as recently as six-and-half years ago, you could have bought an average detached home for the same amount of money an average condo goes for these days.
The average condo went for $561,097 in June of this year, according to data from the city's real estate board. That's just short of the $586,098 you would have needed to afford an average single-family home in January 2012.
Watch: How much home can "peak millennials" afford in Canada? (Story continues below)
Cost of upgrading nearly doubles
That month, upgrading from an average condo to an average home would have required spending an additional $264,000. By June of this year, the gap has grown to $472,000.
In other words, the amount of money you need to upgrade from a condo to a single-family home has jumped by 79 per cent in little more than half a decade.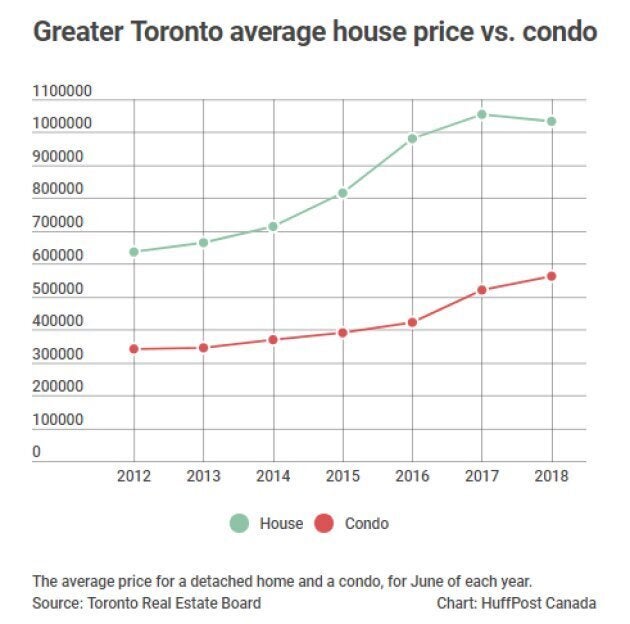 The situation is even more extreme in Greater Vancouver, where according to Royal Lepage data, the average price of a condo today ($692,452) is not far off from what a bungalow on the city's east side would have cost you about four years ago.
It's a stark illustration of what has happened to home affordability in these cities in the past several years as prices of detached homes in both Toronto and Vancouver shot past the $1-million mark.
According to economists at Royal Bank of Canada, home ownership costs in the country are at the their highest levels in nearly three decades, pushed up by rising house prices and, more recently, rising mortgage rates.
A new survey from Point2 Homes finds that a middle income household can no longer afford more than one bedroom in Vancouver or some parts of Greater Toronto.
The average house price in Canada ($495,100 in April) will get you on average just one bedroom in Vancouver, and just 1.9 bedrooms in the Toronto suburbs of Richmond Hill and Vaughan.
In Toronto, that money will get you an average of 2.1 bedrooms. But it's still enough to get three or more bedrooms in Calgary, Edmonton and Ottawa.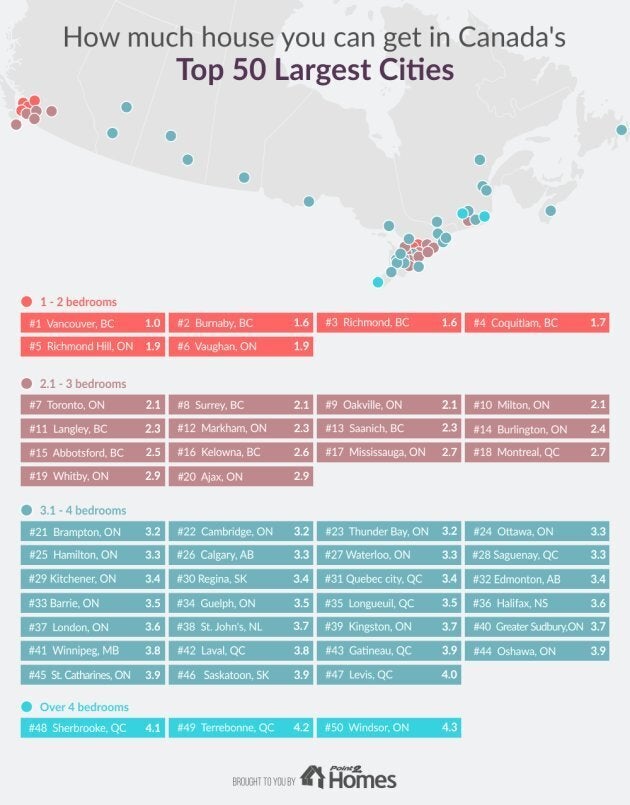 But even that average price is actually out of reach for many Canadian households today. By HuffPost's calculations, a household earning Canada's median income — pegged at $70,336 in the latest census — can afford a mortgage for a home in the $420,000 range, assuming good credit. That's $75,000 short of the average house price.
Any relief in sight for homebuyers?
Yes and no. There is relief on the house-price side. The maniacal price growth seen in Toronto and Vancouver seems to be over, and prices are stabilizing. With sales in a slump, the Canadian Real Estate Association forecasts the average house price will drop by 2.1 per cent this year.
But at the same time, rising interest rates mean the mortgage payments on those house prices are rising, offsetting the benefits of slower price growth.
In the latest hit to affordability, the Bank of Canada last week raised its key lending rate to 1.5 per cent from 1.25 per cent. The rates on variable mortgages and home equity lines of credit went up almost right away. And the markets are pricing in the likelihood of another interest rate hike this year.
Short of a major price correction, or the Bank of Canada reversing course on its rate hikes, there's little hope for a major improvement in affordability. Get used to the one-bedroom life, homebuyers.
Popular in the Community