UPDATE - July 24:Police have identified Julianna Kozis of Markham, Ont. as the 10-year-old child who was killed.
A 10-year-old girl and an 18-year-old woman were killed after gunfire shattered a summer night on one of Toronto's busiest streets. Thirteen others are in hospital.
The shooting unfolded just after 10 p.m. ET in the bustling area of Danforth and Logan avenues, which includes bars, businesses and homes. The suspected gunman moved methodically down the Danforth, spraying bullets at unsuspecting bystanders and eventually exchanging fire with officers.
"We do not know why this happened yet," Toronto Police Chief Mark Saunders told a news conference midday Monday. "The investigation itself is very fluid, it is very new, it's going to take some time."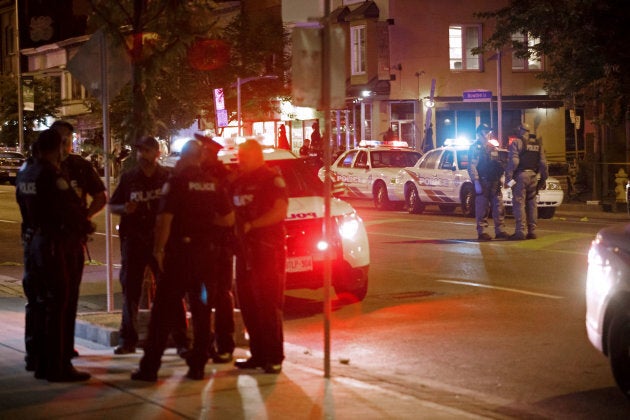 Three patients admitted to St. Michael's Hospital underwent "immediate, life-saving surgery." Those who remain in hospital are in a range of conditions from stable to critical.
There was an "exchange of gunfire" between the shooter and police, said SIU spokeswoman Monica Hudon on Monday. The 29-year-old suspect, Faisal Hussain of Toronto, was found dead with gunshot wounds a few hundred metres away.
The SIU is working to determine how the man died and whether there was any police wrongdoing.
The police chief said the shooting was not random act, and terrorism had not been ruled out as a possible motive, according to The Washington Post on Monday.
John Tulloch said he and his brother had just gotten out of their car on Danforth when he heard about 20 to 30 gunshots.
"We just ran. We saw people starting to run so we just ran," he said.
Witnesses had posted many photos and videos online, including a clip that appears to show a man, clad in black and carrying a satchel, walk a few steps before lifting his arms in front of him as gunshots ring out.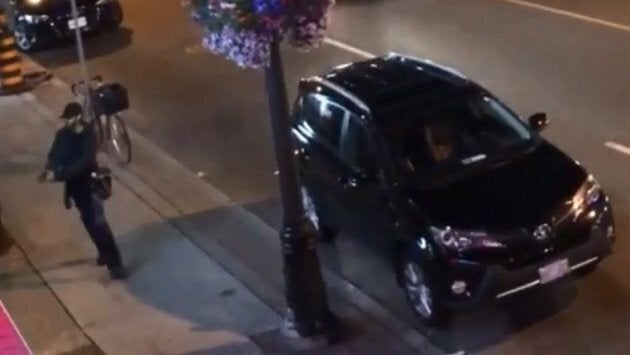 A server at Caffe Demetre told CP24 she was serving a family near the front of the restaurant when the gunman shot through the patio doors.
The woman identified as Diane said she ran to the back and into the basement. When it was safe for her to return, she saw the girl from the family she was serving lying on the ground.
"Her mom was crying," Diane said.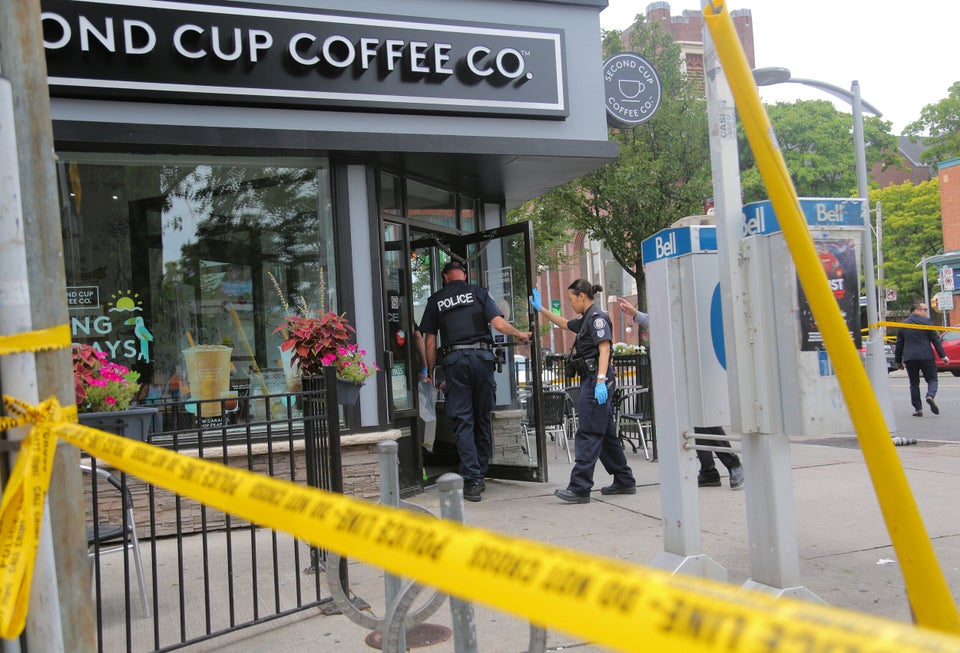 Toronto Danforth Shooting
An army of police, paramedics and other first responders descended on the scene, while a crowd of area residents, some in their pyjamas, emerged from their homes to see what was going on. The Danforth is also known as Greektown, because an influx of Greek immigrants settled in this area of the city's east after the First World War.
"It's the street where families come. They were all out tonight, walking, having their dinner," said Toronto Coun. Paula Fletcher, whose ward includes part of the Danforth, on CP24.
"I live seconds away from the where the shooting took place and that just goes to say that you're really never safe," Suzanne Kelso told HuffPost Canada in an email. "Neighbours are scared and terrified."
She said she was in the car when she heard a "pop sound" but it didn't register until she saw police arrive with large firearms.
We have a gun problem in that guns are too readily available to too many people.Toronto Mayor John Tory
A handgun was used in the shooting, which covered "a bit of distance," said the police chief, explaining that investigators were treating the crime scene "like a jigsaw puzzle."
It's the latest in a spike of gun violence in the city. Over the Canada Day weekend, aspiring rapper Jahvante Smart, a 21-year-old known as Smoke Dawg, and Ernest Modekwe, a 28-year-old producer known as Koba Prime, were killed in a shooting. A woman was also wounded in the incident, which took place in broad daylight in the busy entertainment district.
Toronto police had recently added 200 frontline officers to the night shift in an effort to reduce the gun violence that's been plaguing the city over the summer.
"We have a gun problem in that guns are too readily available to too many people," said Toronto Mayor John Tory from the Danforth scene. "The only people that really are supposed to have them are the police and very limited numbers of other people, and that is clearly not the case.
"And we clearly have to do more about it because there are too many people carrying around guns and using them in whatever manner they use them."
He added, "Please don't draw any conclusions. Please wait for the police to do their job."
Saunders said it was too early in the investigation to speculate on a possible motive, but he urged anyone who had information, including possible dashcam or cellphone video, to contact police.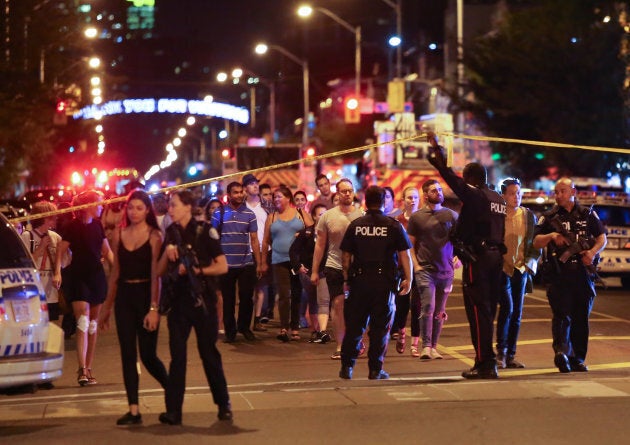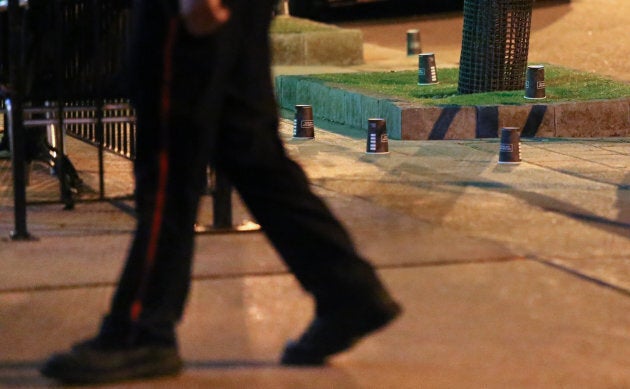 Gun violence has killed 27 people and injured 82 so far in Toronto in 2018, compared with 17 deaths and 80 injuries at this time last year.
"Why do people have guns? Why do they need them? I don't really understand that. This is not that kind of culture," Toronto Coun. Mary Fragedakis told CP24 on Sunday night. "If you're living in a rural community and you need it because you hunt or because there's wild animals, that's one thing, but this is the city, and in Canada, in Canadian cities, there's no need for guns."
Police are asking anyone with information about the Danforth shooting to submit it to their online portal, or call 416-808-7066.
With files from Rebecca Zamon, Maija Kappler, and The Canadian Press
Earlier On HuffPost: