John Tory will be the next mayor of Canada's largest city after winning the Toronto municipal election.
Tory, a former telecommunications executive, CFL chairman, provincial politician, and radio broadcaster, bested controversial city councillor Doug Ford and former NDP MP Olivia Chow, the one-time frontrunner. In the end, Tory finished with 394,444 votes, while Doug Ford had 330,652, and Chow had 227,002.
Tory will replace scandal-plagued Mayor Rob Ford, who dropped out of the race in September after he was diagnosed with cancer. Rob Ford won a seat on council in Ward 2 instead.
The 60-year-old Tory, who vowed to bring stability and professionalism to city hall after four tumultuous years under Rob Ford, spoke of the need to unite the city in his victory speech.
Voter turnout surged as Torontonians waited in lines to cast their ballots. More than 61 per cent of voters went to the polls, up 19 percentage points from the last municipal election.
Tory won with 40.3 per cent of the vote, followed by Ford with 33.7 per cent of the vote. Olivia Chow captured 23 per cent.
"Torontonians want to see an end to the division that has paralyzed city hall for the last few years," he said to cheering supporters. "You want results and together with the city council, we will deliver."
Tory congratulated Doug Ford for having the courage to put his name on a ballot, but had particularly kind words for Chow, who immigrated to Canada from Hong Kong at the age of 13. Tory said her personal story personifies what is possible in Toronto.
"Olivia, you offered a vision of Toronto that appealed to the best in a lot of us," he said.
Calling Toronto the "engine of growth" in both Ontario and Canada, Tory said he looked forward to the work of building a city that is once again a "beacon of respect for everyone."
Earlier in the night, Doug Ford, 49, told a boisterous crowd of supporters in Etobicoke that he appreciated their support.
"Through some very difficult times you stood by us and we'll never, ever forget this," he told members of the so-called Ford Nation.
Doug Ford said he and his brother "introduced the idea of government for the people" and worked to save money and restore fiscal stability to the city. He said that what his team lacked in money and time, they made up for in passion and determination.
Doug Ford congratulated Tory on his win, spurring some boos from the crowd.
"Together we have changed the political landscape in Toronto," he said.
In a speech to her supporters, Chow, 57, congratulated Tory on his victory, saying he ran an "excellent" campaign. But she also referenced what she sees as problems in the city, from children going to school hungry, to gridlock, to young people unable to find jobs.
"John, you've been given a chance to do something about it and I sincerely wish you all the best as our mayor," Chow said.
Chow also paraphrased the famous last words of her late husband, former NDP Leader Jack Layton.
"Friends, I believe love is better than hate, hope is better than fear," she said. "And I think you do, too."
Rob Ford also spoke to supporters earlier in the night. He thanked his brother for stepping into the race and vowed to hold Tory to account for the promises he made in the campaign.
"I guarantee in four more years you're going to see another example of the Ford family never, ever, ever giving up," he said.
Tory lost a race for Toronto mayor in 2003 and was defeated in the 2007 Ontario provincial election as leader of the Progressive Conservatives.


With files from The Canadian Press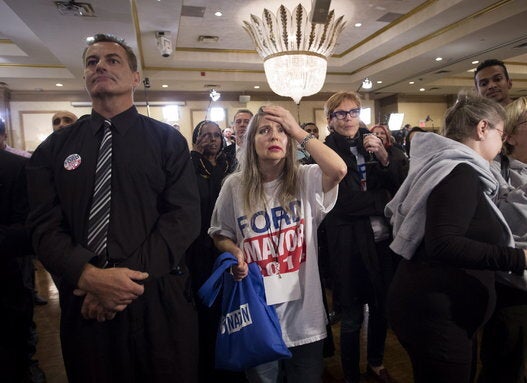 Toronto Election Night Photos