Monday was day one of Toronto Fashion Week, and I was there with a curious eye to how fashion inspires thought. I wrote a post in the past that talks about how significant fashion and a lasting first impression can be, but this time I wanted to know how fashion and style can impact the way we perceive the world around us.
And boy, the stories these designers told through their collections made me feel like I was in a sandbox and someone grabbing my fingers, spelling out the answers to my questions.
Enter Sid Neigum. His collection was dark, abstract, and expressive. Each outfit literally told a story of its own. One woman strutted the runway with long, sharp spikes coming from her skin, another with a wide, spacious gap between her chin and the material of her dress. A third appeared, wearing a thin, black blouse that must have had less material than half a pair of mesh basketball shorts. Her bare breasts looked as much part of the outfit as the material itself.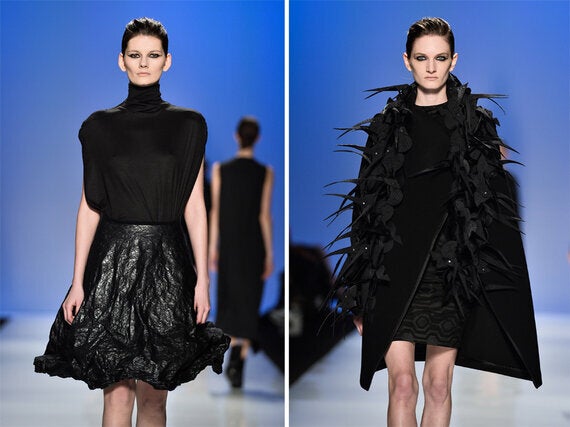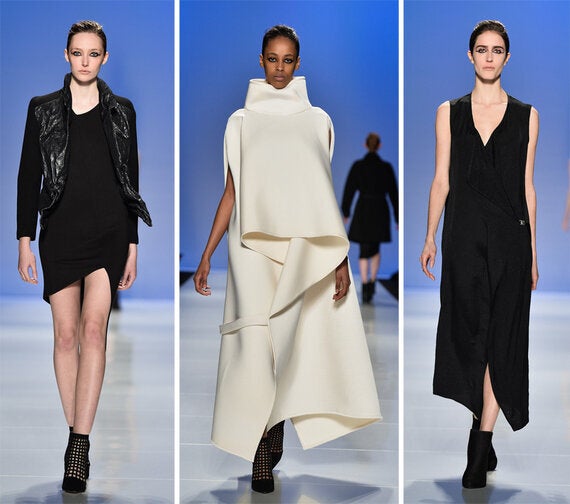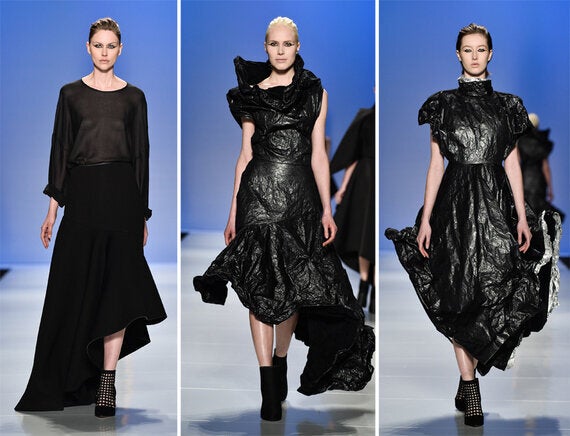 Walking the runway, these women were expressing their life at a certain moment in time. In other words, the look expressed to the world their understanding of it at that specific point in time.
Picture 1 (right): The sharp spikes, to me, illustrates that she has developed a layer of protection to fend something(s) off. She feels the need to stand up for herself, that the world is not always a pretty place. That behind every white swan must be a black swan ready to take over. The something could be internal things like, fear, shame, and embarrassment, as well as external things such as, a terrible past, an illness, or an unsolicited circumstance.
Picture 2 (middle): She presented a look that seemed to hide her from direct contact, as if she was trying to distance herself from the world. Similar to the previous model, circumstances have led her to creating internal mechanisms to adapt. However, she takes a passive approach and almost shields herself from the world by hiding behind this veil she has erected. Her view of the world again, is not so optimistic.
Picture 3 (left): This look is daring. That leads me to contemplate what kind of person takes risks. It could be someone ambitious, someone who feels they have to put themselves out there in the world in order to get what they want back from it. Imagine a person cannon balling into the ocean of life with everything they have without fear of how they may land because they know this cannon ball will be epic. The other world view this woman's look presents is that of someone who feels entirely naked in terms of expression. She is not afraid of being blunt, bold, and descriptive in how she feels. To this person, diplomacy would simply be a waste of existence.
I never in a million years thought I'd "learn" something from a fashion show, but what I picked up today is a reflection of the thought, story-telling, and creativity of the handful of designers I had the privilege of sharing an audience with today.
I'm interested, how do you express your worldview through the way you dress, walk/talk, and carry yourself? (Comment below, I'll be sure to respond.)