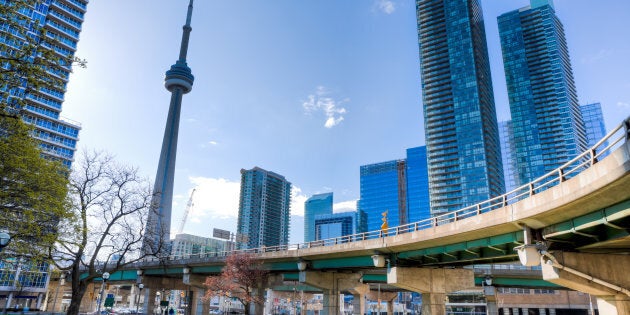 Toronto is the number-one city in the world ... when it comes to risk of a housing bubble bursting.
That's according to Swiss bank UBS's annual global real estate bubble index, which also ranked Vancouver as the city with the fourth-highest risk of a housing bubble.
The ranking looks at 20 major cities worldwide, and assesses each city's risk of a bubble, which UBS defines as "a substantial and sustained mispricing of an asset, the existence of which cannot be proved unless it bursts."
Watch: The troubling mentality behind Toronto's housing bubble
The bank noted that Toronto's inflation-adjusted house prices have doubled in 13 years, while incomes have risen only 10 per cent. Until this spring, prices had been rising in double digits, often a sign of a bubbled-up market.
As in much of the developed world, very low interest rates have allowed Toronto's mortgage borrowers to increase the amount of housing they can afford to take on, UBS said in its report.
"A strengthening Canadian dollar and further interest rate hikes would end the party," UBS wrote.
The bubble may have already burst
Some would say the party is ending already. The Bank of Canada hiked interest rates twice this past summer, and is expected to hike again later this year or early next year. The Canadian dollar has firmed up to above 80 cents U.S.
Other observers have suggested Toronto's housing bubble has come and gone. After peaking this spring, house prices in Toronto have already come down significantly, with detached-home prices down 24.5 per cent since a peak in April, and condo prices down more than six per cent in that time.
What's Going On In Housing?

Our weekly newsletter delivers the news and analysis you need on Canada's housing market. Sign up below and don't miss an issue.
In Vancouver, which topped UBS's list last year, house price growth peaked in 2016, when it was growing by double digits. Despite slower price growth today, "the market remains in the bubble-risk zone, harbouring substantial downside and elevated correction risk," UBS said.
The report said that virtually all the cities it surveyed have seen their risk of a housing bubble increase over the past year.
"Improving economic sentiment, partly accompanied by robust income growth in the key cities, has conspired with excessively low borrowing rates to spur vigorous demand for urban housing."Claudio Saputelli, head of global real estate for UBS Wealth Management, in a statement
Three-quarters of the surveyed cities are now at risk of a housing bubble, UBS said.
In order, the cities with the highest risk of a housing bubble are: Toronto, Stockholm, Munich, Vancouver, Sydney, London, Hong Kong and Amsterdam.
And the city with the lowest risk of a bubble? Chicago, where house prices are still 30 per cent below their 2006 peak, UBS said. It's the only city on the list that is assessed as having undervalued housing.
Popular in the Community