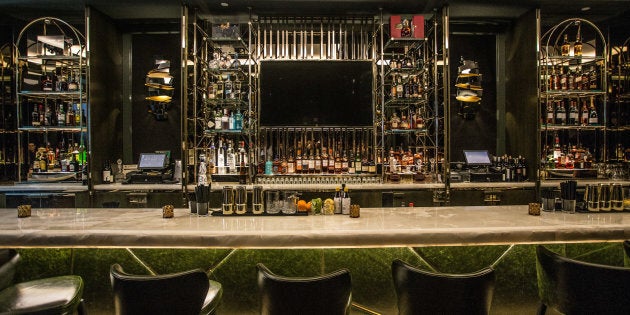 Welcome to Toronto -- a city renowned for its diversity, the celebs who call it home (hi, Drake!) and its incredible food and drink scene. Because of all these markers, Toronto has become a must-experience destination in every season. The city becomes especially energetic this time of year. And with the favourable exchange rate for American travelers, you can't argue with the benefits of doing all your holiday gift shopping north of the border.
Following a day of discovering one-of-a-kind finds in the Distillery Historic District or Queen Street (East and West), there's only one way to end the night: with a handcrafted holiday cocktail from one of the city's top mixologists. In partnership with Tourism Toronto and Ontario Tourism, five leading cocktail wizards share their favourite holiday drink recipes and their favourite part about the holiday season in Toronto.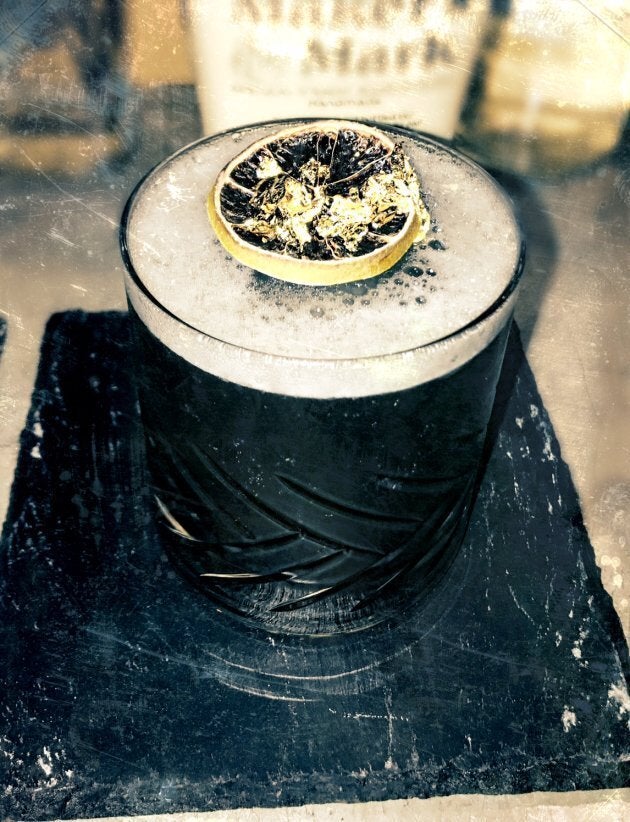 After a satisfying dinner at TOCA, the Ritz's rustic Italian restaurant, guests can unwind in the hotel's outdoor urban oasis -- DEQ Terrace and Lounge -- and enjoy a cocktail created by resident mixologist, John Neil. The luxury hotel is conveniently located within walking distance of the city's Fashion District where fashionistas and creatives work and play. Hop on the streetcar and make stops along King and Queen Street West where trendy boutiques, independent cafes and unassuming restaurants will blow you away. A 15-minute walk north will lead you to Nathan Phillips Square where you can skate hand in hand with a loved one against the iconic TORONTO sign.
2 oz Activated Charcoal infused Lemonade
2 Dashes Peychaud's bitters
2 Dashes Black Pepper bitters
Shake all ingredients, strain and serve on a slate over a King cube with gold flakes on top. Garnish with a dehydrated lime wheel.
Q: What's your favourite part about the holiday season in Toronto?
A: The lights, the fashion, the decorations and the overall happiness in the city over the holidays makes it feel very warm and welcoming.
Q: When it comes to beverages, what flavours are you drawn to come winter?
A: I try to stay away from the more cliché flavours that are synonymous with the season. I like to use ingredients like roasted pineapple or caramelized pecans -- either in an infusion or as part of the garnish. I often use vanilla rooibos tea or clove syrups in my winter cocktails for some interest sweetness and spice combinations.
As for spirits, I think it's only natural to incorporate darker spirits like bourbon or rum into the cocktails or even an Anejo tequila for an elevated flavour profile.
Q: Describe this holiday cocktail. Why is it the perfect drink for the season?
A: Going back to my original comments about how the city feels over the holidays, I wanted my cocktail to represent that warm and welcoming feeling when a guest sits at my bar and drinks it. Its flavour profile is a combination of sugar and spice that activates a number of taste sensations when it touches your tongue. Always keep in mind to measure out the ingredients with a shot glass or jigger to ensure your cocktails are properly balanced.
Q: What should visitors do when they're in the city this winter?
A: Nathan Phillips Square for ice skating is a must. I like to visit High Park when it's covered in snow and walk down some of the more residential streets to see how people have decorated their houses. Of course, Toronto is full of some of the best cocktail bars in the city. So finding a nice warm and cozy place to curl up with a holiday cocktail is also a great way to spend an evening.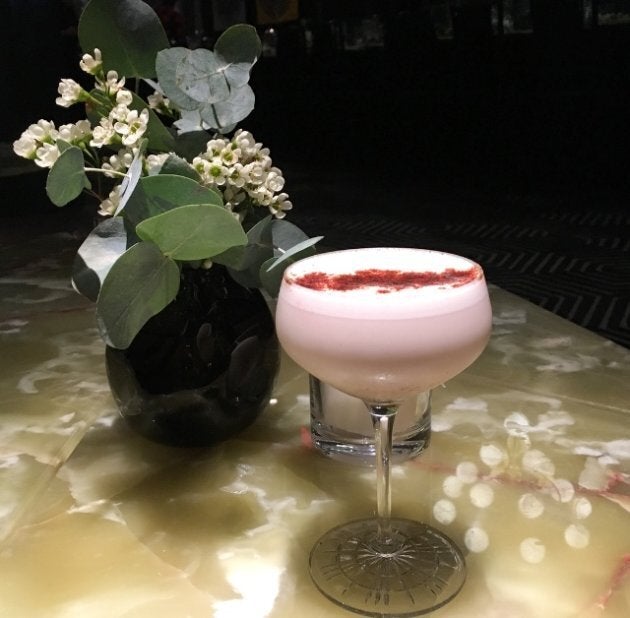 Bisha is Toronto's newest hub for travelers looking for a glamorous place to rest and have a beverage or two. Celebrity chef Akira Back is slated to open his first Canadian restaurant at Bisha later this year but in the meantime, bar manager, Isaac Viner has been busy curating a cocktail list that is guaranteed to make waves. The surrounding neighbourhood is bustling to say the least. Hockey fans can catch a game at nearby Air Canada Centre or learn more about the greats at The Hockey Hall of Fame. Not a sports fan? No problem. The Tiff Bell Lightbox and Toronto's Ripley's Aquarium are only a stone's throw away and suitable for all members of the family.
.05 oz Madagascar Bourbon Vanilla Paste
1/4 teaspoon chili powder
Combine egg yolks, simple syrup and whisk together. Add remaining ingredients excluding egg whites. Whip the egg whites separately until they have soft peaks. Next, gradually fold the egg whites into the mixture. Add all ingredients to a shaker tin with ice and shake vigorously for 10 seconds. Double strain into an old fashioned glass and garnish with freshly grated nutmeg.
Q: What's your favourite part about the holiday season in Toronto?
A: Spending time with my family. It's a great time to relax and recharge.
Q: When it comes to beverages, what flavours are you drawn to come winter?
A: Growing up, we always made mulled wine for our holiday party in a massive pot. Spices like cinnamon, cloves, star anise, cardamom, dried orange rind are my favourite winter flavours.
Q: Describe this holiday cocktail. Why is it the perfect drink for the season?
A: At Bisha during the holiday season, we will be featuring a Tequila Egg Nog. A beautiful blend of Reposado Tequila, a touch of Spiced Rum, milk, eggs, Madagascar bourbon vanilla paste, cinnamon, nutmeg and a pinch of chili powder. It's an incredible cocktail that helps keep you warm.
Q: What should visitors do when they're in the city this winter?
A: (Visitors) should definitely go to the Island and rent some cross country skis or snowshoes.
Pro Tip: Take a ferry ride or water taxi from the harbour. No matter where you choose to dock, you'll get an unobstructed view of Toronto's stunning skyline.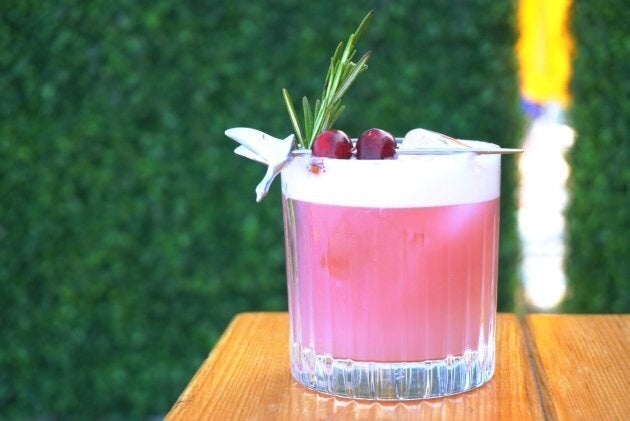 Lavelle may be known for its see-and-be-seen rooftop pool parties but they want you to know that exciting things are in store for the holiday season too. Along with a selection of new cocktails, the venue boasts an incredibly sumptuous brunch menu and an unparalleled view of the city. Situated in the trendy neighborhood of King West, nighttime revelers will have no shortage of appropriate venues to show off their best (or worst) dance moves. In the day, King West is a prime location for mingling with friends and fur babies over artisan espresso drinks and freshly baked croissants. Even in the winter, the neighbourhood is alive with activity -- whether it's residents or visitors taking in the area's colourful murals or fitting in a workout at one of the many boutique gyms. From King West, walk to Toronto's Harbourfront where you can skate or take in the Spectacle of Lights, an art installation that illuminates the Toronto Music Garden illuminated with over 39,000 LED lights.
2 dashes Black walnut bitters
2 dashes Forest fire bitters
Q: What's your favorite part about the holiday season in Toronto?
A: The holiday season in Toronto for me is all about quality time with friends and family – with the best holiday themed libations of the season. Personally, I love giving thoughtful gifts. There is nothing better than watching someone you care about receive a gift that you've put effort into.
One of my favourite drinks to enjoy during the holiday season is a Mulled Wine Mimosa, coming soon to Lavelle.
Q: When it comes to beverages, what flavours are you drawn to come winter?
A: It is easy to get caught up in all the "cozy" spices (i.e. Pumpkin spice everything) and I am no exception, but this year I am trying to stand out from the crowd and focus on inventive savoury cocktails. This season at Lavelle I'll be introducing a new drink called "The PB&J Manhattan" which is a twist on the classic Manhattan cocktail. Using roasted peanut-infused rye to add a salty fatty flavour alongside vermouth and strawberries, this drink is like drinking a boozy peanut butter and jelly sandwich.
Q: Describe this holiday cocktail. Why is it the perfect drink for the season?
A: The Boreal Sour reminds me of crisp, cold winter nights in the mountains back home in Alberta where I'm originally from. When Making this drink at home, don't focus to intensely on the details. Red wine or mulled wine with any kind of bitters will create something unique. Spend the time with the ones you love and bring them all to Lavelle to have an expert create an experience to remember.
Q: What should visitors do when they're in the city this winter?
A: Toronto is a hub for talent on multiple avenues, and it's definitely a city that has a pulse. My personal recommendation would be to get out and enjoy the multitude of live music performances around the city, including our symphony, opera and various acts. And with 13,000 square feet of unparalleled city view, Lavelle is definitely a destination to enjoy this holiday season.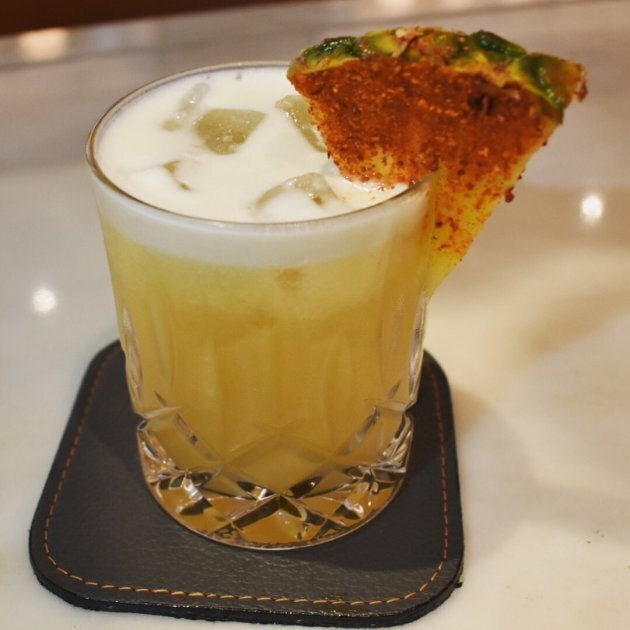 Nestled in The Four Seasons Hotel in Bloor-Yorkville, Chef Daniel Boulud leads the culinary charge along with Shannon Marshall who is at the helm of the all-important bar menu. Marshall's creations have made grabbing a cocktail at Café Boulud an experience to remember. Native Torontonians will send you to Yorkville if you're craving a refined experience of the city. The best-of-the-best when it comes to designer shopping and top-notch restaurants make their home in this notable neighbourhood. Car enthusiasts will also enjoy seeing a steady stream of rare Lamborghinis, Maseratis and Rolls Royce cars parked along the street just asking to be gawked at.
1/2 oz Dillon's Black Walnut Amaro
1 oz roasted pineapple syrup
Shake and strain into a rocks glass.
Q: What is your favourite part of the holiday season in Toronto?
A: There are always a few more lively gatherings during the holidays. That often means a few more groggy mornings but it's always nice to get together.
Q: Describe this holiday cocktail. Why is it the perfect drink for the season?
A: The cocktail is a mix of syrup from a roasted pineapple, (roasted with maple syrup, orange juice and baking spices) Lot 40 whisky, a local whisky, Dillon's black walnut amaro, fresh pear and lemon juice, with a pineapple spear dusted with espelette pepper.
The drink can be made in batches for a large group and can even be served warm (simply heat the syrup and pear juice in a pot and add the whisky and lemon juice). Slowly roasting a pineapple brings out another level of sweetness and adding spices like clove, star anise and vanilla made it a perfect ingredient for holiday cocktails.
Q: When it comes to beverages, what flavours are you drawn to come winter?
A: I tend to make cocktails with the fruit that can be associated with winter. Clementine, mandarin and pomegranate come to mind. Grapefruits are at their best during the holiday season and work so well with darker spirits that seem to warm us a bit more in the winter, like aged rums, whiskeys and cognac.
Q: What should visitors do when they're in the city this winter?
A: Go to a Raptors game. Win or lose (it's often win), I've never had a bad time at a Raps game.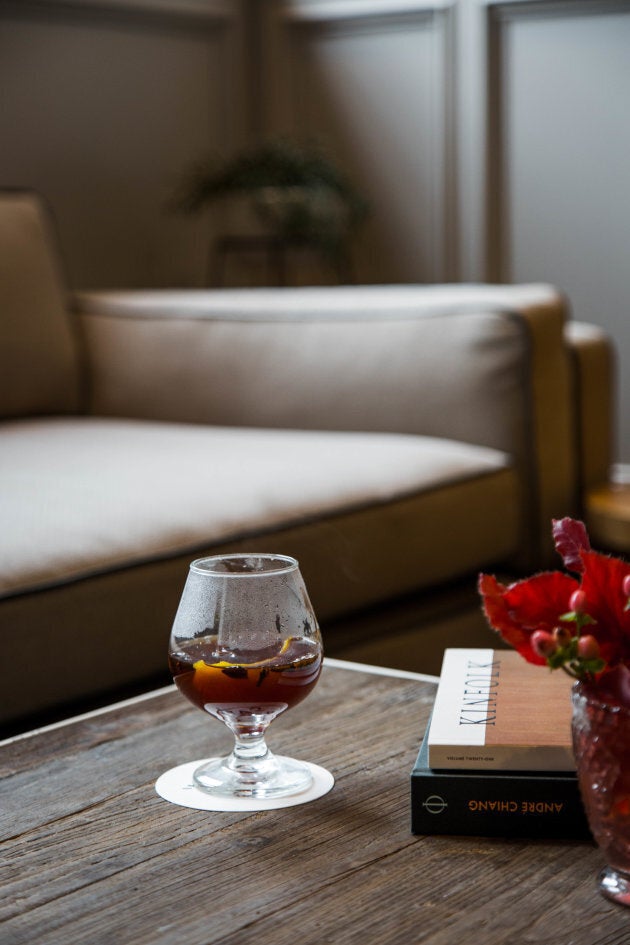 This revitalized space is an architectural gem. It has shiny, new walls but quirky design elements remind visitors of the space's illustrious past. One of The Broadview's main draws is the rooftop bar. Here, guests are treated to a 360-degree view of the city while they sip on masterfully created cocktails from the hotel's head bartender, Tony Silva. Visitors should be aware that The Broadview Hotel is located in an area on the cusp of becoming Toronto's IT neighbourhood. Vintage furniture shops, cold pressed juiceries and vintage clothing shops contribute to the area's colourful family-friendly vibe. The quiet tree-lined streets will make you forget you're in the heart of downtown. While you're out East, stop by the Christmas Market or the Light Festival in the Distillery District. It's the perfect place to purchase gifts from local artisans or for a post-drinks stroll with friends.
Add ingredients to a heat resistant pot. Warm the ingredients but do not bring to a boil. Pour into a snifter.
Q: What's your favourite part about the holiday season in Toronto?
A: I enjoy that it brings folks together, I tend to notice more heartfelt hangouts around that season. That warms my heart.
Q: When it comes to beverages, what flavours are you drawn to come winter?
A: I'm drawn to more herbaceous flavours when the weather gets colder. Green Chartreuse is a favourite to use in cocktails during the months due to its versatility.
Q: Describe this holiday cocktail (the recipe). Why is it the perfect drink of the season?
A: This cocktail is meant to be enjoyed after a busy day. It's full of holiday-spiced scents like allspice and clove, which play well with the lemon juice, and citrus notes in Averna and Cognac. Punches have always been communal and have traditionally had a very communal feel, encouraging people to interact with each other and make new friends. This drink can be batched into larger quantities for get-togethers during the holidays. Drinks like this have the added bonus of being very easy to play around with. At home, try swapping out the cognac for aged rum, or the lemon juice for lime and see what it tastes like and to make it your own.
Q: What should visitors do when they're in the city this winter?
A: When winter hits, I enjoy tobogganing in the east end at Riverdale Park. It can be exhilarating and it's nostalgic.
Pro Tip: Many argue that the skyline view from Riverdale Park is the best in the city. Purchase a TTC day pass so that you can commute to this vantage point with ease.
This holiday season, make your way to Toronto and let the city show you a side of itself you've never seen before.