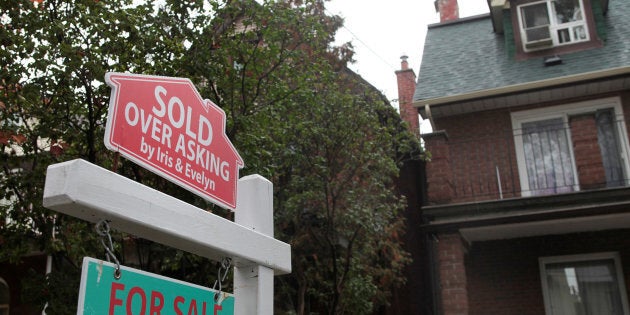 The average price of a home sold in Toronto has fallen by more than 14 per cent over the past year, to $784,558 last month compared with $915,126 in March last year.
The board says the drop in the average selling price was due in part to the fact that sales of detached homes, which are generally more expensive, fell more than other home types.
It added that the share of detached homes selling for over $2 million last month was half of what was reported a year ago.
Prices still rising in Vancouver
Falling prices are not the case in Vancouver, where they continue to rise despite deep declines in sales of all home types. The benchmark price for all home types rose 16.1 per cent over the past year, to $1.084 million.
Condo sales dropped 26.7 per cent from the same month a year earlier, but prices are up a massive 26.2 per cent. The benchmark condo in Greater Vancouver now goes for $693,500.
"We saw less demand from buyers and fewer homes listed for sale in our region in the first quarter of the year," said Phil Moore, president of the Real Estate Board of Greater Vancouver.
"Even with lower demand, upward pressure on prices will continue as long as the supply of homes for sale remains low," he said in a statement.
"Last month was the quietest March for new home listings since 2009 and the total inventory, particularly in the condo and townhome segments, of homes for sale remains well below historical norms."
New regulations slow Toronto's market
The Toronto Real Estate Board laying the blame for the slowdown with a slew of new measures designed to improve housing affordability, as well as rising mortgage rates.
"The effects of the Fair Housing Plan, the new OSFI-mandated stress test and generally higher borrowing costs have prompted some buyers to put their purchasing decision on hold. Home sales are expected to be up relative to 2017 in the second half of this year," TREB president Tim Syrianos said in a statement.
— With a file from The Canadian Press