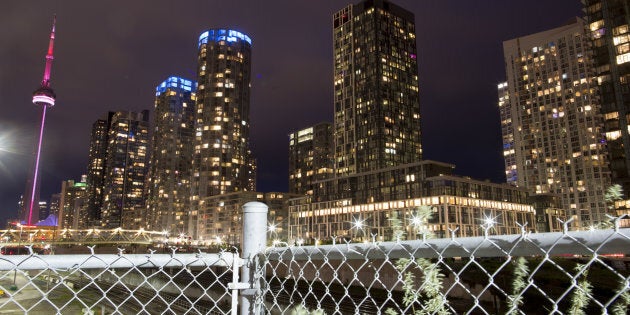 Now, Porter has given that bubble its death certificate.
"This is a late bubble. Bereft of life, it rests in peace," he wrote in a client note last week.
To prove his point, Porter published a chart showing home sales in some regions in Toronto retracing all their gains of recent years. What went up, just came down: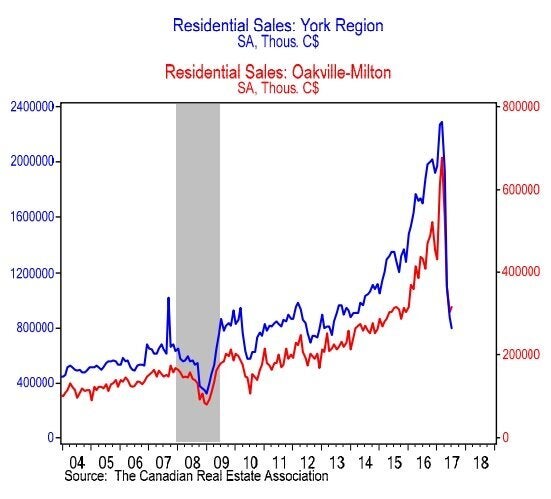 The above chart shows that sales in York region, north of Toronto, collapsed 56 per cent since April. Sales in the Oakville-Milton suburban region fell 53 per cent in that time.
The bubble wasn't supposed to end so quickly. In a client note in February, BMO economist Robert Kavcic estimated that Greater Toronto was still two years away from reaching the sort of unaffordability levels the city saw at the peak of its last housing bubble in 1989.
So why the premature death? It may have everything to do with the new housing rules Ontario's government put into place for the Greater Golden Horseshoe region in April.
"The July home sales data reveal in stark detail how many regions of Ontario have swung into reverse in very short order. And, yes, almost to the day that the Fair Housing Plan kicked into gear in April," Porter wrote.
What's Going On In Housing?

Our weekly newsletter delivers the news and analysis you need on Canada's housing market. Sign up below and don't miss an issue.
The plan comprises a dozen measures to cool what until recently had been rapid house price growth in southern Ontario. Among them are a 15-per-cent foreign speculators' tax and expanded rent controls.
Porter suggests the steep drop-off in sales is evidence that Toronto's market was being influenced by foreign buyers.
"Some would argue that non-resident investors were not a big deal in the market. Some would also argue that the earth is flat," he wrote.
Overall, home sales were down 40.7 per cent in Greater Toronto in July, compared to the same month a year earlier. That sudden drop-off in activity is putting pressure on prices, which have fallen about 19 per cent since April.
However, because of strong price growth last year and early this year, the average price for all housing types in Toronto in July was still about 5.1 per cent higher than a year ago, at $746,218.
More about Canada's housing markets:
Popular in the Community