Affordability in Toronto worst since early 1990s
Vancouver home sales soar 40%
PIMCO sees '20% negative return' on housing in next 5 years
The experts are increasingly saying Canada's housing markets have nowhere to go but down, but try telling that to residents of Toronto, who are facing a growing home-buying frenzy ahead of expected mortgage rate hikes.
Home sales in the GTA were up 14 per cent in November compared to the same month a year earlier, and even though there's still December to go, the area has set an all-time annual sales record, the Toronto Real Estate board said Thursday.
The average price in the region rose 9.6 per cent in a year, to $632,685.
Single-family homes in the city of Toronto remained above the million-dollar mark, averaging $1.018 million, up 8.8 per cent from a year ago. But it was in the suburban 905 region where single-family homes really shot up, by 13.5 per cent in a year, to an average price of $762,326.
Condo prices are growing more slowly, up 5.4 per cent in Toronto, to $415,316, and up just 1.5 per cent in the 905, to $315,226.
The real estate board's data shows that affordability in Toronto has been eroding slowly for years, and has now reached levels not seen since the early 1990s, when Greater Toronto was just beginning to recover from a majour housing-market bust.
The share of income needed to cover mortgage payments and utilities is approaching 40 per cent.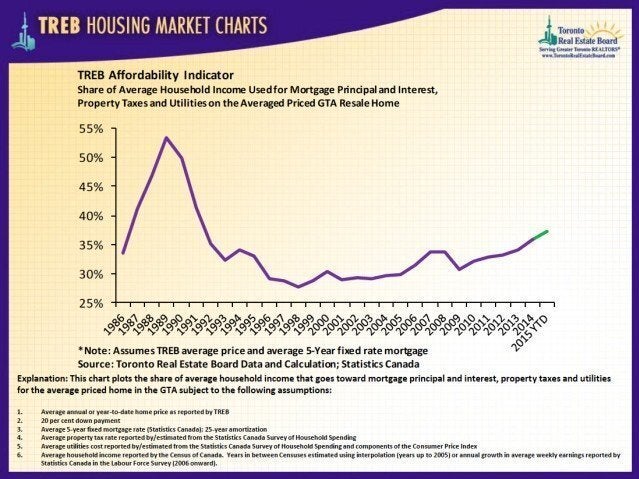 The board's market analysis director, Jason Mercer, said sales have been growing faster than new listings, intensifying bidding wars.
"Competition between buyers has strengthened in many neighbourhoods in the City of Toronto and surrounding regions. The end result has been upward pressure on home prices well above the rate of inflation in most cases," he said in a statement.
Some of Canada's housing markets heated up earlier this year following the Bank of Canada's rate cuts, which brought the key lending rate down to 0.5 per cent, from 1 per cent.
But with mortgage rates on the rise this fall, and more hikes expected once the U.S. Federal Reserve begins raising rates (widely expected to happen this month), analysts are saying that the long-awaited slowdown in Canadian housing is around the corner.
Investment management giant PIMCO is the latest to add its voice, saying it expects to see a 5- to 10-per-cent drop in house prices in Canada over the next five years.
"If you think about that in real terms, adjusting for inflation, that actually gets you to a negative return of about 20 percent," Ed Devlin, PIMCO's head of Canadian portfolio management, told BNN. "That would be the kind of correction that would take the majority of the froth out of the market and still not be the kind of thing that would lead to a Canadian recession."
TD Bank has also been predicting the end of house-price growth, but it has set a more specific timeline: It expects home sales to start declining in Ontario and British Columbia next year.
TD forecasts for home sales, by province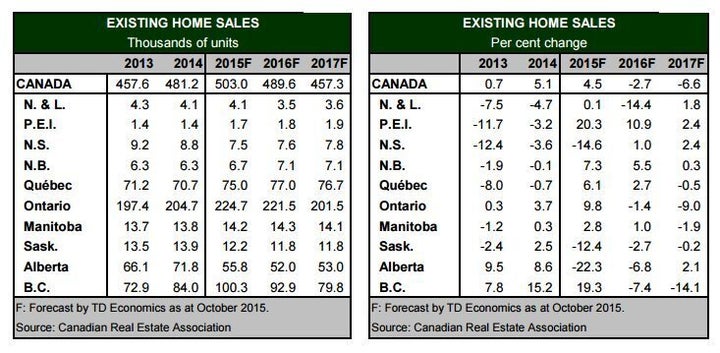 TD forecasts for house prices, by province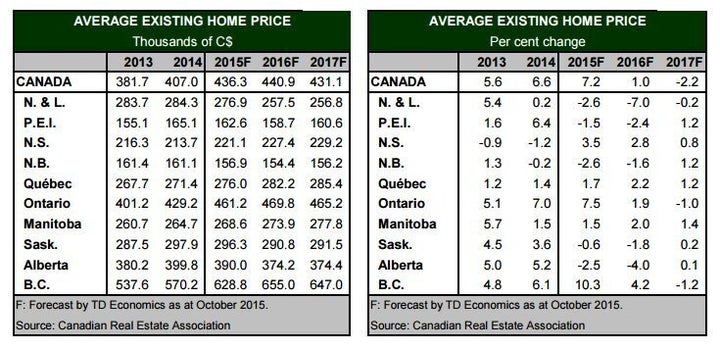 The weakness will be due to "both weaker demand as well as a multi-year period of overbuilding," TD economists wrote.
"As affordability challenges continue to intensify, markets in B.C. and Ontario are expected to record a tapering in sales and price growth in 2016 and into 2017.
"But, barring a shock to employment or interest rates (which we view as unlikely), corrections in these regions are likely to be orderly."
Popular in the Community