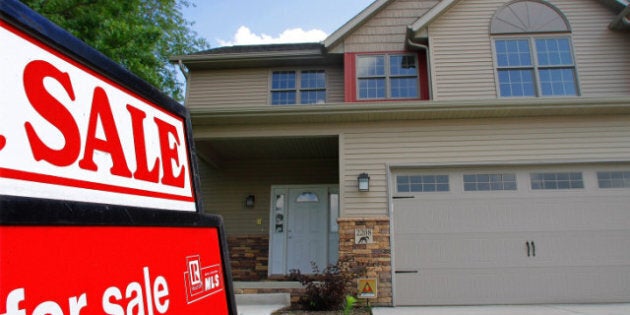 In the first half of July, the average resale price of a stand-alone home in Toronto was $720,808.
A month later, in the first half of August, it was $597,093 -- a 17-per-cent drop.
A sign the real estate apocalypse is upon us? Not exactly. Not yet, anyway.
Not all the statistics in the TREB's report are as alarming as the one above. Compared to the same period a year earlier, the average resale price was down only 7 per cent. And prices in Toronto's suburbs -- the 905 -- actually posted a year-on-year increase of 9 per cent for the same period.
Jason Mercer, senior manager for market analysis at TREB, cautioned that the numbers may be deceiving.
"You do see average selling prices dip in the summer months," he told HuffPost, noting that there tend to be fewer high-end homes on sale during the summer, which can skew average numbers.
But an analysis of TREB's numbers shows that the summer dip was much more pronounced this year than last. While the average resale price in Toronto dipped $51,000 from May to August last year, this year the same period saw a decrease that was more than three times as large: $177,000 was wiped off the average price from May to August of this year.
The numbers are so staggering that they prompted business journalist and former Member of Parliament Garth Turner to wonder if they were a typo. (They weren't.)
That suggests an economy that may not be able to support increases in real estate values for long.
For all that, the TREB doesn't seem worried. Mercer described the Toronto resale market as "stable," and said he expects the average numbers to pick up in the coming months. He noted that sellers are by and large getting their asking price, suggesting a market where supply and demand are aligned.
Mercer also notes that this month's underwhelming average resale price was determined on the basis of only 352 sales -- a small sample size for a market this large.
He added the TREB projects a total of 90,000 home sales for Toronto this year, making it the second-best year on record, in terms of sales volume.
Bank of Canada Governor Mark Carney and Finance Minister Jim Flaherty are expected to update Parliament on the country's economic situation on Friday, and given the softness of recent economic indicators, observers expect Carney to affirm his commitment to keeping interest rates low for the foreseeable future. That's a far cry from just last month, when the economy was seen as being good enough for economists to speculate about a rate hike.
Signs have been emerging for some time that Ottawa is concerned that historically low interest rates, combined with relatively easy access to mortgages, have been distorting the real estate market and potentially inflating prices.
Flaherty announced new mortgage rules earlier this year that would reduce the maximum amortization period on government-backed mortgages from 35 to 30 years. The finance minister also reduced the maximum amount Canadians can borrow against their homes, to 85 per cent from 90 per cent.