The constant chatter online and in the media about Toronto suffering from a leadership paralysis would have made you believe that the city has fallen into deep dysfunction. Reality couldn't be more different. Toronto is booming.
At City Hall, members of council and staff have done their utmost to fill the leadership vacuum. Toronto's non-partisan system, while messy, has allowed its city government to deliver with little disruption. Council and the City's senior management found equilibrium on a wide range of issues from transit to housing to electoral reform. The motivation could have been as simple as a determination to unite against a perceived threat to the well-being of the city.
A less-recognized ingredient in Toronto's success, however, has been the city-building and civic leadership that has emerged from vibrant and innovative private firms, public institutions, non-profits, and cultural sector organizations that form its wider civil society. Over the last decade these collective efforts have helped the city to be consistently among the world's top ten in terms of liveability, prosperity, and attractiveness for businesses. It is clearly the number-one city in Canada in financial power and cultural facilities, and as a media centre. In the last decade it has also become the North American leader in the construction of tall buildings, sometimes outstripping all the other cities combined.
How did the city sustain its prosperity even as some aspects of municipal government faltered or when faced with crises such as SARS or the Great Recession? Who are these leaders who keep the city going? Leadership examples are plenty. The multinational firm Cisco is one such. It has been a leader on local environmental sustainability issues through both its business and community activities. Toronto's universities, colleges, and hospitals have played a central role in building and maintaining the human capital that a successful local economy needs. Ryerson University, George Brown College and Humber College have significantly improved their neighbourhoods and streetscapes with new buildings and activities.
The Toronto Public Library (TPL) is yet another unsung leader. Like any good business, TPL has kept abreast of the times and remained in touch with its clients, even stocking books in the languages spoken in a branch's neighbourhood. City-building organizations like the United Way of Greater Toronto, the Toronto Community Foundation, the Toronto Region Board of Trade, and CivicAction have also each established important civic leadership niches.
Toronto's cultural scene has been revitalized in recent years, driven by the energy of the main institutions and their supporters. Major renovations and additions at the Art Gallery of Ontario and the Royal Ontario Museum, the development of the new Four Seasons Centre for the Performing Arts, exhibits at the Gardiner and Bata museums, and concerts at Koerner Hall in the Royal Conservatory of Music reflect private donations, which help leverage money from the federal, provincial, and municipal governments.
Of course not everything is hunky-dory. Toronto is losing on other fronts because progress occurs variably across neighbourhoods, between people, and over time. Toronto's transit system has not kept pace with its growth, and is decades behind in the number of lines and quality of service. Its roads are congested, stalling the movement of goods and people. Too many people live in poverty and can't find work or adequate and affordable housing. These and other issues are real and expensive problems to deal with, particularly for a city that lacks sufficient revenue tools to deal with them. While they form a critical set of challenges for Toronto's future, the building blocks are in place.
This fall's elections provide a chance for a fresh start. Toronto's new council and mayor must be up to the task. Toronto's city management will also have to continue providing a steady hand on the tiller. Both municipal politicians and public servants would be wise to recognize the powerful elements of growth and energy that exist outside city hall. So too can the city-builders in business, the arts, and civil society embrace and engage city hall -- something that happens less frequently than it should. City leadership is most effective as a collaborative endeavour, with many faces.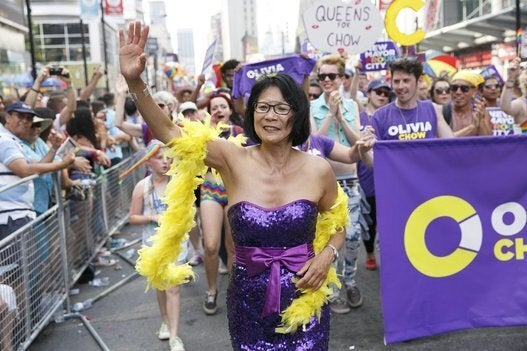 Olivia Chow Through The Years