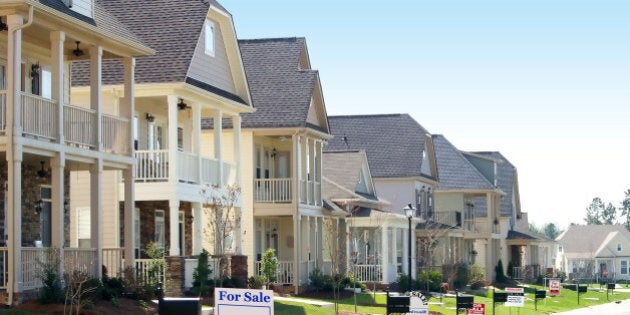 With the average price of a house in Toronto surpassing $1 million, housing affordability is on everyone's mind. It's critical not only for practical reasons but for rock-hard economic reasons: an economy needs workers and workers need places to live. Affordable housing is imperative to continued economic growth and our vitality as a region.
The recent move by city hall -- their Open Door initiative to work with the private sector to develop affordable housing on city-owned land -- is a welcome first step. But it is only one step. To solve our housing problem, supply needs to increase -- and quickly. That means activating underused lands and turning them over to productive and vibrant purposes.
The vast majority of idle, or underused, land in Toronto is in private hands and in less than prime locations that are inaccessible by transit. To convince those private owners to sell -- and to convince developers to buy -- is no small task. But as a real estate developer myself, I have a few suggestions.
We've got to think outside the core. Much of the recent property boom is being driven by major consumer preference for walkable neighbourhoods. And although many people think of walkable neighbourhoods close to the core when they think of Toronto, in truth, much of the city is predominantly car-dependent, with residents in most of Scarborough, Etobicoke and North York opting or needing to drive for simple errands.
There's a lot developers can do to help make Toronto's inner suburbs more walkable, but with consumer preference so pronounced for neighbourhoods that already have that walkability, it's hard to make the business case.
There are some things the city can do to encourage developers to increase investment in the inner suburbs -- DC rebates, streamlined approval processes, discounting city-owned lands or city financing partnerships. But the two biggest steps the city must take are: build transit and reduce risk.
The first step -- build transit -- is self-evident. In order to encourage parents to choose transit for getting kids to school, purchasing groceries, going to the bank or visiting friends, transit must be accessible and reliable. Developers building mixed-use neighbourhoods can enhance an area's walkability by providing spaces for street-level retail and services, and creating a vibrant public realm on the sidewalk and in publicly accessible spaces. But the city needs to provide the fundamentals. Developers need to be able to integrate into an existing, reliable and accessible public transit network. An anemic network limits our options for where we can build.
The second step is to reduce risk.
Developers take on a lot of risk when they invest in a project -- market risk, locational risk, cost escalation risk, planning risk, and so on. So do their financing partners, some of whom -- quite rightly -- will avoid risky projects. But uncertainty, caused by constantly shifting transit plans and city plans, adds an additional layer of risk that makes investment in non-core areas much less attractive.
The recent announcement around the Finch West LRT is an excellent case in point. Knowing that those LRT projects are a political football -- and knowing that the Finch West LRT project was funded only by sacrificing delivery timing of the Sheppard LRT -- how can any developer make the case to invest in walkable neighbourhoods in North Etobicoke, by example, when the city can pull the rug out from under their feet?
A developer interested in building a walkable neighbourhood in North York will have a difficult time making the case to investors when a promised transit line is delayed, or worse still, may never arrive.
In order to unlock the grand potential of Toronto's non-core markets to create affordable and vibrant communities and to ensure everyone is able to share in the economic and health benefits of walkable and livable neighborhoods, the city needs investment. It will need strong local leadership, firm capital commitment, and an understanding between the city, residents and developers that once a plan -- any plan -- is decided upon, it will be carried out.
Popular in the Community