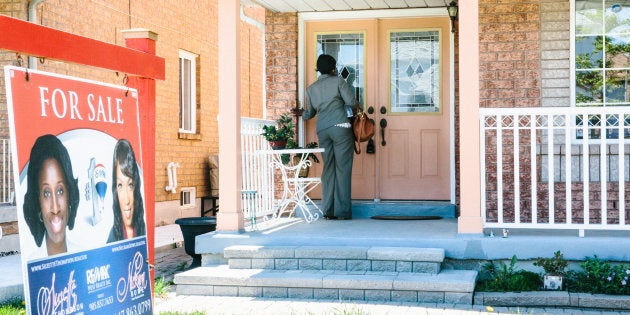 Homeowners in Toronto and surrounding regions don't seem too impressed with what's been going on in their housing market, and they've responded to the slowdown by staying put in their homes.
That decrease in supply could actually help the market bounce back faster than it would have otherwise.
The number of new listings of houses for sale in Greater Toronto dropped by 24.8 per cent in April, compared to the same month a year earlier, according to data from the Toronto Real Estate Board.
At the very least, the numbers suggest that there is no panic in southern Ontario's housing markets in the wake of a price and sales slowdown. In a panic situation, new listings would spike as homeowners seek to cash out of a market in which they've lost faith.
Watch: Why are Canadian mortgage rates going up now? (Story continues below)
But the drop in new homes being listed for sale is "a sign that that potential sellers are unimpressed with the prices on offer," Bank of Montreal chief economist Doug Porter wrote in a client note.
The average price of a home sold in Toronto has dropped by 12.6 per cent over the past year, to $804,584 in April. But that drop is exaggerated by the change in the mix of homes being sold. With fewer high-end houses for sale, the average price skews downwards.
The MLS home price index for the city, which factors in the mix and quality of homes sold, showed a 5.2-per-cent drop in house prices over the past year.
"It may be that people are trying to time the bottom of the market," TD Bank economist Rishi Sondhi said, as quoted at Bloomberg. "They're holding out because they think the market is going to turn around."
"Don't look for a quick turn in the market anytime soon."BMO chief economist Doug Porter
But Jason Mercer, director of market analysis at the Toronto Real Estate Board, says all the policy changes introduced in the past year are also keeping home sellers on the sidelines.
"People are still coming to terms with the volatility in the market as a result of (Ontario's) Fair Housing Plan and changes in mortgage lending guidelines," Mercer told HuffPost Canada.
He noted that, with homes taking longer to sell, the market is still better supplied than it was a year ago, even with the slowdown in new listings.
Pierre Leduc, a spokesperson for the Canadian Real Estate Association, said another reason for the lack of new listings may be that the people who would have sold their homes now can't afford to buy the new one they wanted.
Many move-up buyers "have had to go back to the drawing board as far as how much home they can afford" because of the new mortgage rules, Leduc told HuffPost Canada in an email. Those rules chopped off an estimated 20 per cent or so of Canadians' buying power.
They're waiting to save up a larger down payment, or have decided to stay put in their current homes, "so those potential listings are out for now as well," Leduc said.
But home sales in Greater Toronto have fallen even faster than new listings — down 33 per cent in April from a year earlier, when the market was near the peak of its frenzy. The city has shifted from being a seller's market to being in balanced territory, Leduc said.
Because of that, both Mercer and Leduc expect Greater Toronto to return to house price growth in the coming months — although Mercer expects that growth to be much more moderate than what was seen prior to the slowdown, and "certainly not" the massive 20- or 30-per-cent price spikes seen before last spring.
But not everyone agrees the market is on the verge of a rebound. BMO's Porter says bond yields, which influence mortgage rates, are "still grinding higher," suggesting still-higher borrowing costs on the horizon for Canadian homebuyers. That could put more downward pressure on housing.
"Don't look for a quick turn in the market anytime soon," he wrote.