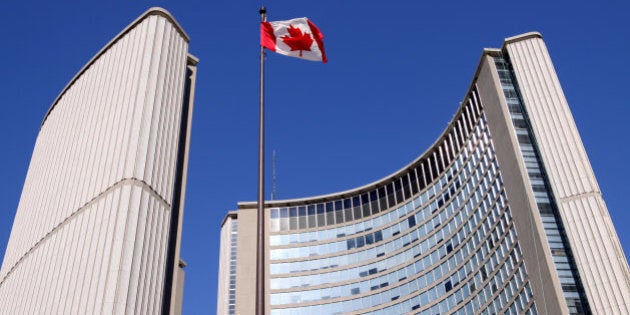 It's that time of year again when parents sign-up their kids for camp and outdoor activities. But a large group of children won't be able to attend Toronto Parks and Recreation summer programming because the risks of registering are too much for some families to bear.
This is because Toronto City Services hinder thousands of people living in Toronto without valid Canadian status from safely accessing swimming, dance classes, and adventure hikes. People without status are valued community members who pay taxes and contribute to Canadian society and economy. There are an estimated 100,000 to 250,000 people without status in Toronto. But dangerous discretionary policies prevent these families from fully using City Services despite Toronto's official affirmation of a Sanctuary City policy known as Access T.O.
Sanctuary is an ancient idea rooted in the church practice of offering protection and hospitality to strangers in need. Today, it is adopted by groups wishing to shield people from detention, deportation, and family separation, and to guarantee basic human rights. Toronto's "Don't Ask, Don't Tell" policy affirms that City Services must be available to every Torontonian, regardless of immigration status. It requires that City staff refrain from asking people for proof of Canadian citizenship or visas, including from families with children wishing to sign up for schooling or recreational activities.
The hurdles facing parents and kids wishing to enjoy Parks and Rec programs show some experiences of people living without status. The Rights of Non Status Women's Network, a grassroots network of service providers, academics, and legal practitioners, recently released a report on the experiences of people without status accessing city services in Toronto. This report shows that residents without status are prevented from accessing basic services such as affordable housing, public transit, ambulances, child care, and employment services. The issue is often bureaucratic: city workers either ask residents directly about their immigration status, or they ask for identity documents that only a person with status would have. But asking about immigration status is neither necessary to determine eligibility, nor is it consistent with Access T.O.
Bureaucratic hurdles have far-reaching consequences. Families applying for child-care subsidies may be turned away or may cancel their applications out of fear of being denied access, leaving children vulnerable to unlicenced or unaffordable situations. In cases of domestic violence, a woman's access to shelter or her decision to report to police can be compromised if -- against policy -- she is asked about her immigration status. If a woman is protecting her children and flees an abusive situation, disclosing her immigration status to the wrong person can result in her children being taken away and sometimes she is even deported before she has a chance to obtain status.
This is not just a worse-case scenario: a 2015 report by the advocacy group No One is Illegal found that Toronto Police Services arrested and transferred thousands of people to Canada Border Services Agency, the enforcement arm of the Ministry of Immigration, Refugees and Citizenship of Canada. Recent research out of Ryerson University also shows that Toronto's sanctuary city policy is inconsistently followed, at best. Ultimately, when people are scared to access City Services, it is much more difficult to get the help they need to receive status. These real-world complications fly in the face of Mayor John Tory's recent reaffirmation that Toronto is a Sanctuary City.
There is power in the local. Municipal governance and civil accountability matter, and cities are places of profound transformation. In fact, cities from Pittsburgh to Paris are taking the moral and political leads in changing policies when the executive branch stumbles. Last week, Mayor Tory hosted the mayors of Fort Worth and Dallas, two municipalities in Texas where turmoil is raging over the controversial passage of an anti-Sanctuary Cities bill. This cross-Texas unrest represents many actions across the United States to challenge the Trump Administration's xenophobic attempts to cut funding for municipal and state programs that refuse to discriminate against people without status.
Now is the time for Toronto to step up and truly implement Access T.O. Toronto Police Service should never conduct "status checks." City Staff should attend mandatory training sessions on how to talk to migrant populations. The City can also introduce a municipal identification card that any resident -- with or without immigration status -- can use for registering with City Services. At the very least, City Staff must respect earlier promises and ensure that all children have the right to swim, dance, and hike this summer.
Follow HuffPost Canada Blogs on Facebook
Popular in the Community