Finding the perfect name for a baby isn't an easy task, which is why the Toronto Zoo is looking for help naming their Giant Panda cubs.
The male and female cubs, who were born on October 13, 2015, surpassed the 100-day danger zone on January 20 and are finally ready to be named.
To decide on the best names, the Toronto Zoo and representatives from the Chinese Cultural Centre of Greater Toronto have created a list of seven names that are representative of both Chinese and Canadian culture. From this list, the public is asked to vote for the name they like best.
Timing it nicely, the Zoo announced the contest on Feb. 8, 2016, the start of the Lunar New Year.
The names are as follows: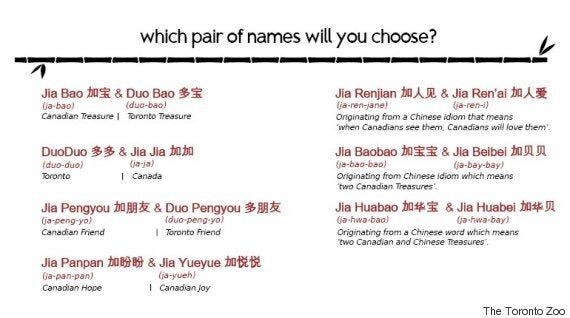 Once the voting period comes to a close on February 28, 2016 at 11:59 pm, the chosen names will be revealed on March 7, 2016, shortly before the pandas make their first public debut.