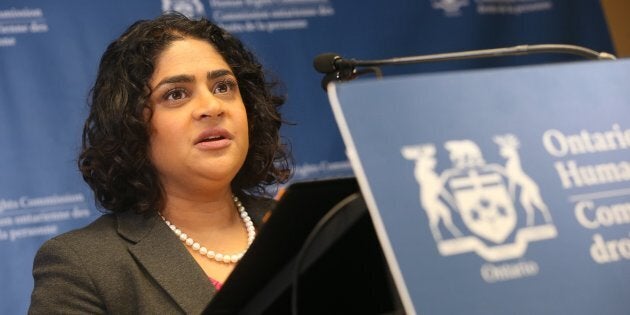 A black person is 20 times more likely than a white person to be shot and killed by Toronto police. That's just one of the findings in a new Ontario Human Rights Commission report described as disturbing and disheartening.
The report, released Monday, suggests that although black people represent only 8.8 per cent of the city's population, they make up 30 per cent of police use-of-force incidents that result in serious injury or death, 60 per cent of deadly encounters with police and 70 per cent of fatal police shootings, according to data from 2013 to 2017. These statistics have not changed since 2000.
In a quarter of Special Investigations Unit (SIU) cases alleging sexual assault by Toronto police officers, black men were the complainants.
"This interim report is the latest in a body of reports, findings and recommendations — over the past 30 years — that point to persistent concerns about anti-black racism policing in Toronto. Our interim findings are disturbing and call for immediate action," said Renu Mandhane, Ontario Human Rights Commissioner.
The report, A collective impact, looked at Toronto Police Service's racial profiling and discrimination of black people by analyzing data from SIU reports. The commission also interviewed 130 people from Toronto's black community. It was prompted by the gunpoint arrest of four black teenagers in 2011 (known as the Neptune Four) and the shooting death Andrew Loku in 2015, and a lack of progress in addressing anti-black racism, Mandhane said.
"The size of these racial disparities justify serious research and policy attention. I don't think we can ignore these differences."Scott Wortley, University of Toronto
In response, Toronto police and its board released a joint statement that said the unprecedented report will be "scrutinized" to ensure it's fair and it will be used to help inform "continued work" already underway to confront systemic bias.
"We recognize that there are those within Toronto's black communities who feel that, because of the colour of their skin, the police, including when it comes to use of force, have at times, treated them differently," the statement said. "We understand that this has created a sense of distrust that has lasted generations. We — the board and the service — know that only by acknowledging these lived experiences can we continue to work with our community partners to achieve meaningful changes."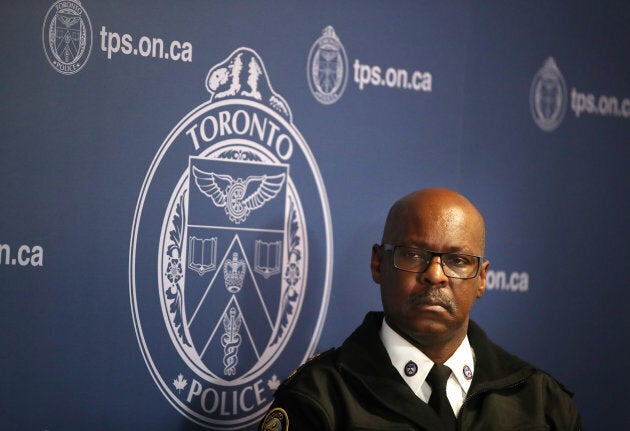 While the report validates the experiences of people, particularly youth, in Toronto's black community, its findings are not surprising, said Sam Teckle, a researcher at York University who also works with at-risk youth.
Teckle hears stories of racial discrimination daily: A black teenager was arrested by police at school and his family's apartment was searched. He was released only when officers realized it was a case of mistaken identity. An innocent black 14-year-old was running through his neighbourhood, playing a game with friends, when police stopped and arrested him because they thought he might be carrying a gun, and fleeing the scene of a crime.
"These interactions stay with young people and their families," Teckle said. "Whole communities are affected and continue to be."
For decades, Valerie Steele of the Black Action Defence Committee has protested in outrage after black men fall victims to police shootings in Toronto, but little has changed.
"It is totally disheartening we are still discussing the violence of anti-black racism," Steele said. "As a community we have been studied to death and all those reports are sitting shelves collecting dust and mud and the black community continuers to experience savagery by Toronto police."
This time will only be different if police cooperate with the human rights commission, said Teckle.
The commission recommends police and its board acknowledge that the racial disparities outlined in the report raise serious concerns and that they continue to support the inquiry into racial profiling and discrimination of black people. The police said they accept these recommendations.
The commission also recommends the police board require the service to collect and publicly report on race-based data when they stop, search and use force on civilians. Police said that recommendation will require further study, and the board will refer it to its Anti-Racism Advisory Panel.
Toronto police have been asked for 30 years to release race-based data, but have yet to do so, said Mandhane. "It's unclear to me why they're reluctant to present data to inform racial profiling and to move forward to tackle it."
Officers involved in incidents provided biased and untrustworthy testimony, inappropriately tried to stop recording incidents and failed to cooperate with the SIU, the report found. There were also instances when police didn't have a legal basis for stopping black residents, and conducted inappropriate searches, laid unnecessary charges and made unnecessary arrests.
University of Toronto criminology professor Scott Wortley analyzed the data for the report, and said it's merely a jumping off point for researchers.
"We have established gross disparities exist. The next stage will look at why it's happening, and age and gender differences and mental health, socioeconomic status and geographic location," Wortley said.
"The size of these racial disparities justify serious research and policy attention. I don't think we can ignore these differences."
Once that research is complete, the commission will make more recommendations, and it does have enforcement power under the human rights code.
"We are open to using those powers," Mandhane said.