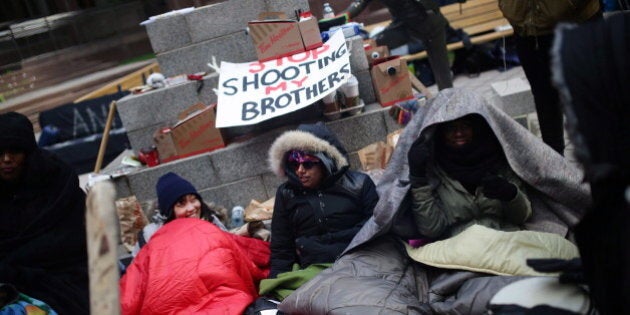 Want to know what's more offensive than a months-old tweet by a Black Lives Matter Toronto co-founder?
How about something even more outrageous than attempts to use that tweet, however ill-advised it was, to discredit an entire social justice movement fighting anti-black racism and police violence?
"But what I want to ask the premier is for her to show us the data that she is referring to when she says we still have systematic racism in our society," McCormack told the Toronto Sun. "We want this clarified. If she has data to show there is such a racism problem in policing or any of her departments, then the question I have is what is she doing about it?"
"It's not true," he said regarding claims of systemic racism in the police force, despite the lack of data he had literally just mentioned, "and it's not acceptable to suggest it."
Why is this demand for data so offensive and outrageous? That's because McCormack is well aware that his police force doesn't collect racial data.
The race data Toronto's police union boss is demanding Premier Wynne produce doesn't exist, making systemic racism conveniently easy to deny.
In fact, last fall he told the Toronto Star regarding the lack of data that "I don't think people's race or ethnic background is really relevant. Just to look at that purely on a racial statistic is misleading."
This goes beyond the police, though. That Star article, headlined "How many black men have been killed by Toronto police? We can't know," also revealed that race stats of those killed by police are not collected by the civilian Special Investigations Unit that looks into police shootings like the killing of Andrew Loku, a father of five who was wielding a hammer.
The SIU's determination that the shooting was justified, and refusal to name the officer who shot Loku, sparked the recent round of Black Lives Matter Toronto protests, including an encampment outside a Toronto police station.
Racial data on police killings is not collected despite the fact that, as the Star notes, the SIU "was a recommendation of the Clare Lewis Race Relations and Policing Task Force, which was formed in response to the killing of black men Lester Donaldson and Michael Wade Lawson."
But it goes beyond the SIU, too. Statistics Canada doesn't collect these numbers, nor does the Office of the Independent Police Review Director or the Ministry of Community Safety and Correctional Services.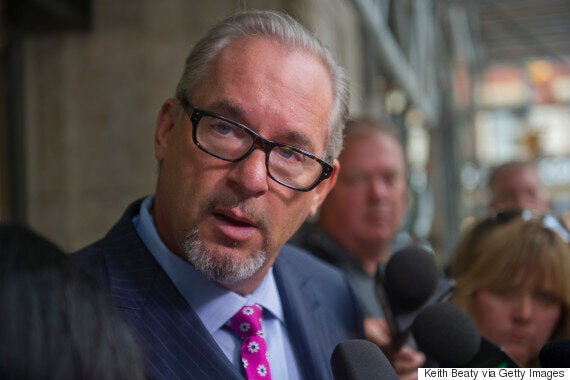 The race data Toronto's police union boss is demanding Premier Wynne produce doesn't exist, making systemic racism conveniently easy to deny.
But the data still could be collected. That's the intention of a request for an SIU provincial review passed unanimously by Toronto City Council to look into SIU cases involving racial minorities.
"Most in Toronto acknowledge that there is a growing lack of trust between those in authority and our community, in particular around anti-black racism," Councillor Mike Layton, son of late NDP leader Jack Layton, told the Toronto Star on April 1.
McCormack had something to say about that, too. Despite his demand for data this week, just last week he was decrying council's attempt to procure it as "political" and said "I have an issue with it, for sure."
What is McCormack so afraid of?
Well, remember the issue of police "carding" -- recording the information of citizens who have done nothing illegal -- that critics said was inequitably applied to black and brown citizens and that the Ontario government has promised to end?
Journalist and activist Desmond Cole wrote in 2014 article in The Walrus, "Colour By Numbers," calling for racial stat collecting that:
Police have a long history of being uncooperative when it comes to disclosing race-based data. In 1989, Toronto's police board approved a policy that banned internal analysis and publication of such data, although officers were still allowed to collect it.

In 2000, the Star formally asked for a breakdown of arrests and criminal charges by race; the force was initially willing to comply, but after the Star published a damning report in 2002 the police association sued the paper for libel (the Supreme Court eventually dismissed the case).

In 2003, the Star went after the carding stats. The legal fight lasted seven years and reached the Ontario Court of Appeal, which ordered the release of the information.

"Police used every tool available to them to deny us access," says Star reporter Jim Rankin.
That 2012 Toronto Star series Known to Police revealed some shocking data. In the city's Entertainment District, where young people of all races used to gather due to the areas then-prevalent nightclubs, "for young black males, the ratio of individuals documented to the population there is 252:1. For brown young males, it is 65:1. For young white males, 23:1."
Across the city as a whole, blacks were three times more likely to be carded than whites. This ratio was later revealed to be mirrored in other Ontario cities like Mississauga, Brampton and London.
It was even higher in Ottawa, where blacks made up 20 per cent of people street-checked over the last five years despite being only five per cent of the population.
Also in Ottawa, the local police were ordered to start tracking racial data during traffic stops due to an Ontario Human Rights Commission complaint. Ottawa Police Association president Matt Skof called the collection "a huge step back."
The Ottawa Sun paraphrased his complaints that "it would erode community relationships, create hostility and breed mistrust, which will result in more difficult and dangerous confrontations with police" and that "the data is useless anyway."
Although the numbers are still being crunched by York University, with a report expected this summer, has yet to be revealed, the Ottawa Citizen revealed that "many officers" are trying to obscure the findings by "reporting that they 'did not perceive' the race of the person -- a valid response in the study -- because they are worried that they will be damned by the data absent of context for the stop."
In other words, create data.
Back to Toronto, the one bright spot in this mess was that carding dropped by 75 per cent in 2013, which was totally coincidentally when police were ordered to provide carding "receipts" to people who were stopped that would publicly document the interaction.
Premier Wynne almost immediately backtracked in the face of McCormack's attack.
"I wasn't talking about the police service, I was talking about a societal reality that we all have to grapple with," she told reporters on April 6, referencing the high rates of indigenous and racial minorities in prison and child welfare. "I would hope [McCormack] looks back and I hope that he will, like I do, recognize that there are challenges across society. I'm not saying anything about police in Toronto or anywhere else."
But she should instead fulfill McCormack's request.
In response to a 2012 study in the Canadian Journal of Law and Society that revealed police services across the country "actively suppress" racial data because "they don't want to be perceived to be racist," Toronto police spokesperson Mark Pugash said "the force's position is that the collection of such data is not seen as beneficial or appropriate at this time."
Well, what about in 2016? If people won't take Black Lives Matter's anecdotal evidence of systemic, anti-black racism in policing as truth, then we must gather statistical evidence to conclusively determine if there is a problem and, if so, how widespread it is.
As McCormack may one day regret saying, "show us the data."
Follow HuffPost Canada Blogs on Facebook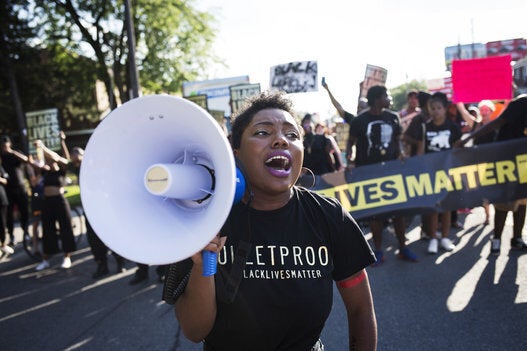 Black Lives Matter Toronto