Here's a partial explanation for why it seems like no one can find a home to buy in Greater Toronto these days: The market is increasingly in the hands of investors and speculators who are buying up as many as three in 10 homes in the region.
That's according to a study from brokerage Realosophy, which estimates that the vast majority of the investment properties purchased around Toronto in 2016 are losing money — and the owners probably don't care.
Buyers have bid up house prices to a point where not even rapidly rising rental rates can make up the difference, and 95 per cent of investment properties purchased in 2016 are renting out at a loss, Realosophy president John Pasalis estimated.
To calculate the estimate, Pasalis assumed all properties had a mortgage on them, with typical terms and a 35-per-cent down payment. On that assumption, he concluded that the average residential investment property bought in Toronto in 2016 is losing $1,121 a month.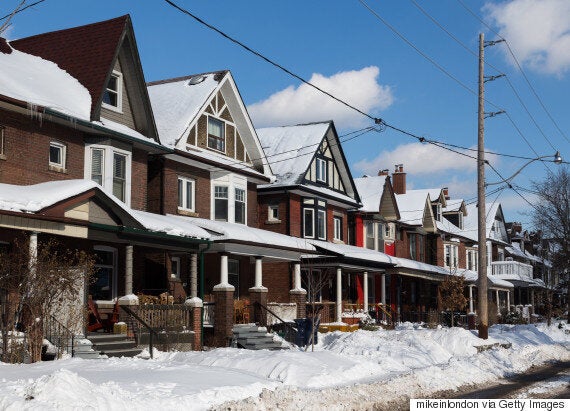 'Unusual' property investors
Pasalis said he decided to carry out the research after hearing anecdotally that Toronto has some "unusual" property investors.
"What was unusual is that, unlike regular investors, many of them were not particularly concerned about the rental income they could generate and were even willing to buy a property that didn't earn enough to cover all expenses," Pasalis wrote in a blog.
"These investors were buying because of their belief that house prices would only continue to appreciate. … This type of attitude shift is in itself a sign of a market bubble."
To estimate how many homes are being bought by investors, Pasalis looked at home sales and rental listings to see how many newly-bought homes were listed shortly after on the rental market.
He estimates that 36 to 39 per cent of the homes bought in Greater Toronto's hottest neighbourhoods in recent years have been bought by investors. The speculation is taking place in outlying areas as well, with investor purchases quintupling in Ajax, Oshawa and Whitby in the space of four years.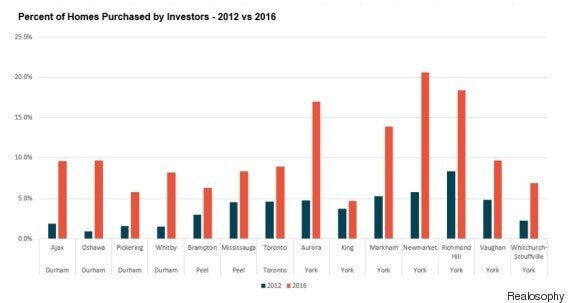 Pasalis notes that not all investors are losing money. Some, particularly foreign buyers, are paying cash for the properties, so any rent above carrying costs will return a profit.
"We believe our governments need to coordinate and implement the right measures to address the problems suggested by the data," Pasalis wrote.
"Most notably, lenders currently underwrite mortgages for residential investment properties as if they are owner occupied homes, resulting in a loophole that allows buyers to finance money-losing investment properties largely with debt; these loopholes should be closed by tightening lending practices.
"If public policy makers want to prevent damage to our housing market, they need to act now."
Are you a property investor or a speculator? Take HuffPost Canada's two-question quiz to find out.
QUESTION 1: When you buy a property you won't live in, you expect to make money by
a) Renting it out, and turning a profit on the rent.
b) Selling it for more money later.
QUESTION 2: After paying all the costs of carrying your investment property(ies) (i.e. condo fees, property taxes, any utilities you cover), your property
a) Makes money every month.
b) Loses money every month.
IF YOU ANSWERED A TO BOTH QUESTIONS: You are a successful property investor. You invest like the pros do: You make money by generating income from real estate, and your positive cash flow means you bought the right place(s).
IF YOU ANSWERED A TO QUESTION 1, AND B TO QUESTION 2: You are a property investor, but not a particularly successful one. You aim to make money by generating income from real estate, but the economics of the market aren't working for you and you are losing money every month.
IF YOU ANSWERED B TO BOTH QUESTIONS: You are a housing speculator. You bought on the expectation that you will be able to sell for more later, and you don't care that your investment is losing money today. Your only hope of coming out on top is to sell to a "greater fool" before price growth cools down. According to a note from BMO, you have 24 months before that happens.
IF YOU ANSWERED B TO QUESTION 1 AND A TO QUESTION 2: You think like a speculator but you are an accidental investor. You don't care that real estate generates income, you just care that you'll sell for more later. Despite this, you are turning a profit on your properties. Congratulations!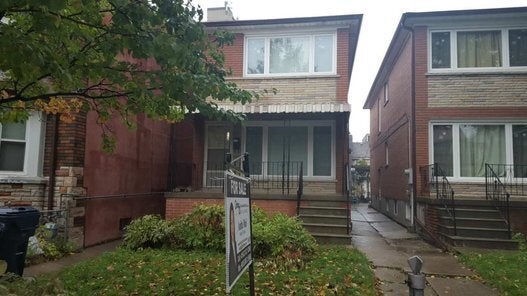 What Toronto's House Prices Will Buy You Across Canada (March 2017)
Popular in the Community