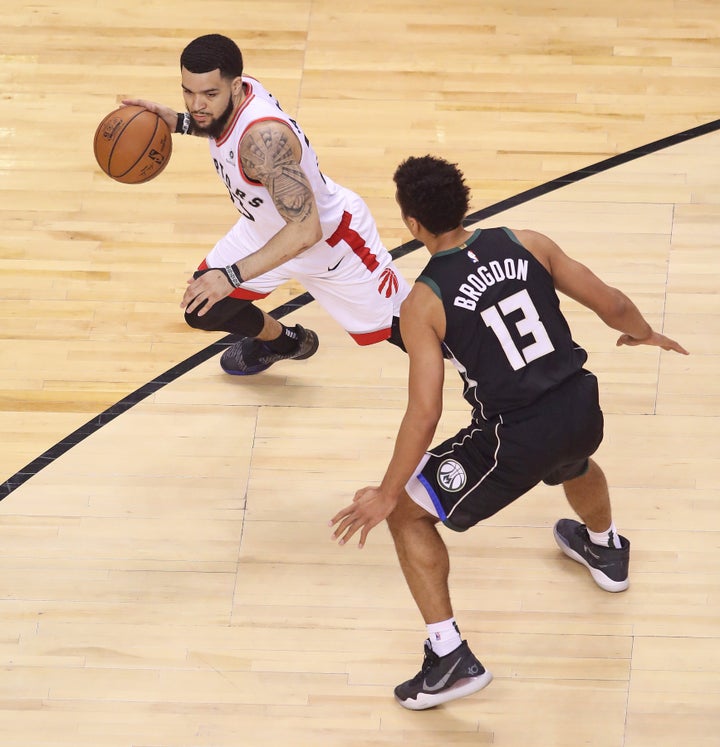 Now that the Toronto Raptors are about to face off against the Golden State Warriors in the NBA finals, everyone is trying to figure out what got them there. Is this the work of star player Kawhi Leonard alone? Did Drake help or harm?
WATCH: Raptors' win sends fans into delirium. Story continues below.
The idea that newborns might have contributed to the Raptors' history-making entry into the final round started right after the team won Game 5 against the Milwaukee Bucks on Friday. Point guard Fred VanVleet, who didn't have a great playoff performance up to that point, was suddenly playing better than ever: he scored 13 points in Game 4 on Tuesday, and 21 points on Thursday, all three-pointers.
Naturally, reporters asked what changed. His answer: the birth of his son, Fred Jr., days earlier on May 20. He explained his girlfriend Shontai Neal's due date was May 31.
But their daughter, the couple's first child, had been an early arrival. So VanVleet said they knew to expect baby number two "any day now."
"Monday morning I thought I had a nice day off at home in Toronto, I got the call that her water broke," he said. "I started running around trying to find if I could get on a plane." Neal lives in Rockford, Ill., so he spent the week scrambling between Rockford, Toronto, and Milwaukee.
He was there for the birth on Monday night, he said, and then flew back to Toronto Tuesday afternoon. He took a nap and played Game 4. Then he went back to Rockford to see the baby, drove to Milwaukee, took a nap, and went on to play Game 5.
According to USA Today VanVleet reported that his routine basically amounted to "zero sleep, have a lot of babies, and go out there and let loose."
In Game 5, he scored a solid 14 points. Since Fred Jr. was born, in other words, things have been going pretty well for him — and for the team.
"Still not giving him all the credit in the world," VanVleet said of his newborn son, "But he's probably helped me out a little bit."
The team's coach, Nick Nurse, added that "whatever he's doing he did the last couple days, he needs to keep doing."
That's an interesting comment, given that CBS sports reporter Reid Forgrave pointed out that Nurse's wife Roberta Nurse also gave birth to a boy on May 20.
On Twitter, Forgrave added that Roberta was at Game 6, but went outside every half hour or so to nurse their son. Yep, baby Rocky Nurse attended his first playoff game at five days old!
Of course it's wonderful, and so sweet, that having a baby can inspire ultra-talented people like Nurse and VanVleet to work even harder towards professional success. They're lucky to have supportive partners who are willing to take over the primary parenting duties while they do the jobs they love and are great at. It would be even more amazing if every parent, of every gender, were afforded that opportunity, no?
It's also worth noting that yes, we know, to a certain extent reason goes out the window when it comes to sports superstitions. (Playoff beards, anyone?) But as the Raptors prepare to face the Golden State Warriors on Thursday, we're certainly not averse about harnessing the potential power of newborns.
Talk about your babies in interviews, Raptors! Bring them to your games! As VanVleet said, have a lot of babies!