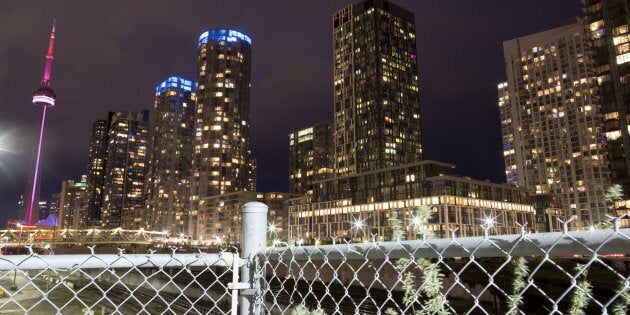 But that's home resales. The new condo market, somehow, is an altogether different story.
Market research Urbanation reported an "explosive" first half of the year for new condo sales, with prices up by double digits and and sales hitting another all-time high.
There were 12,138 new condos sold in the second quarter of this year, up an incredible 62 per cent from a year earlier, Urbanation reported.
The average selling price of $757 per square foot is 28 per cent higher than a year ago.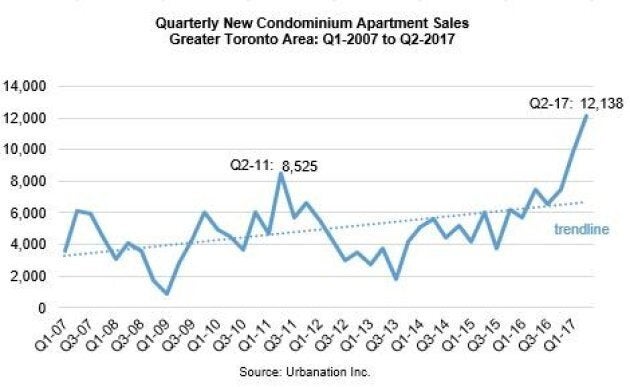 "While the current pace of new condo sales shows a remarkable level of confidence in the GTA housing market, activity has reached an unsustainable level for the near-term," Urbanation Senior Vice-President Shaun Hildebrand said in a statement.
"Market fundamentals, however, still appear supportive of prices."
Investors not making as much
Hildebrand said he doesn't expect the wild sales and price growth to continue. That's partly because of the broader slowdown in Toronto's real estate market, and partly because higher condo prices mean investor-owners are making less money off them.
The falling yields on investment properties "should lead to less frenzied demand in the second half of the year," Hildebrand predicted.
Following in Vancouver's footsteps?
"At the very least, this report underscores continued strong underlying demand for affordable housing in the Toronto area," Bank of Montreal senior economist Sal Guatieri wrote in a client note Tuesday.
Guatieri suggested Toronto is likely to follow the pattern seen in Vancouver, where a new foreign buyers' tax, introduced last summer, temporarily sent the market into a tailspin.
But Vancouver's market has shown signs of bouncing back this year, with the benchmark price up 7.9 per cent from a year earlier in June. The city has a sellers' market for single-family homes, but a buyers' market for condos, according to data from its real estate board.
Toronto's strong condo numbers are "more evidence that Toronto's housing 'correction' is likely to follow in Vancouver's soft-landing footsteps ... barring an economic shock," Guatieri wrote.
Popular in the Community