Toronto sports fans: Nobody wants to date you! Take the hint.
It's about time Toronto sports fans picked up a copy of the popular dating book He's Just Not That Into You, because the constant rejection is getting embarrassing.
Last week, after missing out on Japanese pitching phenom Yu Darvish, the Toronto Bluejays went after fellow countrymen Koji Uehara, who currently plays for the Texas Rangers.
Only problem was Uehara didn't want to move his family from the States to Toronto. In fact, he was so against the idea that he actually added a "no-trade to Toronto" clause in his contract.
If this was an isolated incident, I would chalk it up to personal preference. But the scary part is that there seems to be a growing anti-Toronto sentiment in sports, and it's becoming more and more glaring.
During last year's NHL All-Star Game, players were asked, "What team would you least like to play on?" Toronto finished in the top five undesirables.
Back in 2010, NBA star Hedo Turkoglu was traded from the Raptors to the Phoenix Suns. He wasted no time bad-mouthing the "different fan base" and our city itself. He seemed thankful to be given his walking papers.
Turkoglu was one of many NBA stars that flirted with the city, then decided that there were compatibility issues. Vince Carter, Damon Stoudamire, Tracy McGrady, and most recently, Chris Bosh, also essentialy dumped us, in unceremonious fashion.
So the big question is one Toronto fans should be asking themselves: Is it them...or is it us?
Like any break up or spurned affection, fans will often look for excuses without taking a long hard look in the mirror.
They will blame tax structure. American athletes who play for Canadian teams are taxed 40 per cent. They also owe the U.S. 35 per cent on those earnings, but can't use foreign tax credits to reduce the tax.
Fans will also fault the cold weather, ignoring the fact that cities like Boston, Chicago, and New York experience similar temperatures and still reel in the biggest names in pro sports.
The truth is Toronto has been lying to itself for far too long.
It just isn't a sports city.
I have always felt the measure of a great sports metropolis is not how fans react to winning, but how they respond to losing.
God knows Toronto has had its share of that.
The problem is that fans don't seem to get pissed off. Toronto fans greet losing with a casual shrug and a "Hey, we'll get 'em next year" approach.
They seem to lack the fire in their belly and dedication that most great sports cities possess.
After the Blue Jays put together impressive World Series victories, Jays fans expected the same performance every year. When that didn't pan out, the fans headed for the exits, leaving the team struggling to sell seats. Last year the Jays ranked 25th in attendance.
In contrast the Chicago Cubs, baseball's "Lovable Losers," haven't won the World Series in 103 years. That's a longer championship drought than any other major North American sports team. The Cubs attendance for 2011 was in the top ten.
From a player perspective, it's hard to imagine why anyone would want to give up the spotlight of even the smallest American market and travel north of the border to play in front of Toronto's fickle fans.
Let's face facts, athletes today have a large amount of ego. If fans and the media aren't willing to satisfy that appetite, there are many markets that will.
A few years back, Raptors GM Bryan Colangelo told the Wall Street Journal that Toronto's freedom from paparazzi madness made it more attractive. He said that "there are some markets where guys get singled out and that sure doesn't happen here."
Sure doesn't Bryan. In fact, most Toronto pro-athletes can walk up and down Yonge St. like they've joined the witness protection program. I am sure that does wonders for their ego.
So how can Toronto get it's fairy tale ending in sports? Well, if we're going to woo real talent, it's time for an extreme makeover.
We need to sex this city up a little, put on a little lipstick every now and then, perhaps even show a little leg.
In sports terms, that means showing genuine interest in a team, even when they aren't doing so well (and I don't just mean the bush-league support Leafs fans present).
How about having a little having a little fun? It is just a game after all.
And treating our athletes like superstars, instead of making them feel pedestrian or just one of the guys. The onus for this is on our media. These are highly-skilled mega-stars, with mega-egos. Just like you might laugh at a joke that's not funny on a first date, we need to stroke and massage their sense of importance until they never want to leave.
2013 may well be a very unlucky year if we don't turn things around. With the exception of a couple Grey Cups, it will mark 20 years since the city has won a championship in any sport.
It's time to take a hint, and try a little harder to turn "Toronto the wallfower" into the belle of the athletic ball.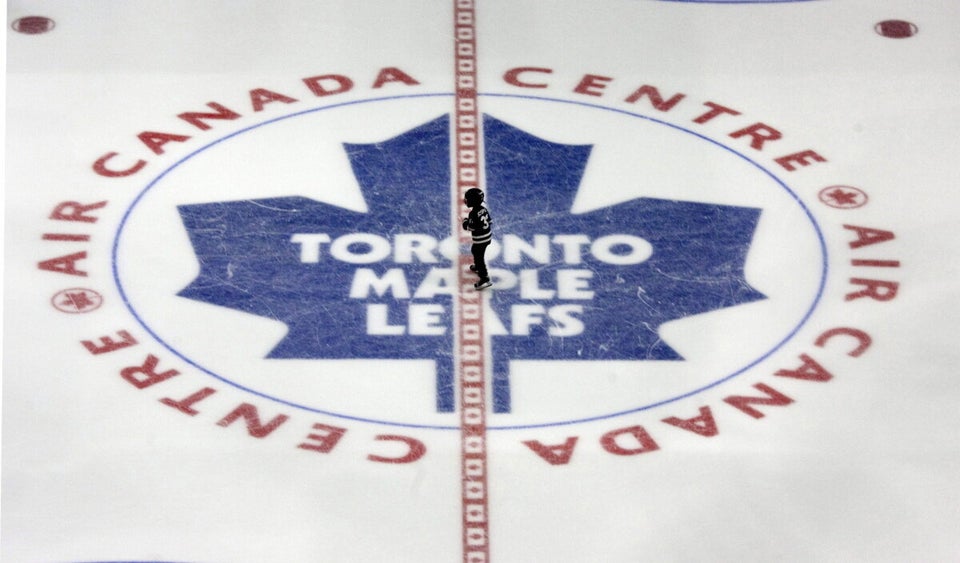 Toronto Sports Fans Need Extreme Makeover-from-mt-207208