Air quality inside Toronto's subway platforms is bad — like Beijing bad — according to a study spearheaded by the University of Toronto.
Engineering professor Greg Evans says air particulates on the city's platforms are 10 times worse than outside air. The study also found that Toronto riders are exposed to more pollutants than those in Montreal and Vancouver.
The research, conducted in partnership with Health Canada and McGill University, measured air quality using portable detectors on subway platforms in 2010 and 2011. They used a metric called PM2.5, which measures small airborne particles.
"While larger particles get caught in your nose or throat, these ones can make the twists and turns to be able to get deep down into the lungs," Evans said in a news release Tuesday.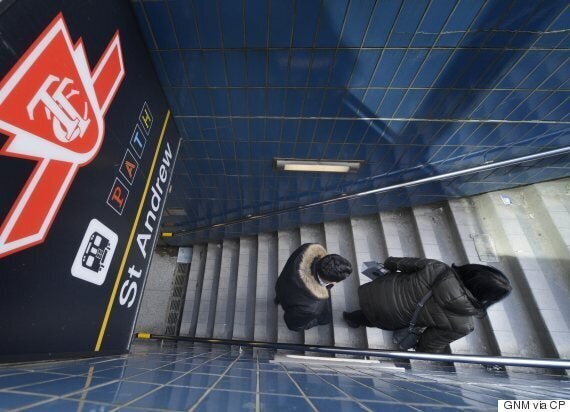 There was an average of 10 micrograms of pollutants per cubic metre outside, and 100 micrograms of pollutants per cubic metre at subway stations.
"That's comparable with a typical day in Beijing," said Evans.
Montreal subway platforms had 36 micrograms per cubic metre. Vancouver's Skytrain system also averaged less than Toronto at 17 micrograms per cubic metre, but unlike subways, it mostly functions outside.
PM2.5 pollution is commonly caused by combustion, vehicles and power plants. Inside homes, the same pollution can be produced by cooking and smoking, according to Health Canada.
The organization advises that PM2.5 pollution should be as low as possible, as it can cause a decline in lung function and inflame airways. It lists recommendations on how to curb exposure.
While poor air quality at subway platforms is troubling, Evans says it's not a reason to ditch public transit all together. But he does recommend opting for bicycling or walking outside when possible.
"How long did the TTC know, when did the TTC know, and what has the TTC done to protect the workers and riders over the years?" asked Kevin Morton of Local 113.
The transit commission responded to the study saying the air quality tests were conducted years ago, and improvements have already been made.