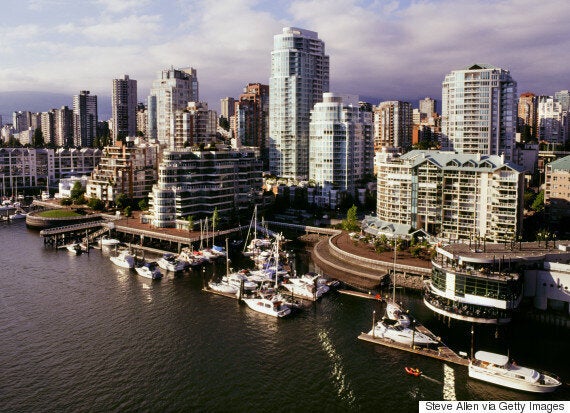 Canada's two hottest housing markets, Toronto and Vancouver (seen here) are seeing a steep decline in the number of homes for sale. (Photo: Steve Allen via Getty Images)
This is pretty much the last thing new home buyers in Toronto and Vancouver needed to hear.
Canada's two hottest housing markets are experiencing a shortage of homes coming onto the market, National Bank Financial notes in a new report. The supply of homes listed for sale in those two cities has dropped to the lowest levels seen in 12 years.
Listings in Vancouver's market have dropped more than 40 per cent in the past year. In Toronto, listings have slipped 3.7 per cent in the same period, and down some 50 per cent from the peak in 2008.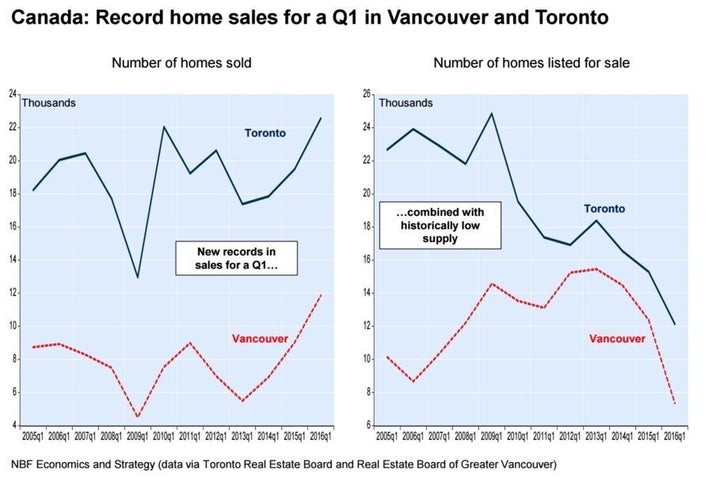 "The combination of high demand and low supply of course puts pressure on prices," National Bank economist Marc Pinnsoneault wrote, adding that these two cities are responsible for the growth in average house prices in Canada.
This could all 'end badly' — but when?
No one has a clear explanation why fewer Canadians are putting their homes up for sale, especially in this high-price environment. This author's own speculation: aging baby boomers are retiring, and the retired largely stay put.
But whatever the reason for the run-up, many economists say such steep increases can result in a crisis in the market if it goes on long enough. Affordability is deteriorating; mortgage rates are at rock-bottom and can, for the most part, only rise from here.
"Odds are that if this kind of price growth (especially Vancouver) continues, it will end badly — but that still looks to be sometime down the road," Bank of Montreal senior economist Robert Kavcic wrote in a client note Wednesday.
Kavcic offered five scenarios that could topple the housing markets in Canada's hottest cities — and shot them all down as unlikely in the short term.
Here's Kavcic's list of what could cause things to "end badly" in the housing market — but won't, for now:
An economic slowdown/jobless rate spike: Not likely anytime soon, with growth in B.C. and Ontario leading the country.
Higher interest rates: Umm, no. Note that 5-year GoCs are trading back below 70 bps. [Translation: The markets expect interest rates to stay low for a long time.]
More supply: Condo supply is coming to market in these cities, but detached supply, as we've argued for years now, is drum tight and not changing.
Affordability: The concern is that rising prices don't slow activity, but rather beget even higher prices. The Vancouver condo market might be heading down this road now.
Policy measures: That's a no. At least not the variety (i.e., marginal changes to down payment requirements) most recently introduced by Ottawa.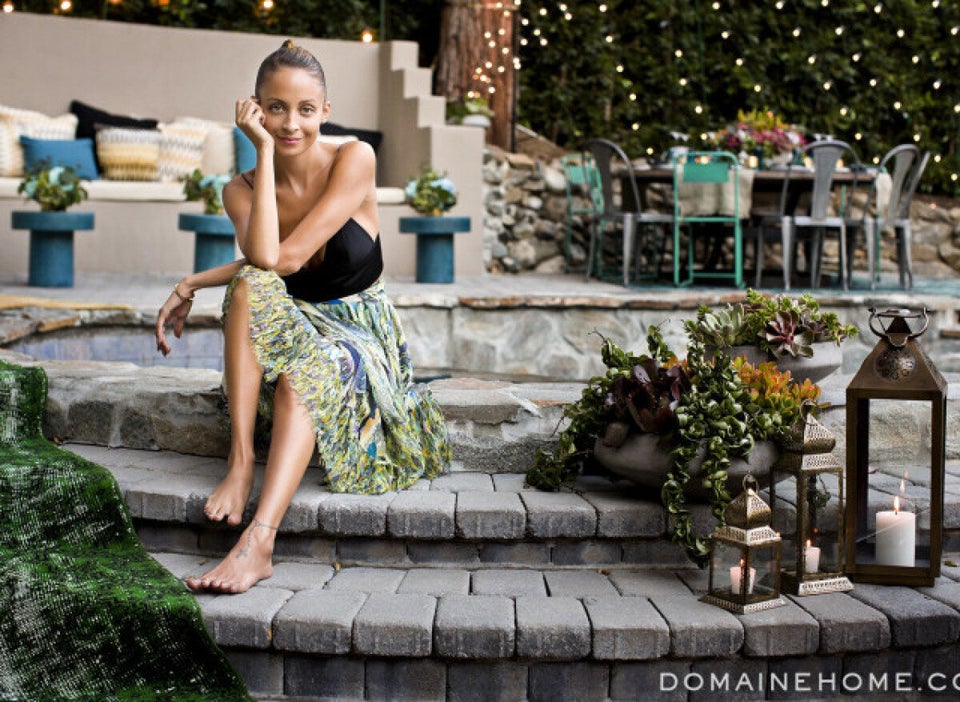 Celebrity Homes
Popular in the Community