The party will end in the Toronto and Vancouver housing markets this year, TD Bank says in a new report.
It's a party many say has gotten too rowdy: Home prices in Toronto are up 14 per cent in a year, while in Vancouver they're up nearly 20 per cent, leading to reports of "shadow flipping" and other harbingers of housing-market trouble.
TD Bank economist Diana Petramala says there won't be a crash — but neither will the party continue.
Thanks to an "upward drift" in mortgage rates, home sales in Canada's two red-hot housing markets will cool this year — albeit from very high levels seen in 2015.
"The lofty activity last year has likely left these two markets more vulnerable to even a gradual increase in interest rates and regulatory rule changes," economist Diana Petramala wrote.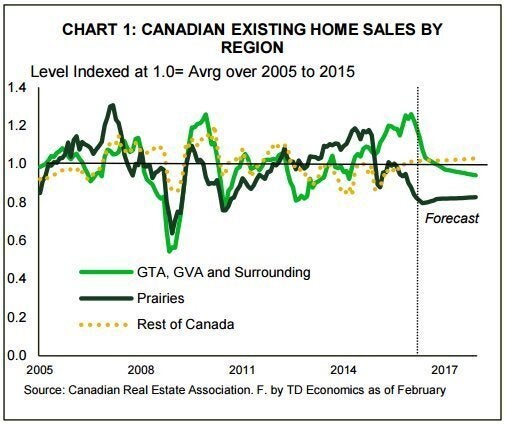 TD bank forecasts home sales in Toronto and Vancouver will decline this year from very high levels. (Chart: TD Bank)
Mortgage rates are moving upward because of "a squeeze on bank funding costs amid tighter financial conditions," Petramala wrote, adding some banks have already raised their mortgage rates by some 0.3 percentage points since December.
That will slow the pace of home sales in Toronto and Vancouver. Home price growth will slow to 4 per cent in Toronto this year, from 14 per cent over the past year, TD predicts. Prices in Vancouver will rise 7 per cent this year, from a near 20-per-cent growth pace over the past year.
In 2017, TD sees house prices coming down in both cities, with a "moderate" decline in house prices in Toronto, and a 2-per-cent decline in Vancouver.
But those expecting a housing crash "are likely to be disappointed," TD says, because there is still plenty holding up those housing markets.
The cities are seeing "a sharp uptick in population" as people leave regions with rising unemployment rates, such as Alberta. Additionally, the loonie's decline has made Canadian real estate less expensive for foreigners, and foreign investment will remain strong, TD Bank says.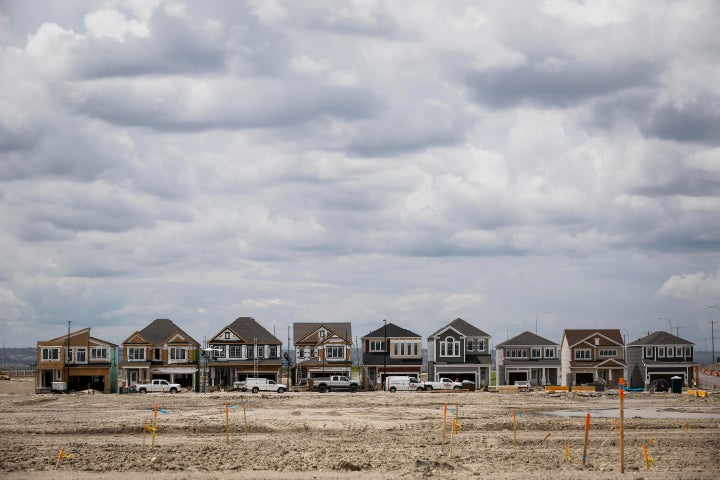 Homes under construction in Calgary, Thursday June 26, 2014. Alberta is building too many homes, and that will keep prices falling, TD Bank says. (Canadian Press photo)
Petramala says Canada in essence has three housing markets right now: "The booming" (Toronto and Vancouver), "the struggling" (cities in Alberta and Saskatchewan), and "the stable" (the rest of Canada).
Alberta's population isn't growing like it was during the oil boom years, and the province has too much new housing coming online in the next few years, Petramala's report says. Calgary home prices are expected to fall 10 per cent this year, with Edmonton prices falling 8 per cent.
The "rest of Canada," as the report puts it, has seen modest sales and price growth, and isn't as vulnerable to mortgage rate hikes.
These markets "will likely feel less of a pinch" as mortgage rates rise, Petramala wrote.
Rates Hikes May Be Further Off Than Thought
While major Canadian lenders like CIBC, Royal Bank and TD have all raised mortgage rates in recent months, some say further upward pressure on interest rates won't come as soon as the lenders expect. With stock markets in what now looks like a prolonged slump, the U.S. Federal Reserve may hold off on further interest-rate hikes.
Popular in the Community