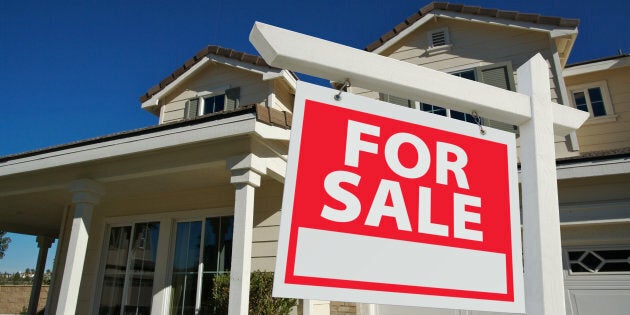 The Toronto and Vancouver housing markets are recovering from the effect of foreign buyers' taxes, but a new report predicts prices will start falling again — this time due to rising interest rates.
National Bank of Canada's latest housing monitor finds that home affordability deteriorated in the third quarter of this year, for the ninth quarter in a row. It's the longest run of declining affordability since the housing bubble of the 1980s.
It now takes an average household 58.3 months to save up for the down payment on an average home. A year ago, it was 47.9 months.
The worst deterioration took place in Toronto, Victoria and Vancouver, the report stated.
In Toronto, the vast majority of the decline in affordability was due to rising interest rates. The Bank of Canada hiked its key lending rate twice this summer, to 1 per cent from 0.5 per cent, and the major mortgage lenders followed suit.
"In Vancouver, affordability fell by the most since 1994 as potential homebuyers were also hit by a surge in home prices," economists Mathieu Arseneau and Kyle Dahms wrote.
Because of high house prices, Canadians are more vulnerable to interest rate hikes than they had been previously, they wrote.
What's Going On In Housing?

Our weekly newsletter delivers the news and analysis you need on Canada's housing market. Sign up below and don't miss an issue.
"Twenty years ago, a (one percentage point) increase in mortgage rates would have caused a deterioration of our national affordability measure by 3.5 percentage points. Today, a similar increase has an impact 60 per cent larger given much higher home prices."
Toronto and Vancouver are the most vulnerable to rising interest rates, Arseneau and Dahms said.
"This ... means that those markets are poised to experience home price declines in 2018," the National Bank economists wrote.
Watch: Housing slowdown would hit Canadian jobs hard
But for the time being, the two housing markets are experiencing a mild rebound from a slump caused by foreign buyers' taxes that provincial governments introduced in the Toronto and Vancouver areas.
The Toronto Real Estate Board (TREB) reported on Thursday that home sales jumped more than they usually do from September to October, "pointing to stronger fall market conditions."
But it's by no means a return to the heady days before the province's new rules on housing were introduced in April. Sales are still down by 19 per cent from the same time a year ago, TREB reported, and the volume of new listings is the highest in at least five years.
And though prices are up a mild 2.3 per cent from a year ago, the average selling price of $780,104 for all housing types is still down about 15 per cent from a peak of $920,791 in April of this year.
Still, the board painted a positive picture of the situation.
"While the number of transactions was still down relative to last year's record pace, it certainly does appear that sales momentum is picking up," TREB President Tim Syrianos said in a statement.
Popular in the Community