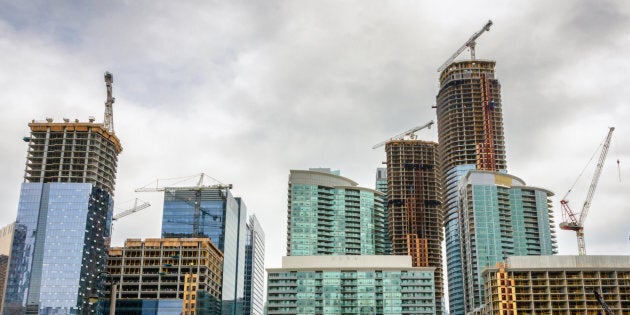 The efforts of provincial government and federal regulators to cool off Canada's hottest housing markets will amount to little, and Toronto and Vancouver will soon be back to their old tricks, according to a new report from CIBC.
That's because both cities — and particularly Toronto — are experiencing a shortage of housing supply, and the underlying demand may be "stronger than perceived," deputy economist Benjamin Tal wrote in a client note Tuesday.
Watch: Canada has a 30% chance of a housing bust, Goldman Sachs says
But Tal says this slowdown will be mild and short-lived.
"The level of activity is likely to stabilize and perhaps soften in the coming quarters as markets adjust to recent and upcoming regulatory changes," he wrote.
"But when the fog clears it will become evident that the long-term trajectory of the market will show even tighter conditions."
What's Going On In Housing?

Our weekly newsletter delivers the news and analysis you need on Canada's housing market. Sign up below and don't miss an issue.
Tal argues that both Toronto and Vancouver are suffering from a shortage of supply, particularly Toronto, where Tal says most of the available land for new developments is years away from being ready.
And with the federal government increasing immigration levels to bring in an estimated 1 million newcomers over the next three years, Tal says pressure on these housing markets will continue to grow.
"Without significant changes to land and rental policies alongside a dramatic change to housing preference among buyers, those centers will become even less affordable," he wrote.
Non-permanent residents, such as students, are increasing as a share of the population and they may not be properly accounted for in the demand for housing, Tal wrote.
"The main issue facing this market is a significant and worsening lack of land supply."Benjamin Tal, CIBC
And he doesn't believe the new mortgage rules will change much. Under the new rules, borrowers of uninsured mortgages — those with 20 per cent down or more — will have to qualify at a mortgage rate that is about two percentage points higher than the offered rate.
"In the past, borrowers have seen tremendous ability to adjust to new situations and we doubt that things will be different this time," Tal wrote. He expects demand for housing to decline temporarily by about five to seven per cent, before bouncing back.
Other forecasts beg to differ
CIBC's forecast stands in contrast with some other recent predictions, which foresee a longer and more pronounced decline in Canada's housing markets.
Moody's forecast suggests the party is over for Vancouver, where it expects prices essentially to stay flat, falling by 0.3 per cent over the next five years. The agency still sees prices rising in Toronto in the coming years, but only by 7.7 per cent over five years — much slower than the double-digit growth of recent years.
'Troubling' shift to unregulated lenders
One area of concern flagged in CIBC's report is the growth in unregulated mortgage lenders.
As mortgage rules went through one round after another of tightening, larger numbers of borrowers have resorted to alternative lenders, including mortgage investment corporations. Tal calculates that 10 per cent of mortgages in Ontario now originate with these unregulated lenders.
"That transfer of risk from the regulated segment of the market to the unregulated (and in many ways unobservable) segment of the market is troubling," Tal wrote.