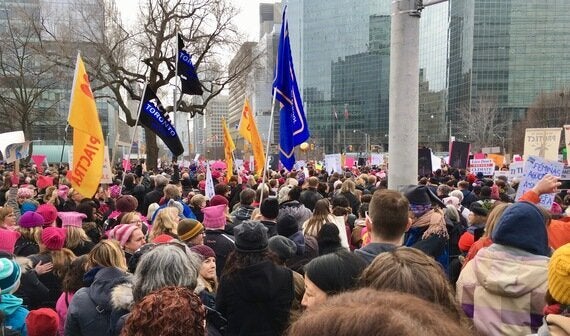 It's interesting to see that who we are today is actually the same person we've always been. As someone who has always stood for fairness and equality, I see that I've always been "marching" in my own way.
My first memory of questioning the status quo was in the early 1960s when, at the age of 12, I wrote a letter to Glamour magazine. My theme: why aren't men and women equal? A big question for a young girl, however, it never made any sense to me why men and women weren't treated equally. It still doesn't.
Then later in my teens, I chose to leave high school and attend university as a business administration student. As one of 10 girls in a class of 400, it never dawned on me that very few women thought of business as their career path back then. Times have certainly changed.
Times have certainly changed.
A profound memory was walking to class and seeing several women running down the hall waving papers, yelling, "Have you heard about the women's lib movement... the feminist movement? Join us, we're having a meeting!"
Of course, few of us had heard of the movement... at the time. We didn't realize that we were on the cusp of radical changes in the world, moving into an era where the wide gap between men and women was about to be altered forever!
So many of the issues we might take for granted today -- like reproductive rights, domestic violence, maternity leave, equal pay, women's suffrage, sexual harassment and sexual violence -- were all issues the women's movement fought for to change.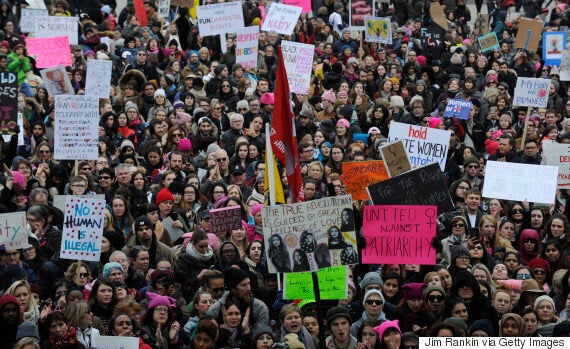 Many of our hard-fought and hard-earned human, environmental and even animal rights now seem at risk. And women's rights are at the top of the list. How did we get back to this place we thought we'd left behind us? Are all of our efforts and successes in danger again? It almost seems impossible to comprehend.
This is a time in our history and herstory when we all must stand up and let our voices be heard. It simply doesn't work anymore to "wait and see" or to "hope" someone else will fix things. But how do we stand up?
Women's March On Washington
When I first heard about the Women's March on Washington back in November, I felt called to get involved. Originally I was sure I wanted to march in Washington on January 21, as I'd never marched for anything (other than a 2015 Climate Change March) when I was younger.
I decided to stand with the thousands of other concerned citizens and march in solidarity.
People laugh when they hear I've never physically marched, as they know me as the hippie values advocate who grew up during the hippie era of the '60s. Instead, I've used my words and my voice over the years, but have never physically marched. It was finally the time!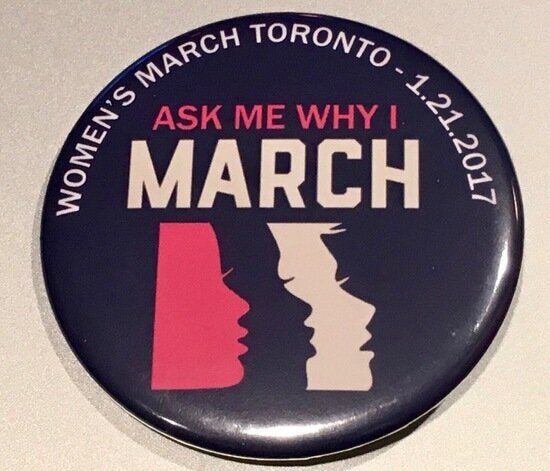 After considering joining the busloads of women going to Washington from Toronto, I decided to stand with the thousands of other concerned citizens and march in solidarity here in Toronto.
Having no experience marching with a large group, I stayed open, curious to having whatever the experience would be. Although I knew I was marching to support women's rights and human rights, I was also interested in why others had chosen to march.
I asked everyone I met why they were marching. There were several recurring themes. Kris Sandels King, who was photographing the march, was most concerned about, "equality for all of our sisters around the world, and the rising tide of misogyny, racism and hate."
It was incredible to hear that women around the world came together, making history! There were 673 sister marches drawing an estimated 4.8 million people to the streets worldwide. A great day confirming that the power is with the people. In Washington, the guesstimate is that at least 500,000 or more people came out to march!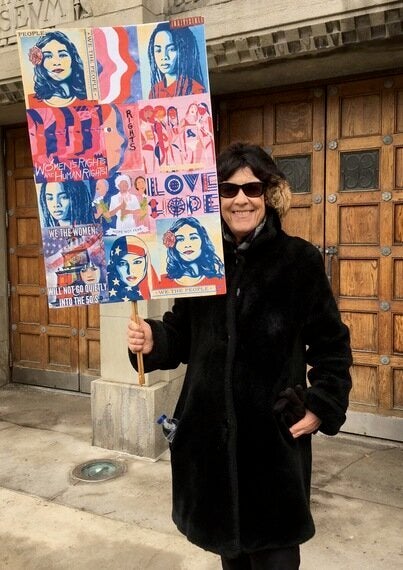 Although my sign was created to offer a gentler, more positive message, many of the signs were not. Before the march, I'd seen a sign online that had me laughing and also shaking my head in agreement. It was a photo of a woman from my generation holding a sign that read, "I can't believe I still have to protest this f--king shit."
While marching I saw very similar messages on signs all around me. My friend Gretel Meyer Odel, wondered, "how we get past the despondent feelings and ennui that I saw reflected in the signs that my mother's generation held. How did we allow ourselves to land in this place where the most fundamental human rights are being cranked rapidly in reverse?" This echoed my feelings, confirming why I marched!
Another theme was solidarity with "our LGBTQ brothers and sisters, our indigenous peoples and the beautiful and wise people of every culture who experience racism and hate."
People were marching for their children and the future we will leave them.
Before the march, I struck up a conversation with Deborah Osborne and she reflected it had been decades since the activism around the women's movement here in Toronto. She wondered how we were here again protesting the same issues, curious if we "were just kidding ourselves thinking they had really been resolved back then."
People were marching for their children and the future we will leave them. Isaac, a father of two sons, rejects the kind of world that Trump represents, marching for the future of his family and his children - for a future that is compassionate, loving and optimistic. "No one is equal until everyone is equal", mirrors my, 'include everyone', philosophy.
Connecting with Like-Minded People
While marching, I was struck by the diverse range of people who had shown up. Stuart Knight was marching because he was "painfully aware that too many people will find an excuse not to march and I simply can't be one of them. While all of their excuses are important, they simply are not as important as ridding the world of sexists, bigots, racists and demagogues."
Seems many people felt the same way! Every possible demographic was represented, from young children to older seniors. Women and lots of men too! It was a march for all people, for all rights.
What most amazed me were the people I connected with. Ronda Benjamin, who I met online, kindly offered me a link to the "We The People" graphics which became a prominent part of my poster/sign.
She felt compelled to march because since the U.S. election she's been feeling that perhaps "as a society, we haven't come as far as we'd hoped." As a person of colour her fears have been amplified, wondering if looks from strangers are based on long-held ingrained biases relating to the colour of her skin. Like me and others, she loved the idea of "participating in an event whose core values were inclusiveness, love and togetherness."
Democracy must not be taken for granted. It is something we stand to lose.
My experience was that the Toronto march was respectful, inclusive and peaceful. Reportedly, 60,000 people showed up!
Other than women's rights, was there a theme? Gloria Steinem, an original leader of the women's movement, referred to the women's march as "a wake-up call for anyone who cares about democracy." That theme has been echoed everywhere. From the brilliant interview Sarah Silverman did with Bernie Sanders after the election, to president Obama saying "Democracy needs you" in his closing address. Democracy must not be taken for granted. It is something we stand to lose.
Whether you choose to march physically or symbolically, it's a time to stand up, speak up and show up. This is truly not a time for complacency. The future is in all of our hands. How will you march?
Follow HuffPost Canada Blogs on Facebook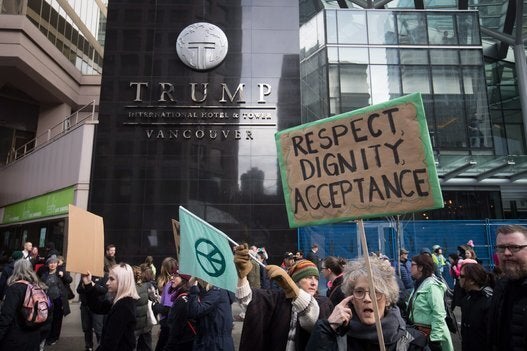 Women's March In Canada, January 2017
Popular in the Community