Remember in "Elf," the classic Christmas film that follows Buddy the Elf from the North Pole to the mean streets of New York City, when he's at the mall and he sees that familiar, jolly man in his glorious red suit and white?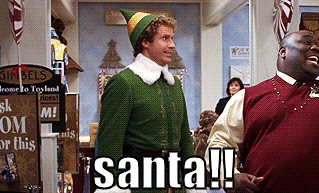 But then, the tables turn. Buddy realizes that this is NOT the Santa Claus he knows and loves. This is a fake Mr. Claus.
This crucial moment in holiday cinematic history hit close to home for some Canadians, in particular Torontonians, this week when the city's Yorkdale Shopping Centre revealed that they had replaced the country's beloved Fashion Santa, Paul Mason, with a different male model.
If you need a refresh, let us share with you the Fashion Santa Christmas tale of 2015 ...
Last year, the world was introduced to "Fashion Santa," the handsome, dashing, and oh-so-stylish Kris Kringle that roamed the Yorkdale Mall decked out in Burberry, DSquared2, Dolce & Gabbana and more. Taking with selfies with customers (or fans, as we like to call them) for charity, Fashion Santa made headlines around the world, featured everywhere from Harper's Bazaar to Cosmopolitan — and of course, HuffPost Canada Style.
And in that moment, we swear we were infinite.
Fast forward to Nov 2016 — our world is in a state of uncertainty and we, as a planet, all agree that 2016 was just NOT a good year. Could things get worse?
Yup. On Tuesday, the mall unveiled its new Fashion Santa 2016 campaign. In it, the original model, Paul Mason, the 53-year-old man who told CTV News that he is the "rightful owner of Fashion Santa," had been replaced by Yorkdale in favour of a younger, 31-year-old model named Adam Martin.
"Hey....that's not Fashion Santa?!? @paulmasonmodel is the guy," one Instagrammer pointed out.
"Tacky. You can't replace @paulmasonmodel with some other guy. This is ridiculous," another wrote.
This announcement ignited a passionate social media backlash, especially with the claims from Mason that he created Fashion Santa himself and he was the one who pitched the festive idea to Yorkdale.
As CTV notes, the shopping centre in Toronto filed for copyright protection of the Fashion Santa brand in Dec. 2015, but Mason filed his own claim two weeks later.
"I filed for copyright protection because it's mine," Mason told CTV. "I wanted to put a stop to it."
Yorkdale said they reached out to Mason prior to their 2016 campaign, but "he did not express an interest," a spokesperson from the shopping centre told CityNews.
HuffPost Canada has reached out to Mason and Yorkdale and will update this story should either choose to comment.
After posting a video revealing their new Fashion Santa, fans of Paul Mason began the hashtag #BringBackTheRealFashionSanta and took to Yorkdale's Instagram to share their feelings and things got REAL.
"#FAKEFASHIONSANTA #BULLIES #HEISAFAKE," one user hashtagged.
"Yorkdale, do you not care at all about how people feel about this? What a marketing fail, there really isn't much you can do or say at this point - but enough with these videos and photos of a stolen concept. There's no justifying what you've done," another wrote.
One user continued, "I agree there should be no disrespecting the new model. @paulmason is not only the original but the creator. This is about principal, integrity and truth."
And Twitter was pretty mad too.
But there is hope for all you Paul Mason fans out there, the "RealFashionSanta" has something up his sleeve ...
So you better watch out, you better not cry, you better not pout, we're telling you why: The man-formerly-known-as-Fashion-Santa-Claus is coming back soon!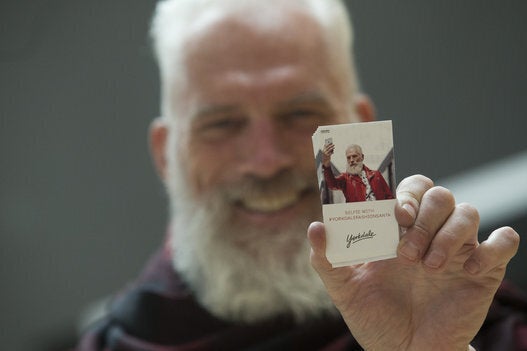 Paul Mason