OTTAWA — A similar type of semi-automatic rifle used in the Orlando shootings should be easier to obtain in Canada and allowed for hunting, a Conservative MP said last month.
British Columbia MP Bob Zimmer tabled a petition in Parliament on May 13 calling on the government to reclassify the Armalite Rifle-15, also known as the AR-15, as a non-restricted weapon. The petition was tabled on behalf of Marc Bennett, a firearms advocate from Newfoundland and Labrador.
Lawful firearm owners should be allowed to use the rifle outside of a shooting range and "once again use this rifle to lawfully participate in the Canadian cultural practices of hunting in Canada," Zimmer told the Commons.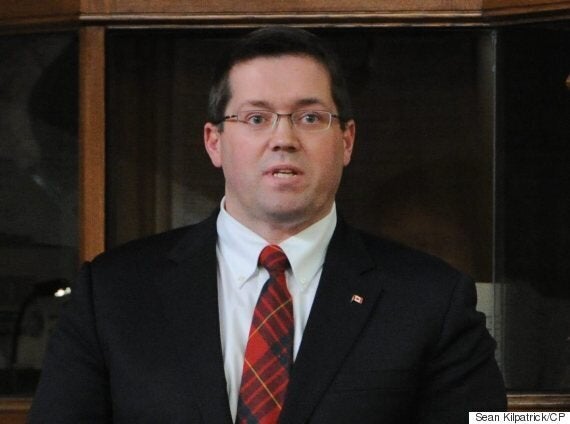 Conservative MP Bob Zimmer stands during Question Period in the House of Commons on Parliament Hill in Ottawa in 2011. (Photo: Sean Kilpatrick/CP)
In Sunday's mass shooting at a nightclub in Orlando, Fla., Omar Mateen used a .223-calibre AR-type rifle and 9-mm semi-automatic pistol to kill 49 people and wound another 53, said federal authorities. Several sources identified the weapons as a Sig Sauer MCX rifle and a Glock 17 handgun.
The RCMP lists the AR-style Sig Sauer MCX semi-automatic rifle — and all AR-15 type firearms — as restricted weapons in Canada. They require a special permit, but, in the words of one gun advocate on Facebook, "still easy to get license in order to purchase them." Most people can only use the AR-15 in a gun range.
The AR-15 is a civilian model of the M16 rifle used by the U.S. army. It has been used to carry out other mass slayings in the past, including the 2012 killing of 20 children and six adults in Newtown, Conn., and the 2015 San Bernardino, Calif. shootings which killed 14 people.
'Innocuous' firearm when handled safely: MP
In a radio interview last month, Zimmer said the AR-15 is a "completely innocuous firearm" when it is handled safely.
"I support [the petition] because, essentially, a semi-automatic long-arm should not be restricted and that's the essence of the petition," Zimmer is quoted telling CFRA, a local Ottawa station. "Firearms should be normalized, to a certain extent. We understand that they can be operated safely, and they're operated safely in Canada year after year after year, especially with our rigorous licensing regime, and the like."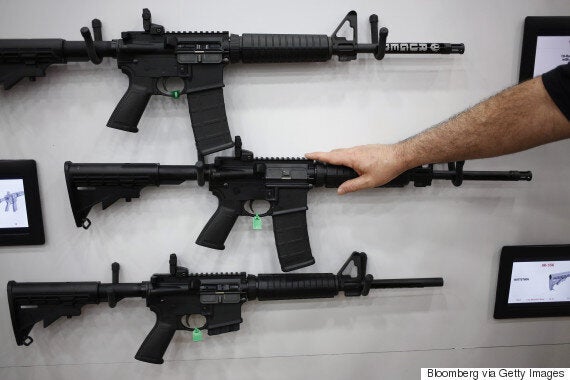 AR-15 rifles are displayed on the exhibit floor during the National Rifle Association annual meeting in Louisville, Kentucky in May. (Photo: Luke Sharrett/Bloomberg via Getty Images)
The AR-15 was once used for hunting and "a lot of Canadian firearms owners would like to hunt with them again," Zimmer told host Brian Lilley. "Restricted firearms are exactly that, they're restricted. You can only go to a qualified range to shoot that firearm. What non-restricted would do would still require somebody to have a license to own it, and to purchase ammunition, but they could actually hunt with it out in the bush, rather than be just restricted to a gun range.
"With our Canadian laws, we have clip restrictions," Zimmer added. "For that particular firearm, you'd only be able to put five shells in there in the first place. You'd be maxed out at five, regardless."
The RCMP said hunters are only allowed three rounds. The Orlando shooter used 30-round capacity clips.
Goodale's office responds
Public Safety Minister Ralph Goodale's office told The Huffington Post Canada Monday it has no plans to change the classification of the AR-15.
"Canadians can conclude on their own and assess [the value of the petition] on their own," Goodale's spokesman, Scott Bardsley, said.
Goodale told reporters one of the commitments the Liberals had made during the election campaign was that "judgments in these matters should be in the hands of experts and the professionals.
"The police make those determinations and we would not interfere in those judgments," the minister said.
Goodale said he had received no advice from the RCMP suggesting any change in the present circumstances.
But if the RCMP decided to reclassify the weapon, his spokesman said the government would "respect" the Mounties' decision.
'A monumental error': NDP leader
NDP Leader Thomas Mulcair called Zimmer's petition "a monumental error."
"On Mr. Zimmer's try to make it easier to obtain the weapon used in the Orlando shootings, I think that speaks for itself. When a weapon like that can produce a massacre like this, you don't need to be convinced that you shouldn't liberalize access to that weapon," he told reporters Monday afternoon.
Zimmer avoided reporters Monday and did not return several calls and emails for comments.
His Conservative colleague, Quebec MP Pierre Paul-Hus, the party's deputy critic on defence matters, said he had no comment. "I am aware of the firearm but I have not heard about this petition," he said.
Last week, Zimmer invited all of his parliamentary colleagues to a shooting range in Stittsville, Ont., providing free transportation for a morning of "Trap, Rifle and Pistol Events."
The fifth annual Parliamentary Outdoors Caucus Shooting Day at the Range was sponsored by the Outdoors Caucus Association of Canada, the Canadian Shooting Sports Association, and the the Canadian Shooting Arms and Ammunition Association, which provided guns and ammunition for the event.
Several Liberal, NDP and Conservative members attended and some tweeted photos of themselves at the Stittsville Shooting Ranges. The invitation explicitly stated "** No media **."
"Kerry Diotte, the MP for Edmonton-Griesbach, tweeted that he enjoyed the experience, and in this video, provided by the Liberal research bureau, he also appears to learn how to shoot an AR-15.
The petition Zimmer tabled notes that the AR-15 is the "most versatile hunting rifle in the world" and that its "calibre can easily be changed to meet lawful provincial hunting requirements from small game to big game animals without the need to purchase multiple gaming rifles."
The petition also suggests there is "no inherent difference" between the AR-15 and hundreds of other firearms in Canada which are classified as non-restricted.
"This rifle has been ultimately restricted purely because of cosmetic appearance of the rifle which does not make the rifle more dangerous," the petition states. "It has been assembled with modern day materials (plastic & aluminium) and that shouldn't be the merit to base a rifle for restricted classification as there are thousands of other rifles like it used on a day to day basis for legitimate purposes."
The day he tabled it, Zimmer boasted that the e-petition had set a record for the highest signatories, 25,239, in Canadian history.
E-petitions were just introduced last December. One of the largest petitions is actually about employment insurance and garnered more than 80,000 signatures.
The Canadian Press reports that anyone wishing to purchase an AR-15 in Canada must have a firearms licence that includes restricted weapons — which involves passing a two-day safety course — and the authorization of their province's Chief Firearms Officer to transport the gun to a shooting range, gun show, gunsmith or a few other permitted locations.
The AR-15 is widely available and in demand, Insp. Steve Ridout, a spokesman for Ontario's Chief Firearms Officer, told CP.
That's in part because the patent for the rifle, which was owned by Colt, ran out years ago, allowing other companies to make their own versions, he said.
"It's very popular," Ridout said. "Especially since the patent ran out, there's lots of variations of it now."
Prices listed on various Canadian gun store websites ranged from around $700 to several thousand dollars.
"There's lots of different AR-15 platforms so it kind of covers the gamut of price points," Ridout said.
More than two million Canadians had firearms licences last year, according to an RCMP report.
As of December 31, there were a total of 978,347 restricted or prohibited firearms registered to individuals or businesses in Canada, the report said.
CLARIFICATION: This story has been updated to clarify the type of weapon used in the Orlando shootings.
With files from the Canadian Press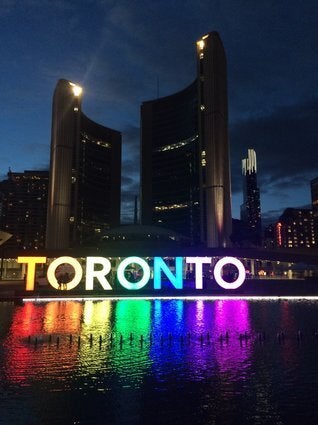 Vigils In Canada For Orlando Shooting Victims
Popular in the Community