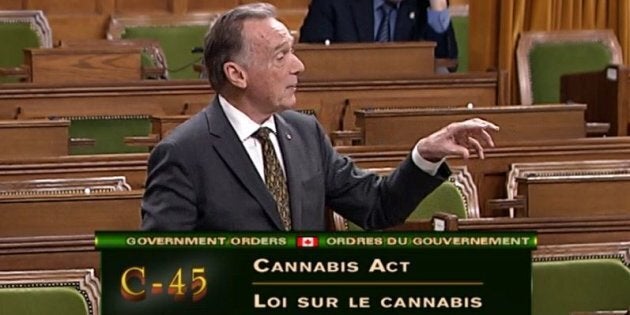 Federal New Democrats are calling on a Conservative MP to apologize to victims of Canada's opioid crisis for suggesting legal marijuana is "just as dangerous as fentanyl."
Tory MP Peter Kent made the remark in the House of Commons this week while debating the Liberal government's Bill C-45, which will legalize pot.
The comment drew a blistering response Wednesday from Vancouver NDP MP Don Davies, his party's health critic, who said in a statement that he was "deeply disturbed" by Kent's words.
"This is an outrageous and dangerous falsehood. Worse, it is grossly insensitive to those who have lost loved ones to fentanyl overdoses," Davies said. "Trying to capitalize on their personal tragedy for political purposes is shameful, callous and unsupportable."
What makes Kent's remarks even "more perverse and illogical," Davies said, is the data suggesting cannabis can be helpful to opioid addicts.
Davies called on Kent to correct the record and apologize. HuffPost Canada has reached out to the Thornhill, Ont. MP for his response.
This is an outrageous and dangerous falsehood. Worse, it is grossly insensitive to those who have lost loved ones to fentanyl overdoses.NDP MP Don Davies
Kent delivered a speech in the House Tuesday where he called the government's pot legalization an "ill-considered, unsound and wacky" campaign promise that deserves to be broken. Kent accused Liberals of rushing through legalization despite concerns from some police services and other groups who fear they are going too far, too fast.
He also took exception to how the plan will allow for a maximum of four marijuana plants per household. The health committee heard testimony that four plants of 100 centimetres in height could produce up to 600 grams of marijuana, Kent said.
In response, Liberal MP Kevin Lamoureux accused Tories of being "out of touch with Canadians" by not understanding that the government must act to keep hundreds of millions of dollars in profit away from criminals. Lamoureux said the plan will do more to protect children than the "status quo."
Tory MP David Yurdiga also rose to charge that the bill is "allowing 12-year-olds" to possess up to five grams of pot, something he said will downgrade society to a "level that I have never seen."
C-45 exempts young people between the ages of 12 to 17 from facing criminal prosecution for possessing up to five grams. Justice Minister Jody Wilson-Raybould has said the provision was included because Liberals did not "want to expose young people to the criminal justice system for possessing what amounts to very small amounts of marijuana."
The bill also includes harsher penalties for adults found to be providing pot to someone under the age of 17, including imprisonment for up to 14 years.
Still, Kent said Tuesday that kids will "harvest the leaves and experiment" with pot plants in the home once it is legal.
"What we are doing is virtually the same as putting fentanyl on a shelf within reach of kids," he said. "Having plants in homes is just as wacky, just as unacceptable, and just as dangerous for Canadian society."
Kent later re-tweeted someone who shared a clip of his fentanyl remarks and then asked him: "What exactly are you smoking?"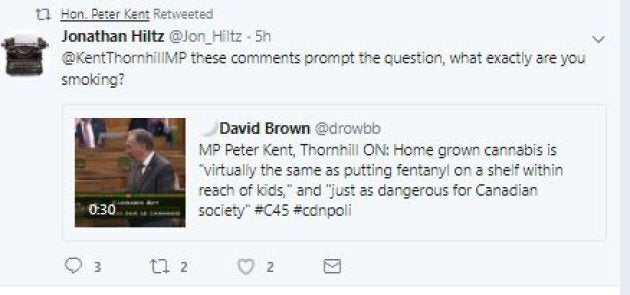 Fentanyl, a synthetic opioid about 100 times stronger than morphine, is often combined with other drugs such as cocaine and heroin. It has been at the centre of the overdose crisis across Canada.
More than 2,800 deaths last year were linked to opioids and Health Minister Ginette Petitpas Taylor expects that number to exceed 3,000 in 2017.
With a file from The Canadian Press