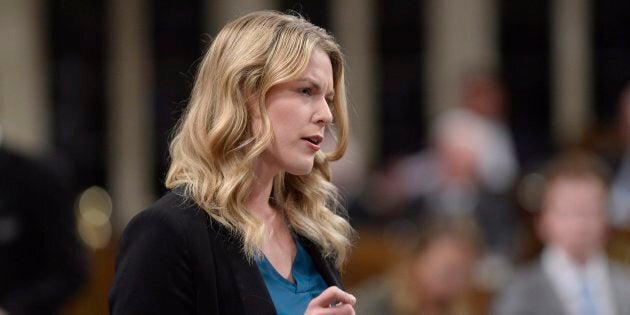 The Liberal-dominated status of women committee has rejected an anti-abortion MP as its chair and instead has chosen to give the position to a Conservative who did not want the job.
On Tuesday, six Liberal MPs and a New Democrat voted against the Tories' pick for the role, Alberta MP Rachael Harder. Liberals walked out of the committee last week to protest Harder's nomination because of her views.
Instead, Tory MP Karen Vecchio was chosen for the position, traditionally filled by an opposition MP, even though the Ontario MP re-nominated Harder for chair moments earlier.
Vecchio even voted against her nomination for committee chair.
'I would like to back down'
After Harder's defeat, Liberal MP Pam Damoff nominated Vecchio for the chair.
"Although I appreciate the nomination, I would like to back down from that nomination if possible," Vecchio said during the meeting.
Her request was denied, which the rules allow. After another vote of 7-3, Vecchio was named chair. It comes with a pay bump of $12,000 on top of her MP salary.
Vecchio and Harder released a statement after the vote blasting Prime Minister Justin Trudeau over the issue.
For Justin Trudeau to say, a Member of Parliament is unfit to hold a procedural position because she doesn't agree with his personal position, is ridiculous.Rachael Harder and Karen Vecchio statement
"For Justin Trudeau to say, a member of Parliament is unfit to hold a procedural position because she doesn't agree with his personal position, is ridiculous," the statement reads.
The MPs said the actions demonstrate the "intolerance" of the Liberal Party, which "claims" to value diversity.
"Conservatives accept the democratic will of the committee, and unlike Justin Trudeau, we commit to working on behalf of all women in Canada, regardless of their beliefs."
Liberals denied last week that they were simply playing politics by protesting Harder from serving as chair of the committee.
"When we speak out about those who don't believe that women should have rights or choice over their bodies, we're speaking up for all women and girls in this country, and that's what we're here to do," Status of Women Minister Maryam Monsef said.
Prime Minister Justin Trudeau told reporters at the time that committees are free to make their own decisions, but suggested he agreed with his MPs.
"One would hope that the committee for the status of women would have a spokesperson who would be able to stand up and unequivocally defend women's rights," Trudeau said. "That's sort of the point of the status of women's committee."
Liberals also brought the matter up in question period, prompting Tories to give a rousing applause to Harder, who was first elected in 2015.
The Campaign Life Coalition endorsed her in the last election because she completed a questionnaire saying she believes life begins at conception and would work to introduce and pass laws to ban abortion once elected.
Scheer says PM wants to change channel
Scheer, meanwhile, said last week that he nominated Harder because she is hard-working and impressive. Scheer, a social conservative who personally opposes abortion, has pledged his party won't reopen the debate.
He accused Trudeau of attempting to change the channel from backlash over proposed small business tax changes.
"It's certainly unprecedented that the prime minister would interfere and block the nomination of a democratically elected member of Parliament to serve as chair of a committee,'' Scheer said at the time.
"I think it shows a lack of respect for the parliamentary process. It's very unfortunate.''
With previous files, files from The Canadian Press