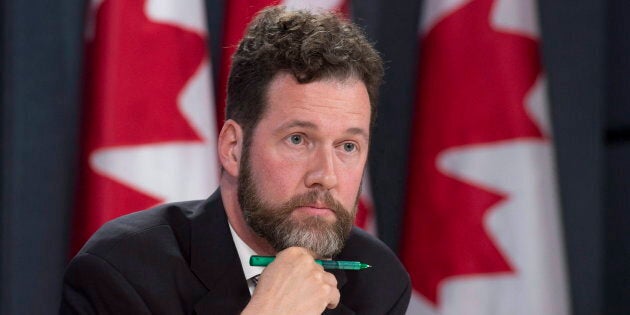 A veteran Conservative MP is blasting what he calls Prime Minister Justin Trudeau's "hypocrisy" over a Quebec law barring people wearing face veils from giving or receiving public services.
In a blistering Facebook post, Scott Reid said he is "genuinely angry" about Trudeau's response to Bill 62, widely seen as targeting Muslim women who wear the niqab or burka. The bill was adopted in the Quebec legislature last week.
Reid called it an "anti-Muslim law" and precisely the "systemic religious discrimination" federal Liberals warned against in a much-discussed anti-Islamophobia motion.
References M-103 debate, Quebec mosque shooting
Reid satirically wrote out what he felt Trudeau was now telling Canadians:
"Back in February, when we Liberals thought we could pick up votes by telling Canadian Muslims that Canadian society is a deep reservoir of anti-Muslim hatred, we were happy to castigate any defender of free speech as an Islamophobe, and it just felt so right to accuse our partisan opponents of complicity in mass murder," he wrote.
"But now that, eight months later, we are confronted in Quebec by an actual anti-Muslim law, in the province where we need to win big in order to keep our majority in 2019, we can't do or say anything to rock the boat."
Reid was referring to M-103, a non-binding motion condemning Islamophobia and all forms of religious discrimination that easily passed the House of Commons in March despite opposition from most Tories. Many Conservative MPs argued the motion could chill free speech and restrict legitimate criticism of Islam because it did not explicitly define what constitutes Islamophobia.
Other prominent Tories felt M-103 singled out one religion over others and wasn't inclusive enough. Liberals rejected a Tory counter-motion scrubbing references to Islamophobia and instead broadly condemning intolerance towards "Muslims, Jews, Christians, Sikhs, Hindus, and other religious communities."
The debate took on heightened meaning after a mass shooting in a Quebec City mosque last January. Reid noted in his post how Liberal MP Chandra Arya said in the House, a month after the shooting, that the attack was the "direct result of the dog-whistle politics," which he said included the "niqab ban" and "barbaric cultural practices tip line."
The previous Conservative government tried to bar the wearing of face-covering veils during citizenship ceremonies and pledged in the last election to create a RCMP tip line to combat "barbaric cultural practices."
Reid accused the Liberals of clamming up on an issue they "pretended to care about" now that there is a political price to pay. A byelection will be held Monday in the Quebec riding of Lac-Saint Jean, held for years by Conservatives.
Read the full post below:
However, some federal Liberals have made their opposition to Bill 62 clear.
"I presume we will, because I know him. Well, I normally know his opinions on this subject. He was pretty clear during the 2015 election, so I presume he is in agreement with my position," Mendès said. "It's not up to the government to impose on a woman what she can and cannot wear."
And Arya, the Grit backbencher whose speech last February offended Reid greatly, also wrote on Facebook Saturday that Bill 62 was a "direct challenge" to inclusion.
"As the Prime Minister has said, 'It is a cruel joke to claim you are liberating people from oppression by dictating in law what they can and cannot choose to wear,'" he wrote.
A day later, he was slightly more forceful, saying that he has long believed governments should not be telling women how to dress. Still, he gave no indication he would challenge the law.
"We know there is going to be many weeks and many months of discussions on this, on what the implications are,'' Trudeau told reporters.
"And as a federal government, we are going to take our responsibilities seriously and look carefully at what the implications are.''
Before he became prime minister, Trudeau spoke out fiercely against the Tory government's insistence on banning face coverings at citizenship ceremonies, as well as a former Parti Quebecois government proposal to ban public servants from wearing ostentatious religious symbols.
With files from The Canadian Press and Althia Raj