You begin the course on your stomach. You parked your sanity at the start line and now you are plunging head first into a shallow, muddy bath beneath strings of barbed wire ready to snag you if you crawl too high.
From there you plunge into an icy bath, struggling to swim underneath a long beam and leap out as fast as you got in. Then it's a crouch through deep trenches, a jaunt through a muddy mile and a climb up a 15-foot ladder with only four rungs to the top.
By the end of the course, you will have slid through pipes into freezing mud; carried a heavy log for half a mile on your shoulders; and bounded across a field of fire, running fast enough to keep your legs from burning.
No, this isn't military academy: it's Tough Mudder, one of the world's most grueling adventure challenges, and this weekend Whistler anticipates around 19,000 brave souls will start the endurance test, with only three-quarters of them expected to finish successfully.
It's not a race. There is no winner. Your prize is a beer at the end and, if you make it, the pride of being able to say you finished. You can participate as an individual (not recommended) or as a prearranged team, or you can team up with other entrants on the day.
Professors didn't think it would fly, but a year later Dean attracted 4,500 people for the first-ever Tough Mudder at a ski resort near Allentown, Pennsylvania.
Participants in Whistler will have to conquer obstacles such as "Cliffhanger" (a run up a muddy cliff angled at 45 degrees), "Berlin Walls" (a team-assisted climb over numerous barriers) and "Electroshock Therapy" (a sprint through a field of live wires charged with 10,000 volts).
For anyone who wants to witness Tough Mudder from a safe, non-participating distance, spectator tickets cost $40 on site.
Check out Tough Mudder obstacles that participants have conquered at previous events: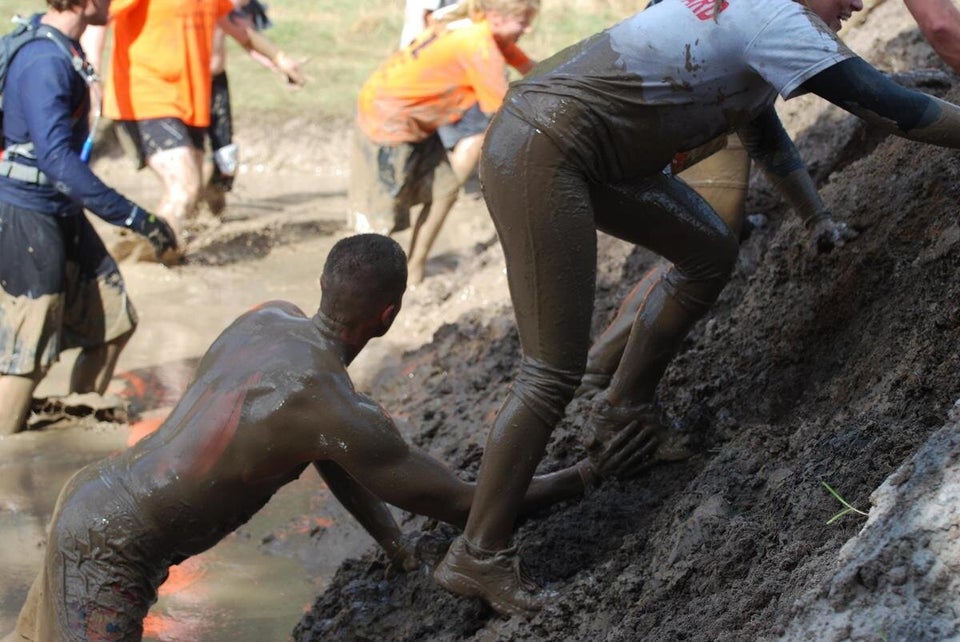 Arctic Enema: A swim under a beam through an icy bath. Do it quick or you could develop hypothermia.
Berlin Walls: Climb over three 12-foot walls, just after you've climbed over bales of hay, when you're at your weakest in the whole course.
Cliffhanger: A 45-degree climb up a 40-plus foot cliff. Oh, and it's muddy, slippery and you'll be competing with your peers for hand grips. Don't try this alone.
Fire Walker: Run through burning planks of firewood that can singe the skin if you're not fast enough. Persian New Year celebrations may have inspired the last part of this obstacle: a giant leap over a pit of fire.
Everest: You know the halfpipe? Grease it up and you get some idea of what "Everest" is like. Quickness is key here, as competitors have to run up a rounded incline and get a grip with a teammate before you get pulled over to the other side.
Dirty Ballerina: Pray that you've worked out your legs before this series of leaps over five-foot-wide mud pits, with the edges eroded by your fellow participants' footwear.
Greased Lightning: A simple slide down into a cold pool of muddy water. Which would sound a lot worse if you weren't doused in the stuff already.
Kiss of Mud: You've seen this obstacle in any number of military academy movies. Get as low to the ground as you can to avoid getting caught on strings of barbed wire just over your head. Peek up too much and you could get scratched.
Hold Your Wood: Have you done your squats? Strong legs are key for an obstacle in which competitors carry heavy logs for half a mile.
Mud Mile: Just in case you haven't had enough mud, meander through acres of the muck that can bring you down if you're not careful.
Walk the Plank: You won't find Captain Hook poking a sword into your posterior, but you will have people barking at you to jump off a plank that's at least 15 feet high into a freezing bath below.
Electric Eel: There's just no way to prepare for this, a painful crawl on your belly that forces you to stay low to avoid low-hanging wires that shock you if you get too close. But this is only half as bad as...
Electroshock Therapy: ...a sprint through a field of live wires that you simply can't avoid, you just have to bolt through them as fast as you can. Seriously, these things carry about 10,000 volts.
Spider's Web: Evade Shelob as you climb over a wobbly spider's web that's only taut at the top.
Hangin' Tough: Remember the rings in gymnastics? Yeah, they're not so easy anymore. And just try doing them over, you guessed it, a pool of muddy water.
Funky Monkey: The playground teased us when we were young: the monkey bars only got tougher as we all got heavier. On the playground, you could just drop down and get a soft landing. Here, you risk falling into frigid water.