Hey, if you're going to go through all the work of decorating your office like a haunted house, you might as well show it off to all of your frenemies in the press corps right? Toronto Mayor Rob Ford gave a tour of his very spoooky office to journalists on Monday.
Ford has often had a prickly relationship to the press so it's good to see him in a playful mood.
Now Magazine has video of the tour above.
And if you want to have some of these same hair-raising experiences, you can visit the mayor's office this week.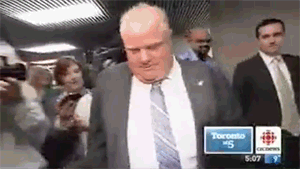 Best Rob Ford GIFs
Popular in the Community