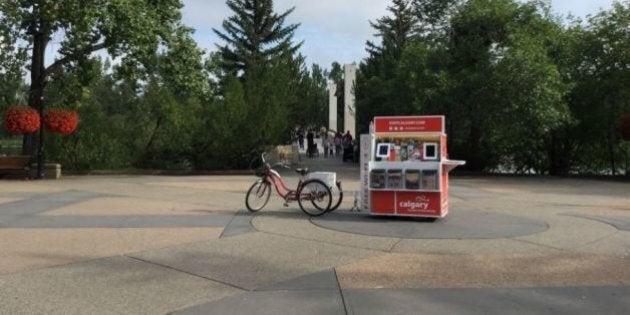 Tourism Calgary used a pedal-powered kiosk this summer to bring tourists and locals free, mobile Wi-Fi.
The kiosk, which was staffed by city guides, featured tablets and pamphlets on different things to do around Calgary.
Now that summer's over, the cart is no longer out every day, but it'll be showing up at special events, festivals and popular locations around the city.
Tourism Calgary said the initiative was a big success and helped more tourists than last year.
"We had our summer team on the streets of Calgary every day from July 1 to August 31, and while we're still analyzing the data, we know that our consults in July were up over 106 per cent over the same month the previous year," Cassandra McAuley of Tourism Calgary told the Lonely Planet.
The organization's CEO said one of the inspirations for the mobile kiosk was to give Calgarians more info on what there is to do around the city.
"As Calgarians are staying closer to home this year we think it's a really great idea. There's so much to do in Calgary," Cindy Ady told CBC News.
Calgary isn't the first city to give free Wi-Fi kiosks a shot. New York City rolled out dozens of free internet towers this summer, according to The New York Times.