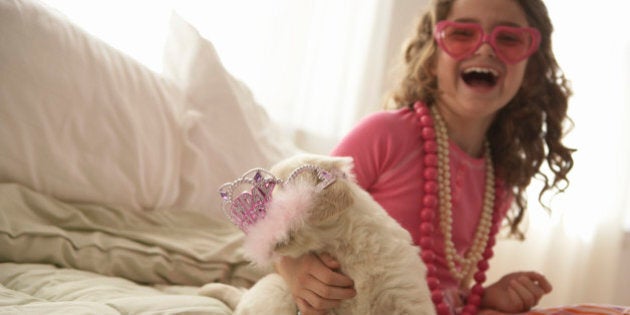 New research has found toxic levels of cadmium in jewelry sold at Aldo and Ardene stores in Canada, reports the CBC.
CBC's Marketplace recently conducted the investigation, which revealed some of the accessories sold in these stores have a thousand times more of the heavy metal than what Health Canada has deemed safe for children.
According to Canada's "Industry Guide to Children's Jewellery" there isn't a hard and fast number associated to the amount of cadmium allowed in accessories sold to kids under the age of 15. However, "Health Canada has proposed a guideline for cadmium content in children's jewelry which would limit total cadmium to 130 mg/kg."
Cadmium is a carcinogen. Simply wearing the jewelry doesn't pose a threat, however. The concern is ingestion.
Health Canada states that ingesting this metal has been associated with "renal, hepatic, cardiovascular, hemotological, neurological, reproductive/developmental and immunological effects." More simply, it can damage lungs, kidneys and bones.
For its investigation, Marketplace had a group of pre-teen girls choose accessories, which were then tested at two universities. Of 50 jewelry pieces, seven "contained between 15 and 7,000 times the Health Canada threshold for cadmium in children's jewelry." In fact, one pendant was almost pure cadmium. All seven of the items were purchased at Aldo and Ardene.
Marketplace's results coincide with the findings of Health Canada, which has discovered an increasing amount of cadmium in kids' jewelry since caps have been set on the amount of lead allowed in these same products.
This suggests "that cadmium may be increasingly substituted for lead in certain low-cost children's jewelry. Cadmium in children's jewelry has been detected at levels up to 93 per cent."
Aldo has agreed to remove the items from their shelves. "We are committed to increasing our monitoring efforts, and we will work with our vendors to enforce compliance with our internal guidelines," a spokesperson wrote to the CBC.
Ardene, on the other hand, will investigate the matter further.
Back in 2012, an investigation like this one was done in the United States by The Ecology Center to test jewelry sold at various stores, including Walmart, Target, Forever 21, and Claire's. Cadmium was found in 10 per cent of the jewelry pieces.
In the United States, several states, including Connecticut, Illinois, Maryland, Minnesota and Washington, have set cadmium limits for children's jewelry. And Congress is currently debating a broader bill.
Popular in the Community