A bare majority of Canadians say the Trans-Pacific Partnership trade deal announced this week is a "good thing," according to a poll that also found support for the Keystone XL pipeline is weaker in Canada than in the U.S.
Fifty-two per cent of Canadians had a positive view of the trade pact reached this week between 12 Pacific Rim countries, including Canada, the U.S. and Japan, in a Pew Research Center poll released Tuesday. Some 31 per cent of respondents said it was a "bad thing."
Pew released the data this week, but it was collected as part of its annual springtime global attitudes survey — so it provides a snapshot of Canadians' attitudes earlier this year, before negotiators reached a deal on the TPP.
The poll found similar levels of support for the TPP in the U.S. as in Canada — 49 per cent were in favour and 29 per cent were opposed to the deal south of the border.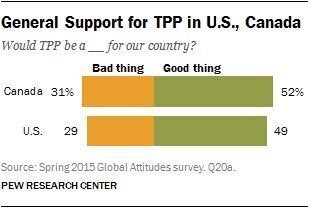 There is some question as to how informed poll respondents were on this issue. A poll released in June found 75 per cent of Canadians were not familiar with the deal, which Canada had been negotiating with the other TPP countries since 2012.
An Angus Reid poll taken just weeks before the announcement found 47 per cent of Canadians didn't know enough about the pact to form an opinion. In that poll, 33 per cent supported the TPP, down from 41 per cent in a poll five months earlier.
The full text of the deal has yet to be released, and there is a chance it will not become public before the federal election on Oct. 19.
Keystone XL Not So Popular At Home
The poll also found that support for the Keystone XL pipeline is noticeably lower in Canada than it is in the U.S.
Fifty-nine per cent of Americans support the pipeline that would carry bitumen from Alberta's oilsands to an oil terminal in Cushing, Okla., while 31 per cent oppose.
In Canada, 42 per cent support the pipeline and 48 per cent oppose it, the poll found. Support is strongest in Alberta (65 per cent in favour) and weakest in Quebec (31 per cent). Only 38 per cent of Ontarians and British Columbians back the pipeline.
This would suggest support for the pipeline has softened, but only a little. A Nanos Research poll from 2014 found 48 per cent supported the project, while 42 per cent opposed it.
Canadians also prefer economic ties with the U.S. over economic ties with China (73 per cent to 13 per cent), but view China as the world's economic leader. Forty-six per cent of Canadians say China is the world's top economy, compared to 34 per cent who say the same of the U.S.
The poll of 1,004 Canadian respondents was carried out from May 4 to May 15, 2015, and has a margin of error of 3.6 percentage points.