As cyclists with named placards led athletes into the Parade of Nations, Brazilian-born supermodel Leandra Medeiros Cerezo introduced the world to Team Brazil.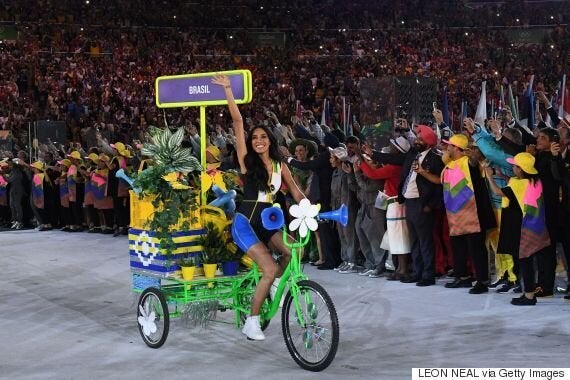 With Team Brazil's crew of 465 competitors marching behind her, Cerezo rode them across Maracana Stadium.
Known as Lea T on the catwalks, she's the first transgender woman to hold a role in any Olympic ceremony.
Her part in the opening event was smaller than expected. Early rumours suggested that she would be strutting alongside model Gisele Bundchen, in a tribute to the iconic Brazillian ballad "The Girl From Ipanema." Bundchen ended up sashaying through the tribute alone.
If she had joined Bundchen, Cerezo would have been able to hold her own. Raised in Italy, Cerezo's illustrious career when she was discovered by Givenchi designer Riccardo Tisci. He described her look as fragile and aristocratic to WWD, and stated that she was "one of the family."
Since then, she's modeled worldwide for Vogue, Elle, and Givenchy. Forbes named her one of the top 12 Italian women who have changed fashion. Most notably, she was dubbed the face of Redken, making her the first openly trans person to head a major cosmetic advertising campaign.
Before the games, Cerezo hinted that her place at the Olympics would be highly visible.
"We are all human beings and we are part of society. My role at the ceremony will help send this message, " Cerezo told BBC Brazil. "At this time, in which Rio de Janeiro and Brazil will be presented to the world, it's essential that diversity is present. Brazil is a vast country and all its diversity should be somehow represented in this event."
Transgender individuals, who are called and identify as transsexuals in South America, face poor employment prospects and a drastically shortened life expectancy.
When she began to transition, Cerezo told the Guardian her family had been less accepting.
"In a macho, Latin-American, Catholic culture… [a family's response] is complete denial," Cerezo said.
Her own connection to Brazil sports fame is her father, soccer legend Toninho Cerezo.
When the former football star player came home from his matches, Cerezo said he would say something was wrong with her. Fortunately as her modelling career took off, so too did their relationship. Eventually, he even attended one of her shows.
"[At the show, he said], 'Now I can die happy because I'm so proud of her,'" she told the Guardian.
So far, the Rio Games have already broken other LGBTQ records, such as hosting the most gay athletes in Olympic history. There are 43 openly LGBTQ athletes and two coaches participating in the Rio Olympics, according to Out Sports.
But queer and trans acceptance at the Olympics still has a long way to go. Homophobic slurs were chanted at gay soccer players during their matches, reports the Los Angeles Times.
The International Olympic Committee (IOC) has revised its recommendations for trans athletes eligibility. Its old rules strictly disavowed those who haven't had gender confirmation surgeries or at least two years of hormone treatment. New policy changes mean trans male athletes will no longer require surgery and trans female athletes will need to have certain levels of testosterone to compete.
"[The revisions are] undoubtedly a step forward, but unfortunately there seems no transgender athletes who have qualified for this year's Games. Nevertheless, it is a hope for the community and a way of inclusion," Cerezo told BBC Brazil.