A new poll shows that Canadian support for Kinder Morgan's Trans Mountain pipeline is growing, but British Columbians are deeply divided over the project's benefits and risks.
An Angus Reid Institute study shows support for the project among Canadians has risen from 48 per cent in February to 54 per cent in April.
An increasing number of Canadians (64 per cent) also agree that the B.C. government is wrong to oppose the Trans Mountain pipeline expansion.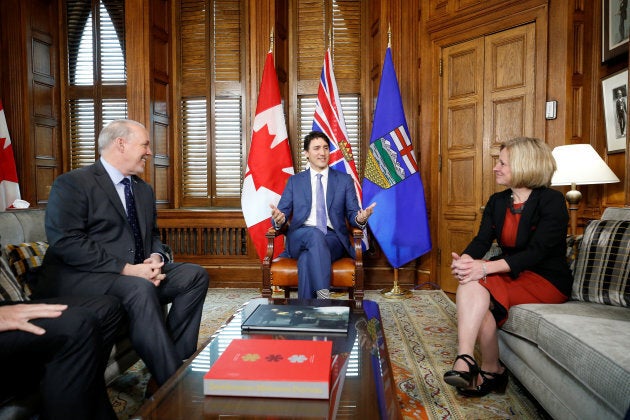 Canadians are also divided on how well political leaders are handling the dispute between B.C. and Alberta. Just under half (46 per cent) of Canadians say Prime Minister Justin Trudeau is not handling the dispute well, compared to 38 per cent saying the same of B.C. Premier John Horgan and 29 per cent of Alberta Premier Rachel Notley.
Most Albertans (54 per cent) believe their premier is doing a good job of handling the dispute, compared to 45 per cent of British Columbians who say the same of Horgan.
Most Canadians in every province also say that if a federal election were looming, the pipeline project would be one of the most important factors in determining who would get their vote.
Accidents at sea top of mind
In B.C., oil tanker spills are the top concern for more than half of both pipeline supporters and opponents. For a quarter, fossil fuels and the environment were the biggest worry, and pipeline spills or accidents were only top of mind for 17 per cent.
But in terms of risk vs. reward, British Columbians are split. Three in 10 say the risks and rewards are roughly equal. Nearly the same amount of people say the economic benefits of the pipeline outweigh or far outweigh the environmental risks (35 per cent) as those who say the opposite (34 per cent).
The survey also found a majority of British Columbians believe that if the Supreme Court ruled the provincial government does not have the constitutional authority to block the project, the B.C. government should give in and allow it to be built.
The Angus Reid Institute conducted an online survey April 16-17 among a representative randomized sample of 2,125 Canadians. The probability sample of this size would carry a margin of error of +/- 3.0 percentage points 19 times out of 20.