It was the most beautiful action I've been a part of, ever.
For over 36 hours, myself and six other climbers hung from the Ironworkers Memorial Bridge in Coast Salish territories (Vancouver) putting our bodies in the way of a massive tar sands tanker and preventing it from passing through.
Above us flew seven flags, each designed by an Indigenous artist from some of the main nations that have led the fight against the disastrous Trans Mountain pipeline and tanker expansion project. Each one of those flags is a symbol of resistance and hope, and a constant source of inspiration for all of us.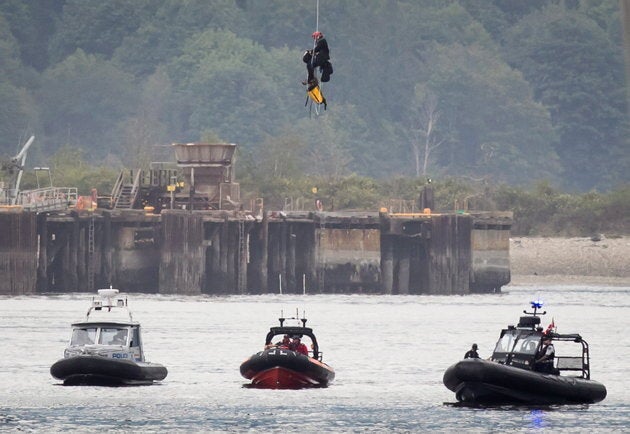 Five other people supported us from the bridge. The entire team was made up of four people from British Columbia, three from Alberta (the source of the damage in the tar sands), one from Quebec, one from the United States (where the tar sands damage will be shipped), one from the United Kingdom, one from Mexico, and Will George, who is a Coast Salish member leading a lot of the opposition to this project, from Burnaby Mountain.
Each one of us had our own reason for being there; our own motivation that helped us scale the bridge, overcome our nerves and risk arrest. For me, it was because I've seen the damage oil spills can bring. I was there just after a pipeline burst into the Red Deer river, risking the water supply of a city of more than 100,000 people.
I was also with my friend and colleague when a pipeline burst in her community, in one of the largest spills in Alberta's history. I felt the helplessness she felt as community members called her asking for help that the government and the company never provided.
The Trans Mountain pipeline expansion is the wrong choice.
Those experiences stay with you.
I've also seen the damage being done up north in the tar sands. I've seen entire forests turned into barren moonscapes, and lakes full of toxic chemicals — all for the pursuit of oil.
We have choices for how we get our energy and travel. We have choices for how to create jobs, and build economies. And we have choices for whether we repeat the mistakes of the past or compound the damage.
The Trans Mountain pipeline expansion is the wrong choice. It violates our commitments to climate change, breaks our commitments to Indigenous peoples and threatens water resources all along the pipeline route. With the 400 tankers it would bring every year, it also threatens the entire west coast, and the economies, communities and hundreds of thousands of jobs that depend on an oil free coast line.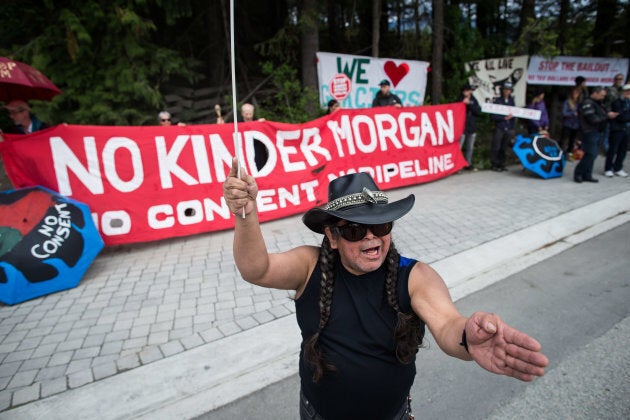 I wish Trudeau would have just lived up to his promises. I wish he wouldn't have caved to the oil lobby and instead maintained the courage he showed in Paris. I wish the Haida tattoo he has on his shoulder would mean a little more, and his promises for Indigenous reconciliation were more than words. I wish he would have just let Kinder Morgan walk back to Texas when they chose to abandon their failing pipeline project, rather than pledging to spend $4.5 billion in public funds to bail them out. I wish he could see the potential that $4.5 billion could mean to economies and people across the country if his vision could be bigger than a pipeline.
I wish for all of those things — but that's not the reality we live in. So, on July 3 and 4, I spent 36 hours hanging from a bridge to try to help Trudeau live up to his own promises. I wish I didn't have to do it (I don't really like heights) but here we are. When I asked myself what would I do to protect the things I love, that's the answer I came up with.
The thing the Prime Minister doesn't understand is that there are a lot more people like me willing to put their bodies on the line to stop this project. They're doing it because there aren't many other options, and it endangers the things they love.
There's still time for Trudeau to make the right decision and reject this pipeline. But if he doesn't, we'll be here waiting. We aren't going away.
Have you been affected personally by this or another issue? Share your story on HuffPost Canada blogs. We feature the best of Canadian opinion and perspectives. Find out how to contribute here.